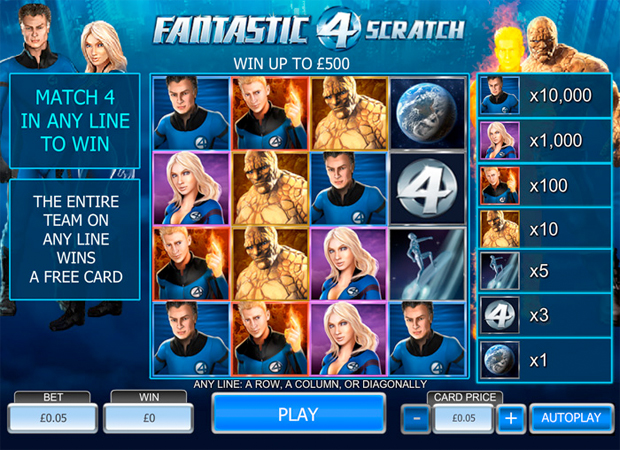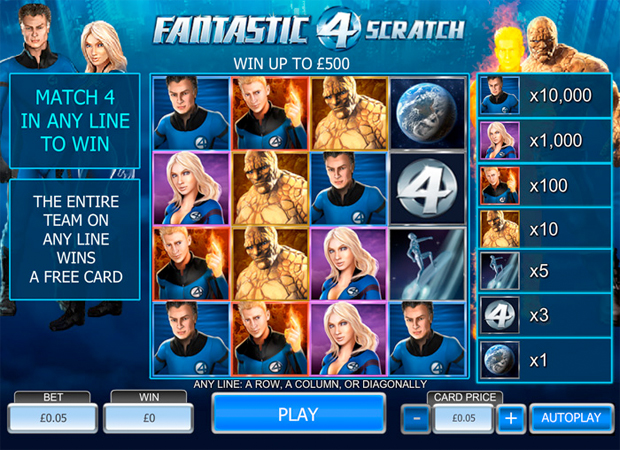 There are many benefits when one chooses to play online casino games rather than those at a land based casino. Convenience is perhaps the biggest factor. Many find it easier to fit in short gaming sessions more often, whereas before it may have been difficult to find the time to carve out a large block of time to travel to a casino. Some of these players prefer games that are quick and easy to play. Many of the games offered by online casinos meet this requirement.
Scratch card games can be played rather quickly. One particular version that is found at online casinos is the Marvel Super Hero Scratch Card. The card has a 3×3 grid which makes a total of nine spaces. Each of the symbols that can appear in the boxes has their own specific multiplier. Prior to playing, the player will choose the card value which then sets the game in motion. The player then scratches the boxes to reveal what is hidden. If a match is made, then the multiplier is applied to the original wager. The card features the Marvel Super Heroes.
Another game that can be played easily is Keno. For instance, one might choose to play Football Keno Progressive. This game incorporates the most beloved sport around the world. The game is played like another other Keno game. However, the visual aspect of the game incorporates aspects of football. For instance, the grid is actually a football field. When the spaces are marked, they are covered with a football shirt chosen by the player.
Foamy Fortunes is a lighthearted scratch card game. This employs a cute bubble bath theme. The spaces on the card are bubbles. When selecting bubbles, they are popped and then show their multiplier. A twist with this game is the use of a rubber duck symbols. After three of these symbols have been revealed, the game ends.