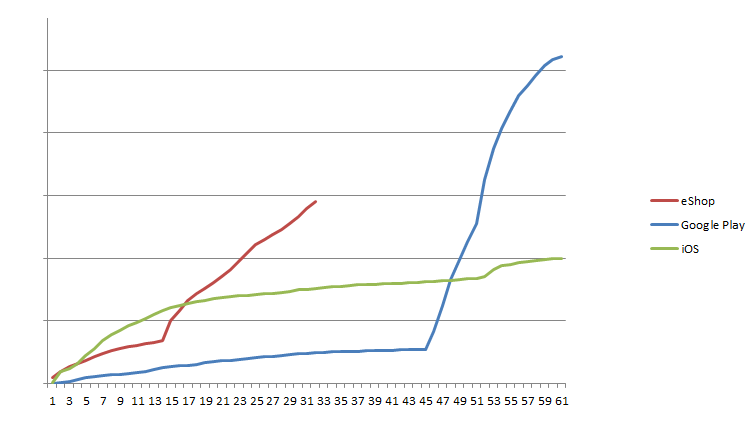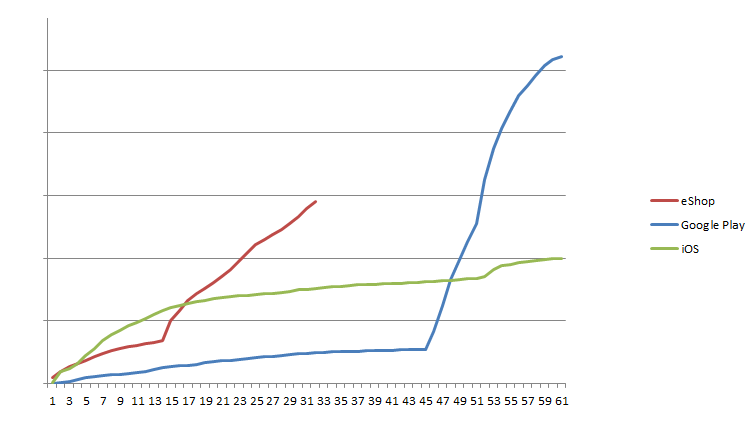 Gunman Clive 3DS has outsold the iOS version (Android version still on top)
Since there is so little information or data available about eShop sales I though people might be interested in a bit of sales comparison.
It's been just over month since the game 'Gunman Clive' released on the EU eShop and just two and a half weeks since the US release. The smartphone version launched in April last year, and the PC version in May, and the Mac version a few months later. Below is a graph of first 2 months for the relevant markets. Day 15 for the 3DS is when the US version of the game launched. The massive increase for Android at day 45 is when the game got featured by Google and the other bump a week later is when the game went on sale for both Android and iOS.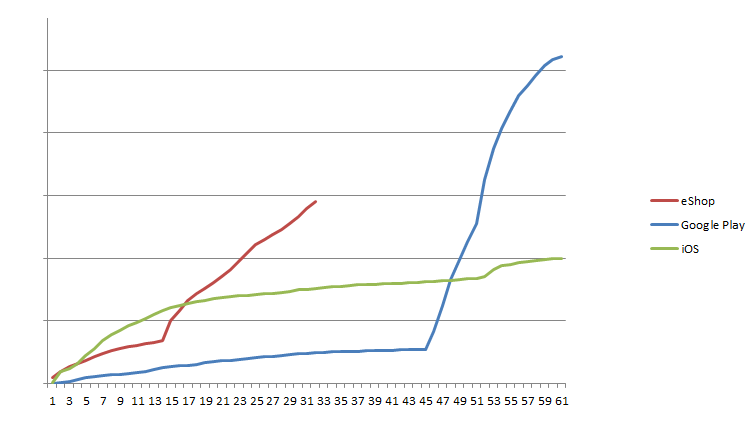 Yesterday, however, the 3DS sales passed the iOS LTD, though the Android version is still a long way off but as you can see the legs are still really good and there's a good chance it will catch it eventually. Below is a chart of the LTD for all markets.
Other markets
On PC it's available on Gamersgate and Desura and some other place not even worth mentioning. On both stores combined the sales are < 200 copies and I haven't even reached the $150 payment threshold on desura. The PC version was also part of the first Greenlight Bundle and that's the only actual money I've seeen from that version; the bundle sales are not included in the chart though. As for Steam Greenlight itself, it looks like a lost cause, and the whole process mostly made me rather bitter.
I've heard a lot of talk about Amazon Appstore supposedly overtaking Google Play and being more profitable for devs, but that really not my experience at all. Even without the massive sales peak on Google Play the Amazon sales would still be pitiful in comparison. My games didn't really sell anything at first; only after being in their Free App of the Day promotion did I start seeing some sales, but fell down to irrelevant levels quite fast. Still it's a bit of extra cash. There's also a bunch of other appstores for Android, I've tried a few but it's not really worth bothering with. I don't even remember which stores I've released it in anymore.
I did the mac version mostly beacuse it was needed for the Greenlight Bundle and then tried releasing it on the Mac Appstore as well. I didn't really have any expectations, but compared to the PC version it did considerably better. It got a few hundred sales a week for a while but then fell down to pretty much nothing after a while.
In-store promotions
A massive factor is how much visibility you get in the store, and you can't really compare the sales without going into the types of promotions I got from the platform holders. I owe about 85% of the Android sales to being featured by google, which is of course awesome but not something I can count on for every game so that has to be taken into account when evaluating the platform.
For Google PLAY, I got contacted after a few weeks about getting it featured. There were a few issues I had to fix first and (they also asked me to add the easy mode). After I had upladed the new version it got featured in the top spot in the games section for a week and then a slightly lower spot the second week. Sales went up some 10 000% and it sold about 75% of it's LTD during those two weeks (this also coincided with the Because We May-indie sale, so for the second week it was for half the price). This also pushed it up on the charts and sales were considerably higher than before for some time afterwards.
In iTunes it was added to the New & Noteworthy list after a few days, but not in a very good spot and not in every country. I believe it was there for two weeks, and after that the sales stared to decline.
On the Amazon appstore it was Free App of the Day (which I believe is one of their bigger promotions) once, it got over 100k download when it was free and it was only after that that it started selling at all but quickly fell down to just a handful sales a week.
On 3DS it did not get a spot on the eShop front page in either market. It did get a full description in the NOA press release though. In Europe it's been included in some of the lists on the front page since then (not sure about the US). Last week there was a "5 star software" category where Gunman clive was included (only in countries were it had a 5 star agerage rating), and this week it's in the Winter Highlights category.
Charts
In the eShop it's been in the top 20 in pretty much every european country since release. It's currently #7 in the UK and #2 in Sweden, not sure about the US but I heard it had a pretty good spot a few days ago.
On iOS it did crack the top 25 in a bunch of countries in some categories during the first few days, but in the all games list in the US it peaked at #160 and not even in the top 400 for all apps.
On Google Play it climbed the lists slowly until the massive spike in sales during the promotion, I think it was in the top 5 for Arcade/Action in most large markets. It's currently #41 in Sweden
Obviously iOS is a much larger market and it might not be possible to become an overnight millionaire on the eShop, but for a small game with no marketing and little prerelease hype it does feel like the eShop is a healthier market, and while it's recieved some promotion from Nintendo it doesn't seem to be as reliant on it. It could also be that the word of mouth is helping a bit more on the 3DS because of buttons etc, but overall the response for the smarthpone versions was also very positive. The total sales are still not massive and I'm hardly wealthy yet, but I've been well rewarded for the time put in and it's made a very healthy profit considering how little I've spent on it. There's still no telling where the 3DS sales will end up, and the other versions are still selling, though not at a very impressive pace.
[Source: http://www.neogaf.com/forum/showthread.php?t=509260]
Gunman Clive Links:
Android: https://play.google.com/store/apps/details?id=beril.mootor.gmc&hl=en
iTunes: https://itunes.apple.com/gb/app/gunman-clive/id507264677?mt=8