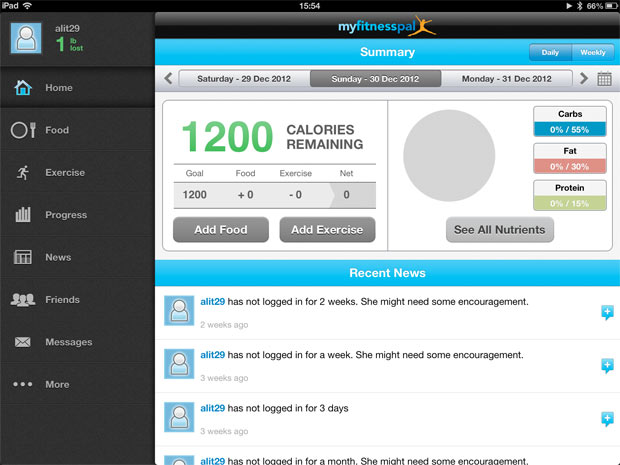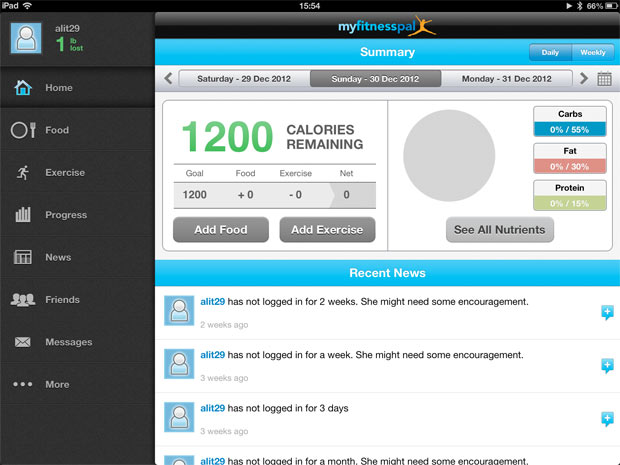 At the beginning of 2013 The Huffington Post stated that 38% of health apps downloaded by smartphone users were fitness-based, and this number is set to grow even more. The use of smartphone apps for health and nutrition is even starting to be embraced by the medical profession, with doctors recommending particular apps for healthier lifestyles.
Health and nutrition apps allow for easy self-monitoring, but with thousands available how do you know which apps are the most worthwhile? We've done all the hard work for you, tried and tested the very best apps and here's what we found:
Fitness Apps
As our smartphones get slimmer and slimmer we are rapidly moving in the opposite direction, but, with the help of our mobile devices, we can start to become more slim line ourselves.
Perhaps one of the most well-known fitness apps, My Fitness Pal's Calorie Counter and Diet Tracker, is available to download on Android, Blackberry, Windows and iPhone devices for free and works in conjunction with the My Fitness Pal website. The site, and subsequent app, was created by two brothers looking to lose weight and the app now links back to a large community of users who are all working to lose weight alongside you.
The app boasts a simple user interface and after downloading it users are asked to enter some basic details including their name, date-of-birth, weight and height as well as their intended goal. The app tracks progress by allowing users to enter their calorie intake and exercise undertaken as well as providing plenty of nutritional guides to help the user eat healthily.
JEFIT is a similar fitness app that is sometimes described as the ultimate workout app. Whilst My Fitness Pal concentrates on nutrition, with exercise included, JEFIT centers around progress through exercise. The app is free to download on Android and iPhone devices and allows users to work on specific body areas. The app tracks progress based on body measurements and goals entered when you set the app up, and offers thousands of exercises to work through that include animated images and descriptions, along with timers. If an exercise isn't included in the extensive database you can add it in as a custom exercise and keep a log of all of your workouts.
Much like JEFIT, Workout Trainer offers thousands of free workouts and training programs that will keep users on the straight and narrow whilst exercising. The app works well regardless of location or exercise preference and includes regular audio encouragement. If you want to exercise without the use of equipment this is the app you need.
If your exercise of choice is running then download the RunKeeper app, it works exactly like a GPS watch, without the high price tag! This app will record the distance of workouts as well as pace to work out average times and calories burnt whilst providing audio progress updates to help users improve their fitness levels.


Adidas and Nike also battle it out with their own branded fitness apps; Adidas MiCoach and Nike+. The two are incredibly similar and are also GPS based running apps that track progress. Choosing between the to can be difficult, but it's worth bearing in mind that Adidas have made their app free, whilst Nike charge £1.19 for their offering.
Nutrition Apps
Along with your fitness regime, if you are looking to lose weight or just want a healthier lifestyle overhauling your diet can make a big difference. Ditching the chips for some fresh fruit and veg is an obvious change to make, but how much do you really know about nutrition? If you feel like you're drowning in a sea of nutritional information download one of these apps to help regain some zen within your diet.
Although already mentioned above, My Fitness Pal's Calorie Counter and Diet Tracker really does belong in both camps. As well as acting as an exercise tracker the app allows the user to set daily calorie goals and record their daily intake as well as record the exact food they are eating and learn more about its nutritional values.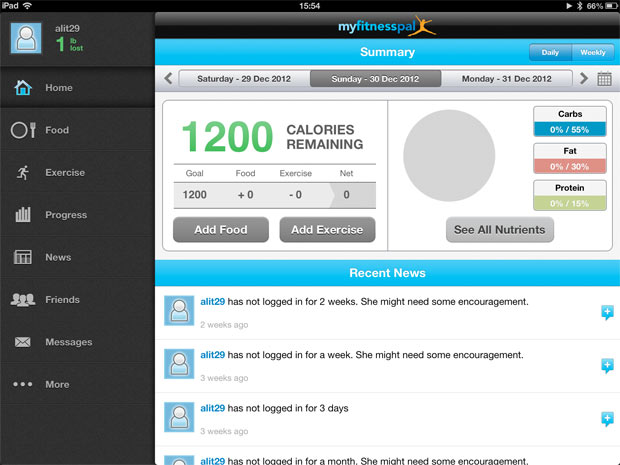 Fooducate is another nutrition app that aims to help users begin to make healthier food choices. Free to download on Android and iPhone devices the app acts as a portable food diary as well as offering the ability to search for or scan food products whilst shopping to discover more about nutritional values.
Lose It! is an app that places emphasis on losing weight through healthy eating. The app will help users to set a weight loss goal as well as a timescale and then calculates a daily calorie budget to stick to. Users can then enter the food they consume and calories will be taken off their daily allowance, but how do you know what you should be eating? A common difficulty when attempting to lose weight is choosing the correct things to eat, but with the Slim Down Shopping List app from Women's Health the daily diet shopping struggle will become a thing of the past. The app includes 250 of the healthiest food finds sold in supermarkets with specific nutritional information for each item, helping users make the right choice.
Whether you are looking to lose weight or just enjoy a healthier lifestyle, combining these apps can aid your health and fitness goals in all aspects of life. The ability to carry these useful apps with you wherever you are will help you to reach those goals much quicker.