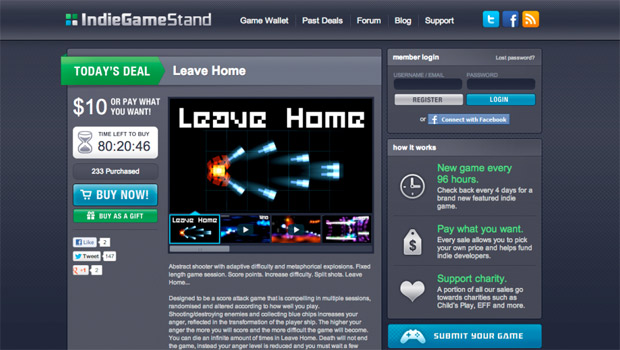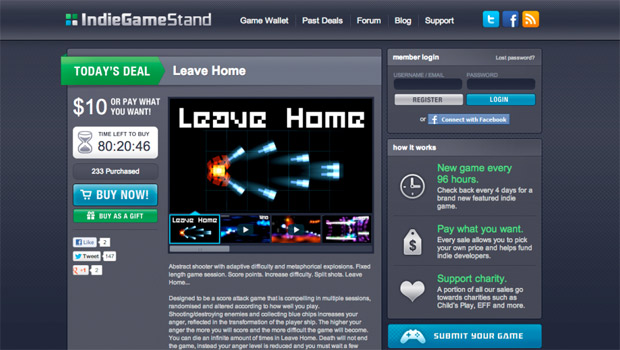 I have just realized that I have been visiting the daily deal site IndieGameStand.com for about six months now and not mentioned it on my blog. I have only bought two games from there, the wonderfully ethereal PID and classic RPG Doom and Destiny and although I would like SO many more I have to budget as in my line of work (as a games blogger) it can be very expensive maintaining a gaming habit for multiple computers and consoles.
Indie Game Stand is a fantastic site which features a new game every four days and 10% of all earning go to the developers chosen charity. The website is clean and easy to navigate, and you can see all the stats around the offer including the amount it has earned, platform, average price paid, and the top contributors.
As mentioned, I got the highly praised indie game 'PID' and was happy with the whole buying process. Each game you buy is stored in a virtual game wallet which means to can access it when and wherever you want which proved very useful when I updated my laptop. The top games that have featured on the site have included:
[one_third]
[/one_third]
[one_third]
[/one_third]
[one_third_last]
[/one_third_last]
As you can see there is a tonne of great games to choose from so if you are a fan of indie games and you want to give a little to charity whilst you are at it then get yourself over to the Indie Game Stand to snag their latest bargain. Having read this post back I realise that it does sound a bit like a promotional post but I assure you it isn't, I just like the site.
Related articles