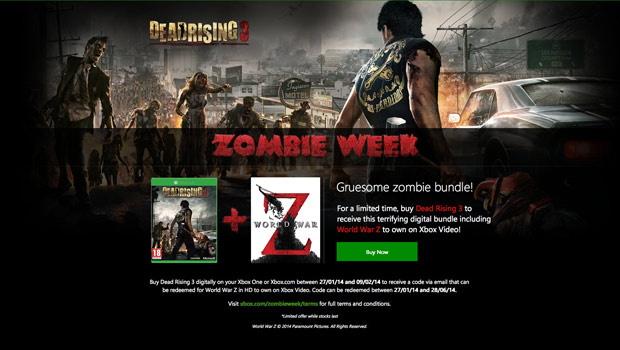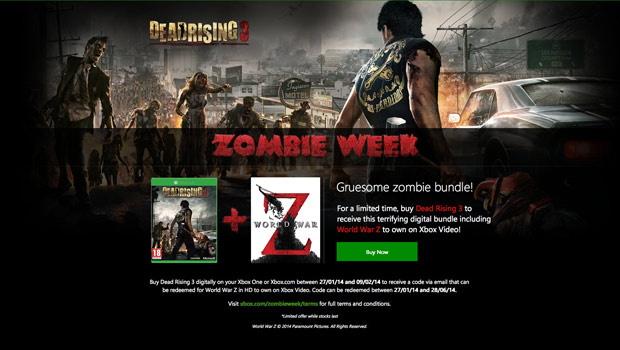 A Zombie Week promotion sounds fantastic on paper but surely someone in the marketing team must have thought that this would work better across the board. Right now at http://www.xbox.com/en-GB/zombieweek you can now get World War Z: The Movie free when you purchase Dead Rising 3. Whilst this in isolation is a pretty good deal, when taken in the context the of the rest of the promotions seems a bit of a waste of effort. Less than two weeks ago, the online price for Dead Rising 3 was £44.99 so couple that with a £6.99 movie, the offer is not quite so enticing.
Right after delays
A few days ago, news broke that Plants Vs Zombies: Garden Warfare was going to be delayed a week, releasing now on February 25th. Why this promotion couldn't have waited less than a month to tie in this release I have no idea. Seems a bit like a missed opportunity.
Xbox Live
Still on missed Plants Vs Zombies opportunities, last week Xbox spokesperson Major Nelson announced a price reduction on the original Plants Vs Zomvies on Xbox Live (http://majornelson.com/2011/01/17/deal-of-the-week-plants-vs-zombies/). Again great news, but sadly, this offer finished two days before the Zombie Week promotion.
Other Offers
I'm not sure what the rest of the week will hold for Zombie week but at the moment the even the Walking Dead Series, with series 1 at £11, series 2 at £16 and series 3 at £22 (standard definition) are no cheaper than on iTunes (series 3 is actually £1 cheaper on iTunes)
This offer has come out of the blue and really feels thrown together as the movies are not cheap, the TV series actually work out more expensive and the timing is not synchronized with Xbox live or upcoming Xbox One titles. OK, so this is not a blog on marketing but suring someone in the office must have done some research before doing this???