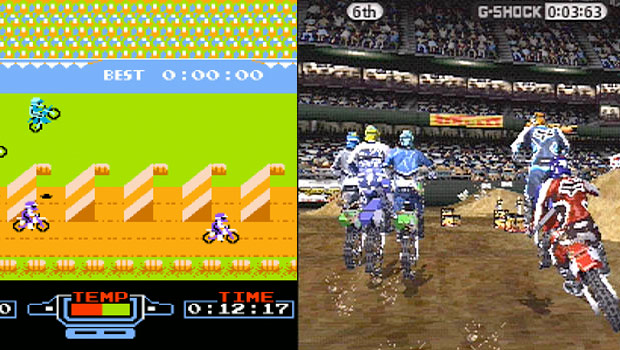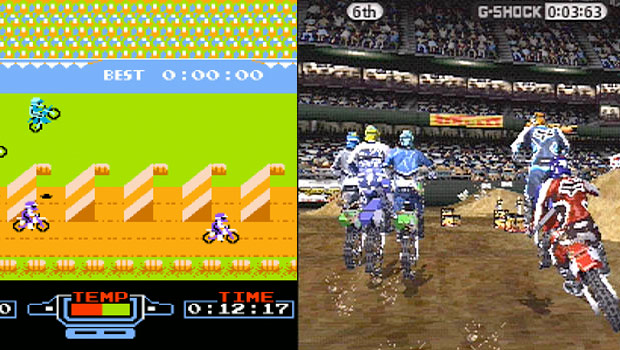 Motocross racing is full of loud engines, mud-slinging, adrenaline-pumping speed and heart-stopping jumps. By playing one of the following motosport video games you can get in on the action of motorcycle racing. Racing games can be downloaded online through game sites or you can buy the software. Whether you prefer a dirt track, a mountain trail or paved city streets, these motocross games can give you all the fun of biking without you ever having to leave your living room.
Excitebike
This is one of the original, classic motorcycle racing games. Although the game was created in 1984 for the 8-bit NES, you can buy a modern version that can be played on the Wii or the 3DS. Of course the graphics are rather pitiful when compared to modern motocross games, but many people enjoy playing "Excitebike" for the nostalgia of it. Additionally, you can play around with the track editor to invent your own tracks with customized obstacles.
Motocross Madness
In 1998, Microsoft created the original "Motocross Madness" game for the PC. This game featured fun sandbox racing games and hooked players on motorcycle racing fun. Since then, "Motocross Madness" has received several overhauls and has been recreated a few times for various game systems. Currently, you can play newer versions of "Motocross Madness" on the XBox 360 or your personal computer.
Each game features more than a few motocross courses, with plenty of variety in the scenery and terrain. "Motorcross Madness 2" expands upon the original version of the game, featuring five different race modes and vastly superior graphics. The LAN capabilities of this game mean that you can share the madness with your friends and have hours of fun socializing while you play motocross games together. The numerous gameplay modes, choice of six different bikes, and 40 different tracks mean that you can play this game for weeks without ever getting tired of it.
MX vs. ATV Series
THQ has a huge selection of MX vs. ATV games. "Alive," "Unleashed," and "Reflex" are just a few of this massive series of motocross games. Most of these games are available in PC format, as well as Playstation 3, Nintendo DS and XBox 360. Each release gets a little better. They all feature fabulous graphics and incredible controls. By mastering the controls, you can perform acrobatic tricks, jumps and sharp turns. Reviewers found that the MX vs. ATV Reflex version has the best effects, and the Reflex engine brought new excitement to the game. With this version of the game, you can create ruts in the track to trip up other racers, and you can do incredible flips in the air. MX vs. ATV Alive is a pretty good game, but the format calls for downloadable add-ons to increase the interest of the game. As your bike ranks up, you can unlock new parts of the game. MX vs. ATV Unleashed provides extra fun because of the wide variety of vehicles from which you can choose. In Unleashed, you can use a standard ATV or motorcycle, or you can choose monster trucks, bi-planes, golf carts and a few others.
SuperCross Circuit
Although other motosports games have surpassed this game in graphics and controls, it does deserve a mention. "SuperCross Circuit" is a Playstation game from more than years ago, so in the evolution of motorcross games, it is a bit primitive. However, this game does have plenty of entertainment to offer with 21 tracks in various worldwide locations. You can create a rider yourself and take him through an entire season's races. You can earn money by winning races to upgrade and repair your bike. If you tire of the game's pre-designed tracks, you can take advantage of the game's track editor and create your own.