The Meta Quest 2, formerly known as the Oculus Quest is one the hottest gadgets around. Now VR is untethered and doesn't need a separate PC to run, VR is now much more accessible. With more and more children wanting to experience VR gaming, I wanted to run down the top 10 Meta Quest games for children for Christmas 2022. I have outlined seven for those under 12's and three for those around 10+.
Under 12's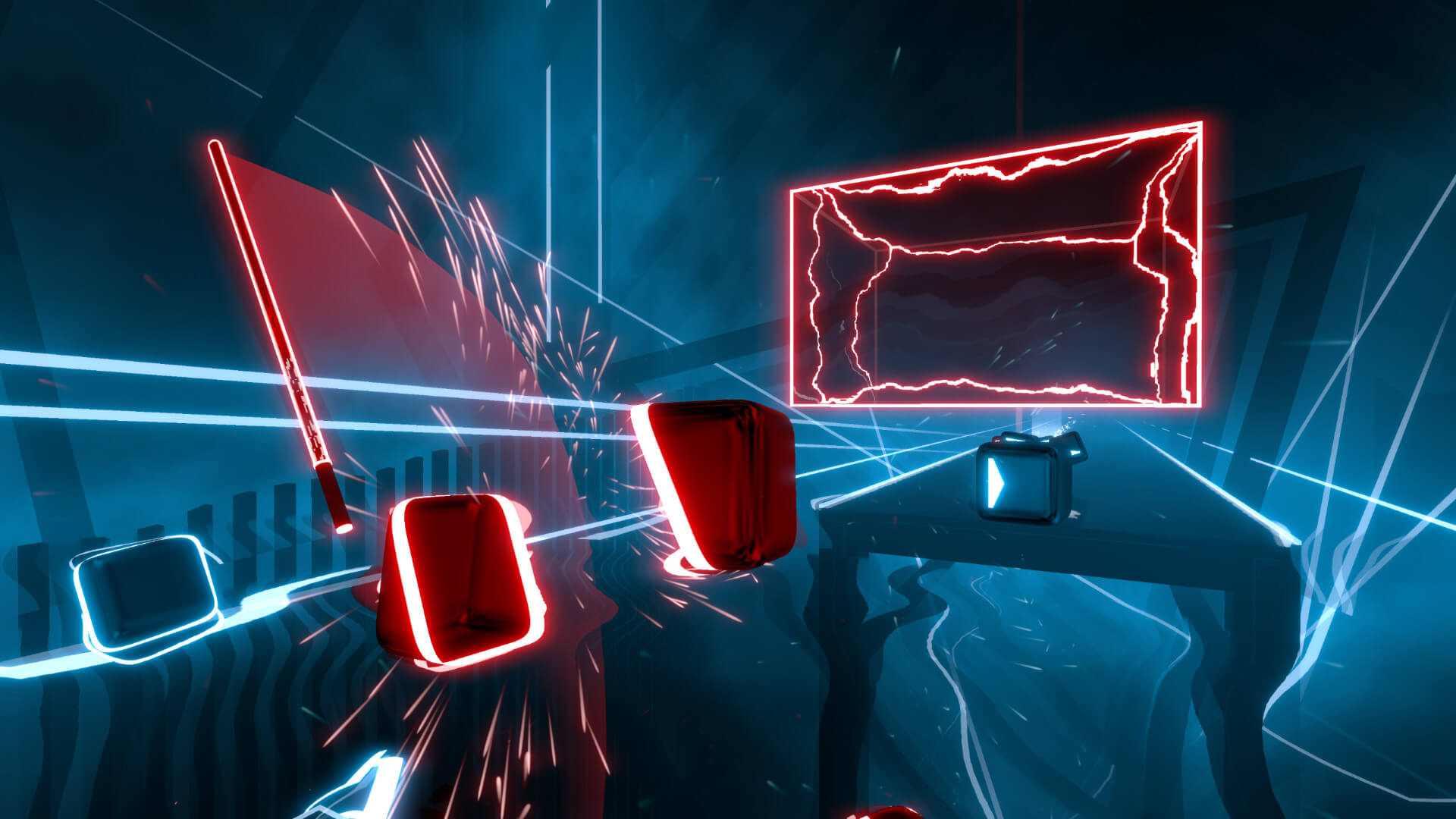 Beat Saber
Beat Saber is the must-have game for VR as it sees players armed with two glowing lightsabers that are used to slice through music blocks in time with the music. The game comes with 10 songs as standard and DLC packs that include around three songs each. There is also a handy editor to create your own beat maps should you want to craft your own. With so many songs to download you will be slicing it up to Baby Shark in no time.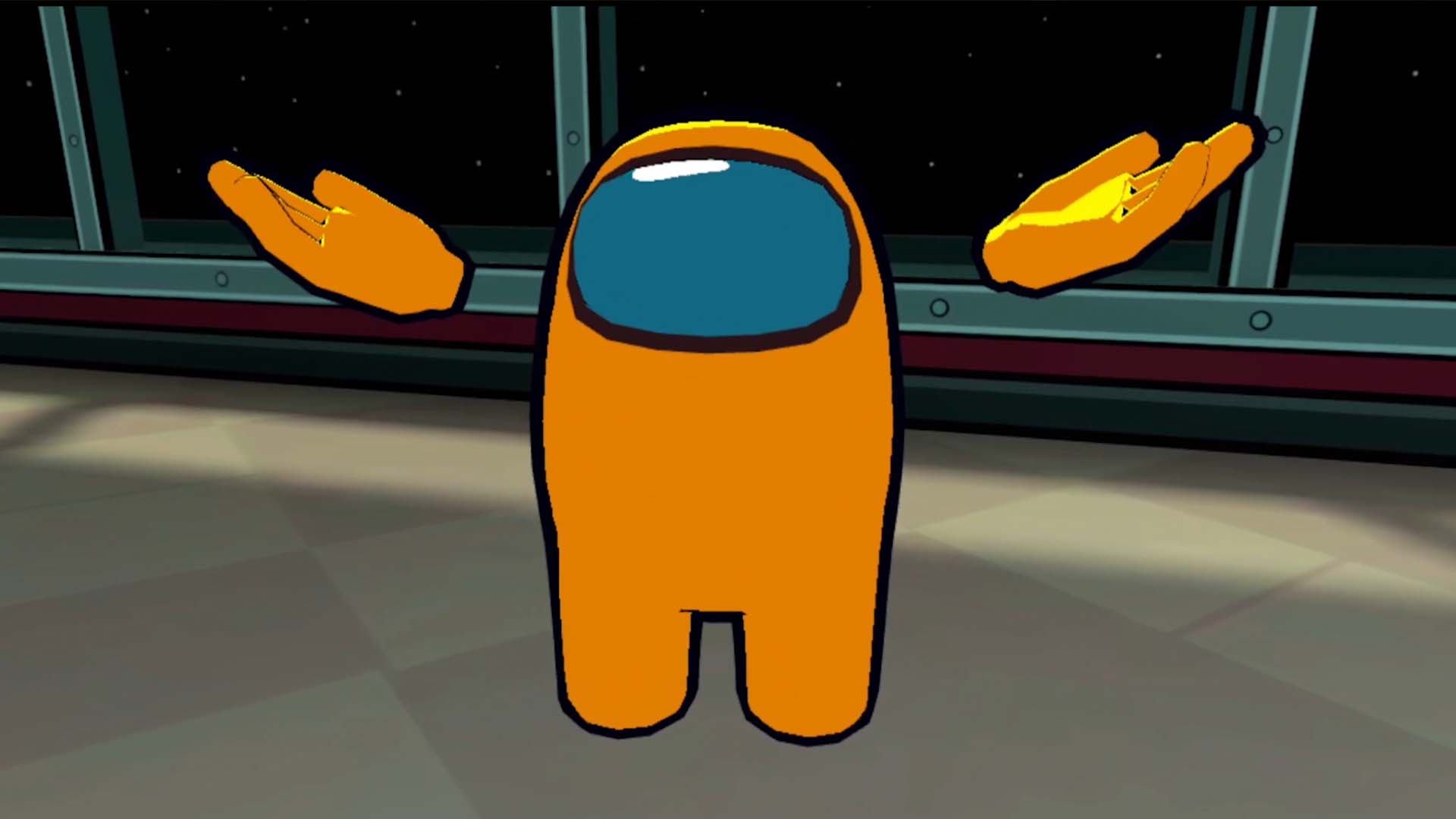 Among Us VR
Among Us VR is a party game of teamwork and betrayal. This VR version of this hit multiplayer game allows 4 – 10 players to complete tasks to hold your ship together whilst One or more random players among the crew are Impostors bent on sabotaging and killing everyone. The cute graphics and cartoon gore match the mobile and console versions so fans of the original game will love the new angle.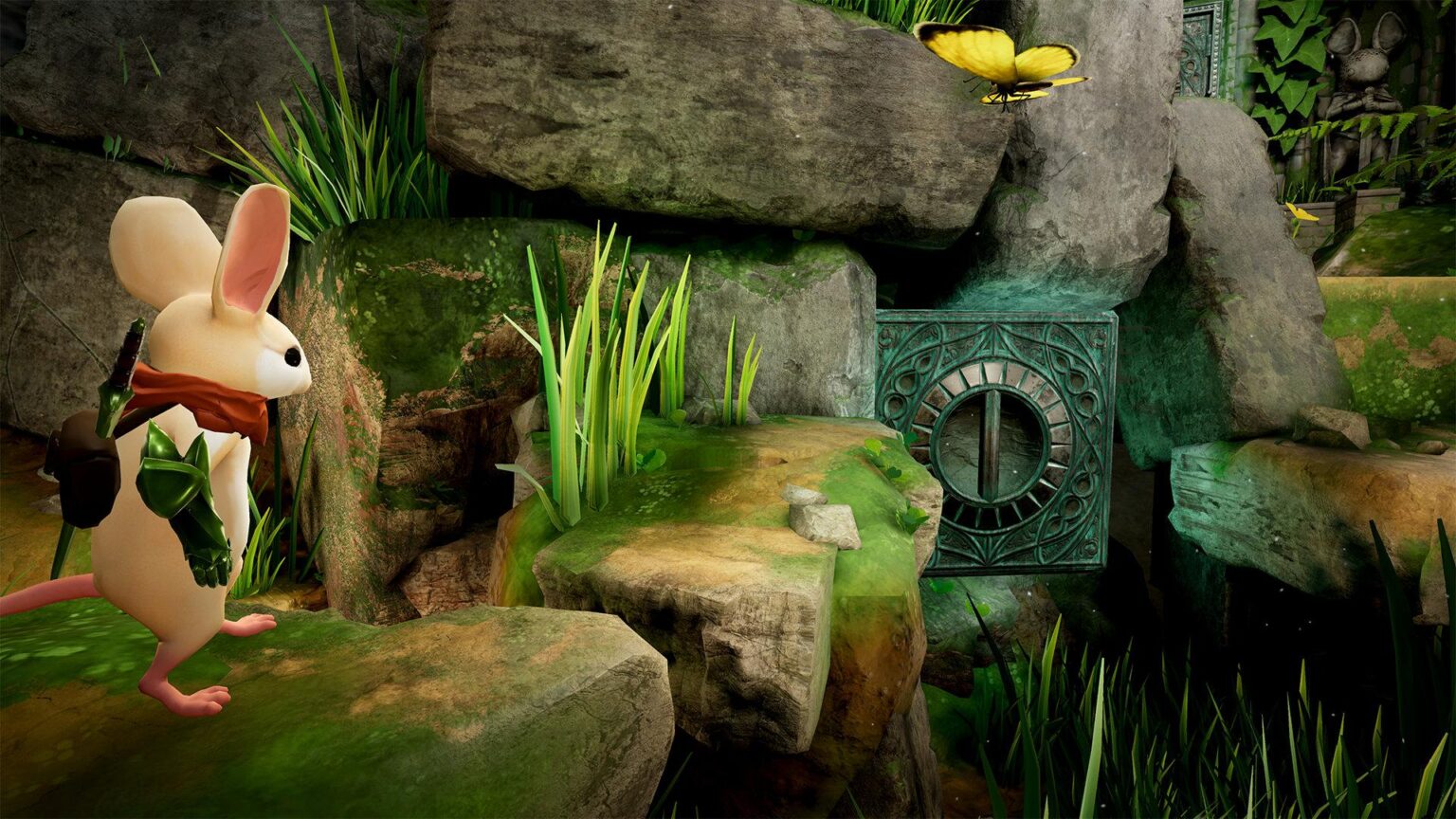 Moss & Moss Book 2
Moss and Moss Book 2 are more of your traditional adventure games with added VR elements. You help a brave little mouse called Quill as you'll both venture deep inside the hexed castle of the Arcane where dangerous terrain, challenging puzzles, and enemies await. Players find themselves moving through the castle and moving items and solving puzzles to help Quill traverse the dangerous castle. Quill is extremely cute and some of the mini-animations will warm your heart.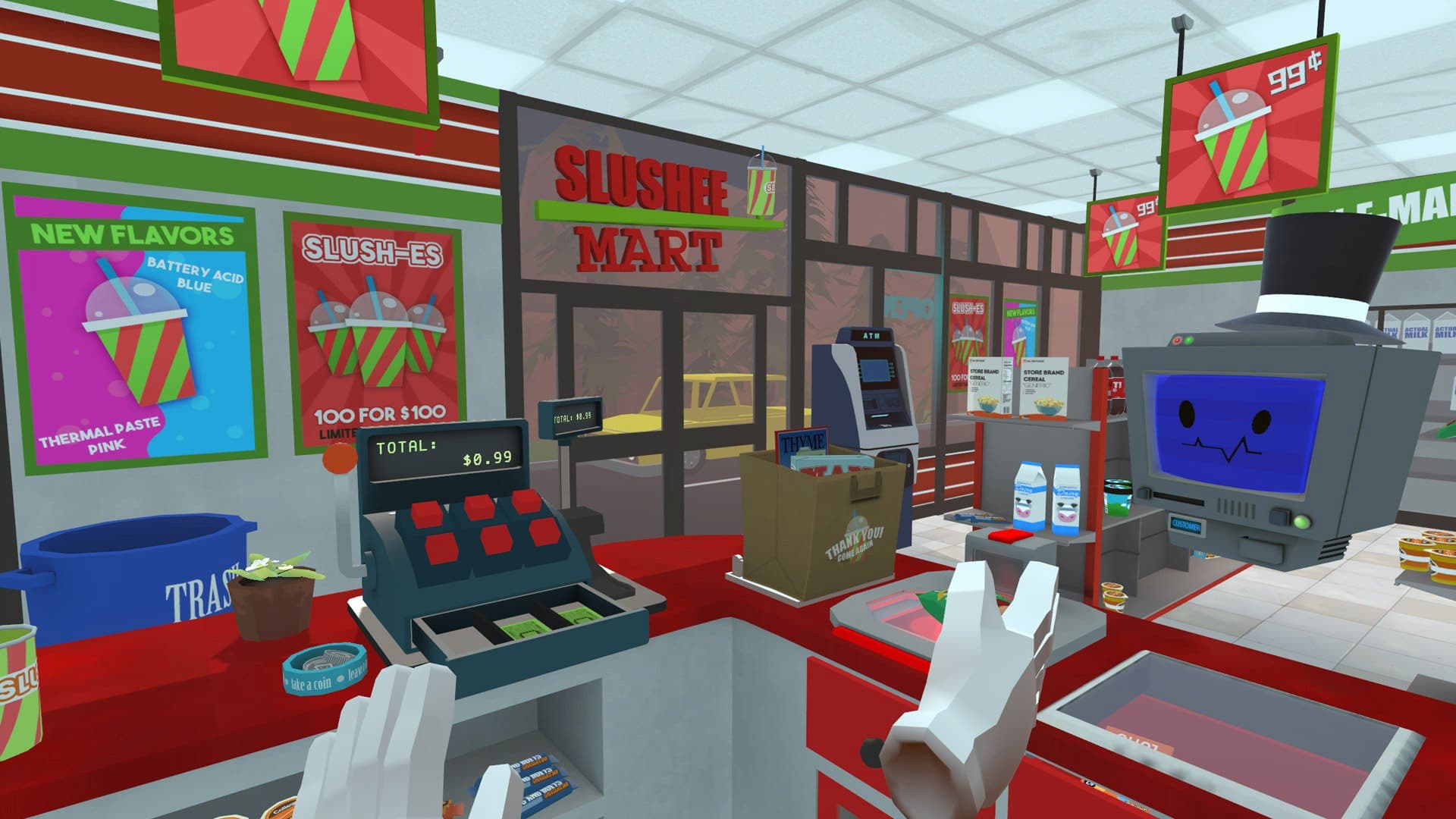 Job Simulator VR is a new edition to the list. It is a fun and interactive virtual reality game that's perfect for children! You'll be tasked with completing various office duties in different jobs. You might be answering phones, filing paperwork, and making coffee in one but then cooking cleaning and manning the till in others. With the help of your VR headset and controllers, you'll use your hands to interact with objects around the office, like opening drawers, picking up items, and pressing buttons.
With its engaging gameplay and interactive features, Job Simulator VR is an excellent game for children who love to play role-play.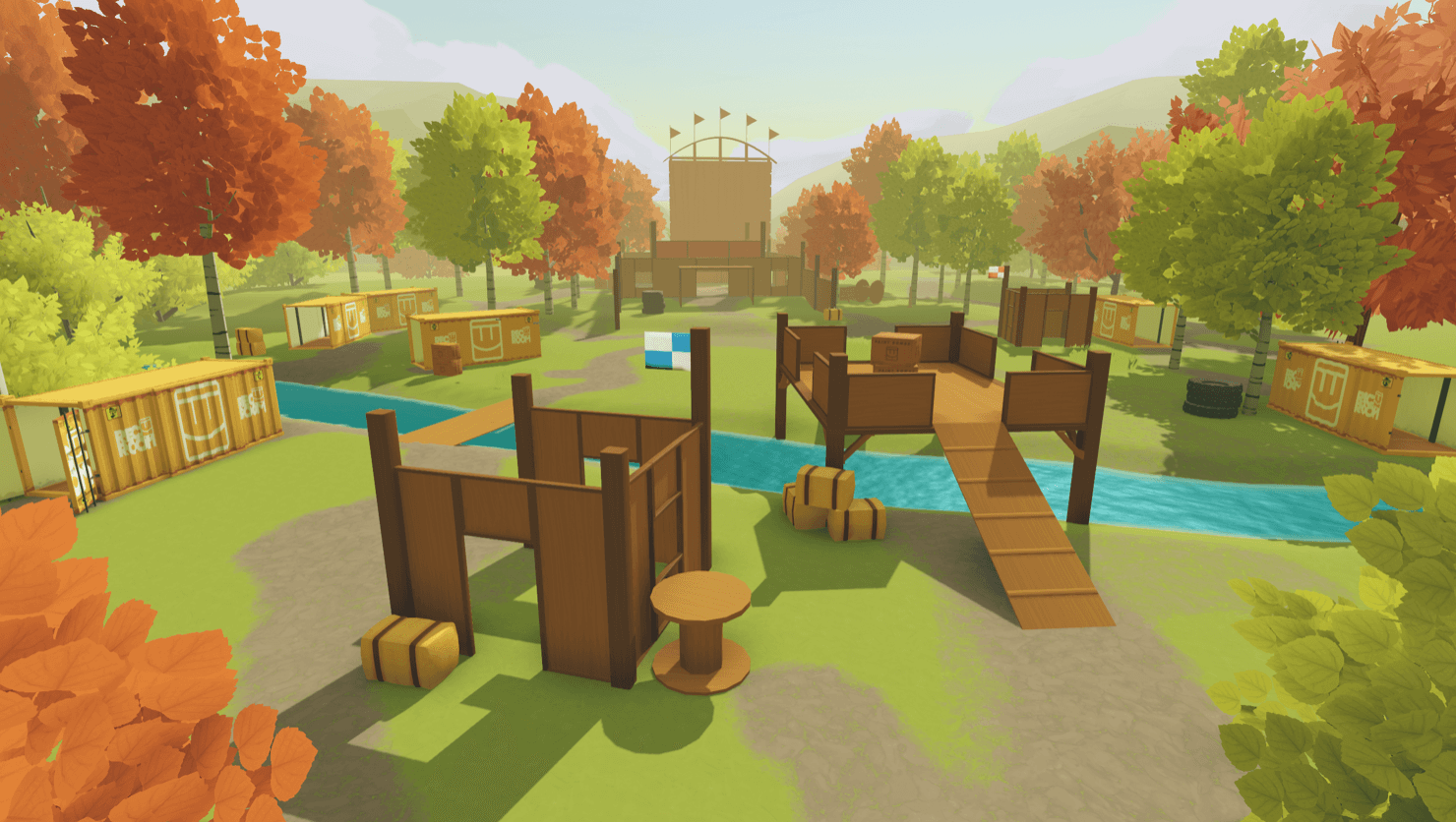 Rec Room
Rec Room is trying to be the Roblox of VR as it allows players to meet and hang out in a VR space. There are also thousands of 'rooms' to explore from simple sports games to scary escape rooms. As the content is always changing, there will need to be regular adult checks to ensure the games are suitable, but overall Rec Room is a great place to create yourself an avatar and spend time with friends. To get you started, I recommend your play Golden Trophy, Among Us RR, and Paintball as they all are good clean(ish) fun.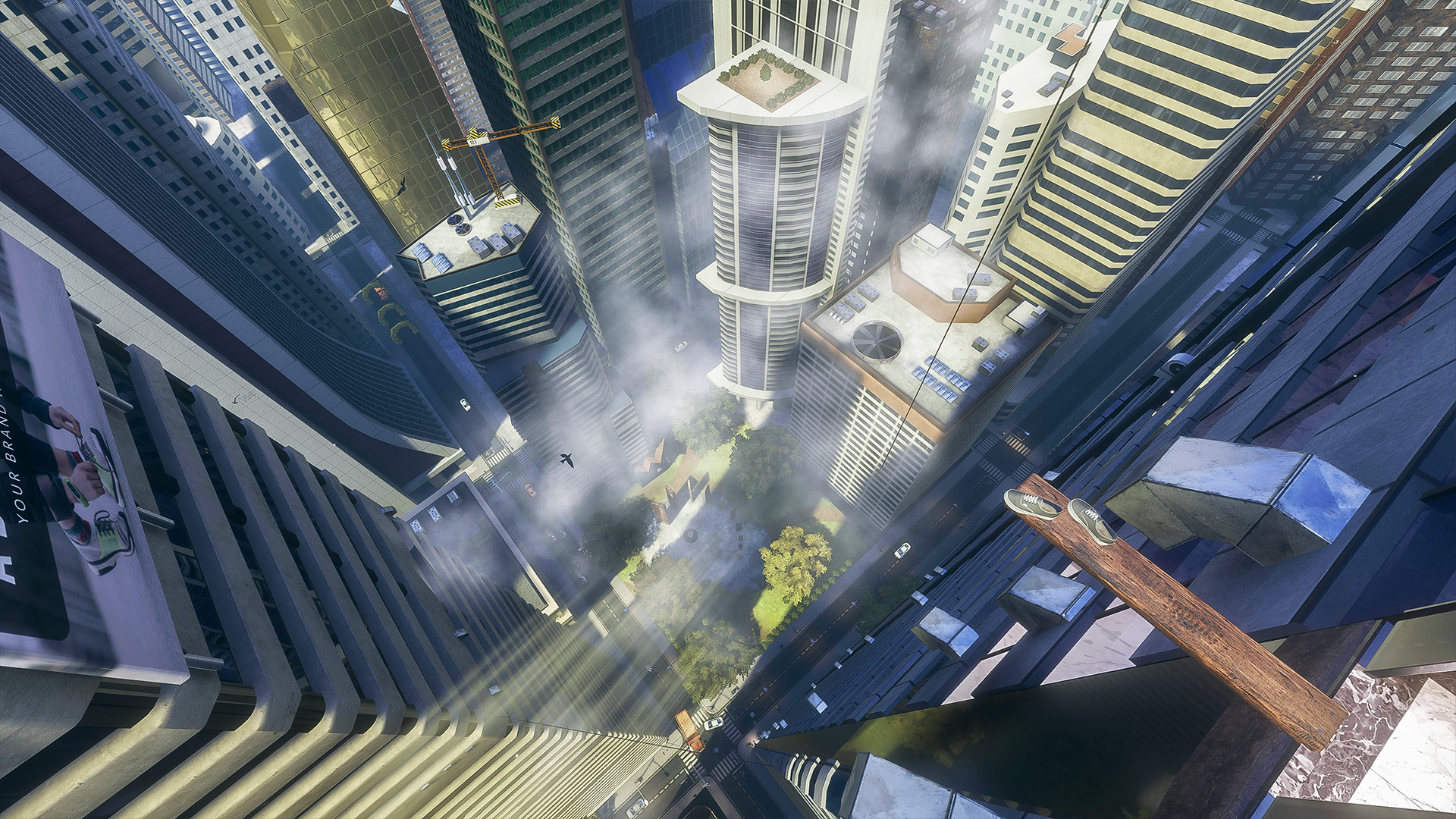 This is probably the oldest VR game on the list but gave my family the biggest laugh over Christmas as its simple enough for the whole family to try whilst the rest of the family laughed at them. The game is really simple, players walk along a plank high up in the sky and have to do tasks at the end of the plank without falling off. The graphics are super basic and the gameplay is limited, but its one the whole family can try.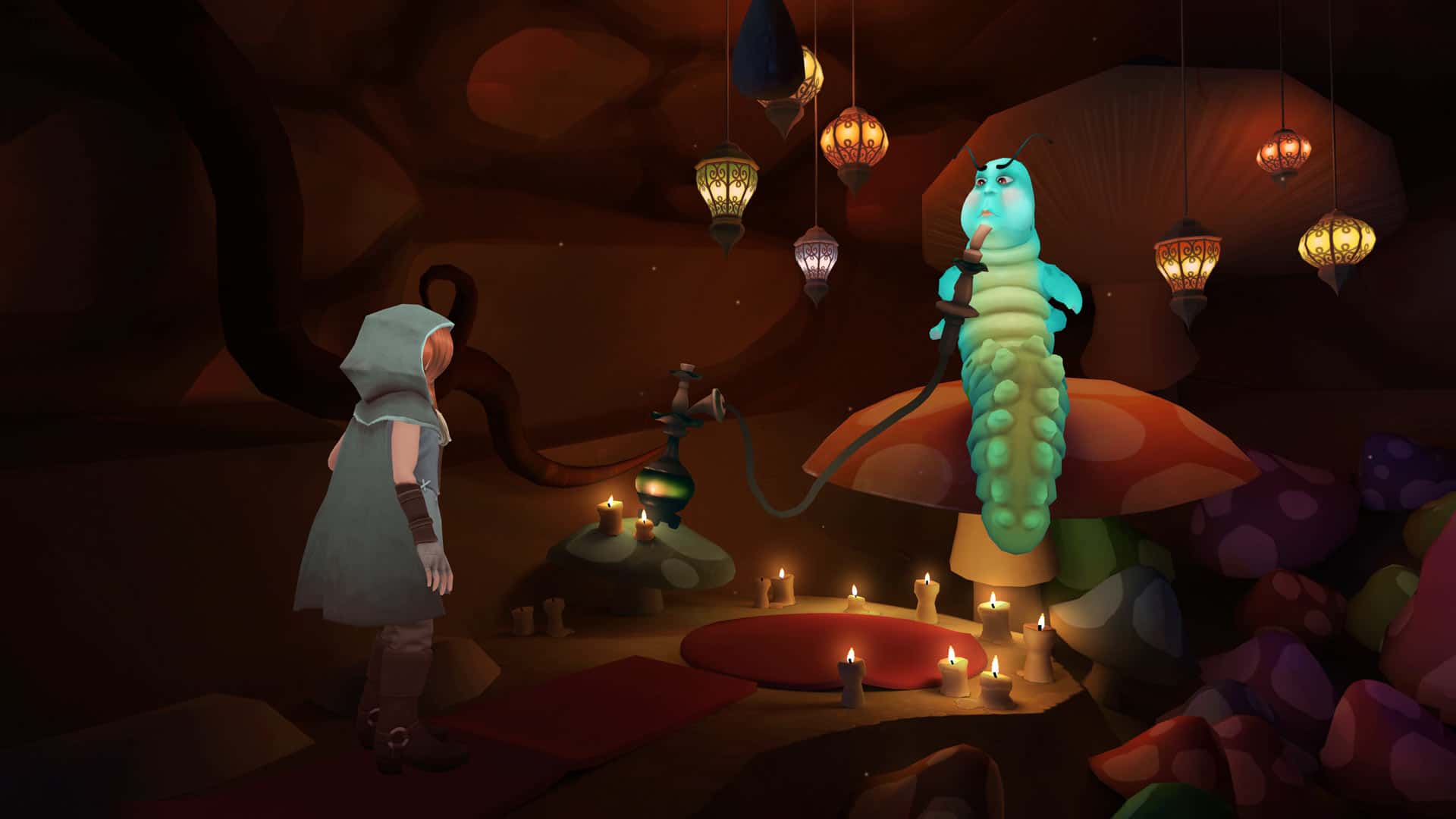 Down The Rabbit Hole
Down the Rabbit Hole is a wonderful mish-mash of ideas and there is nothing quite like it on any platform. This interactive adventure sees you helping Alice in Wonderland in a variety of different ways. The games and puzzles are all different enough and petting the Cheshire Cat is very sweet. Down the Rabbit Home has more in common with an interactive book than a game as you can move around the world and pick your path which always ends up at the hub world with the smoking caterpillar. At a little over two hours, the game is short but varied enough for children to enjoy.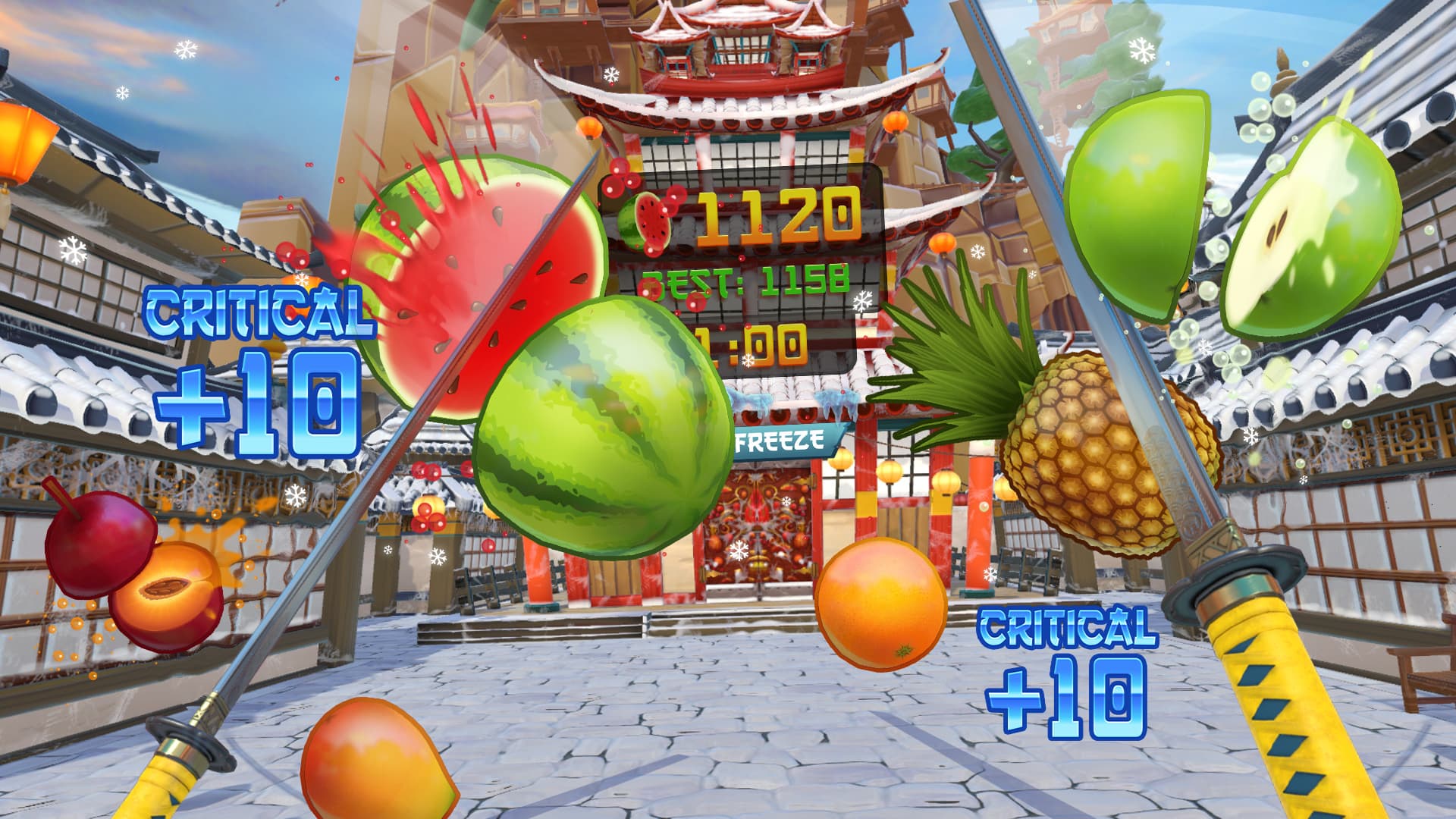 The classics never die, they are simply rebooted. Fruit Ninja VR takes the classic air-chopping game from Halfbrick and gives you swords. The new VR perspective allows players to look around and see where all the fruit actually comes from. It turns out that it's actually two food cannons off-screen that blast you with a mix of fruit and bombs. Players must swipe, chop and dodge the variety of different levels to achieve a high score and beat the rest of the family. A fun family game but keep any ornaments or breakables away from the play area.
12+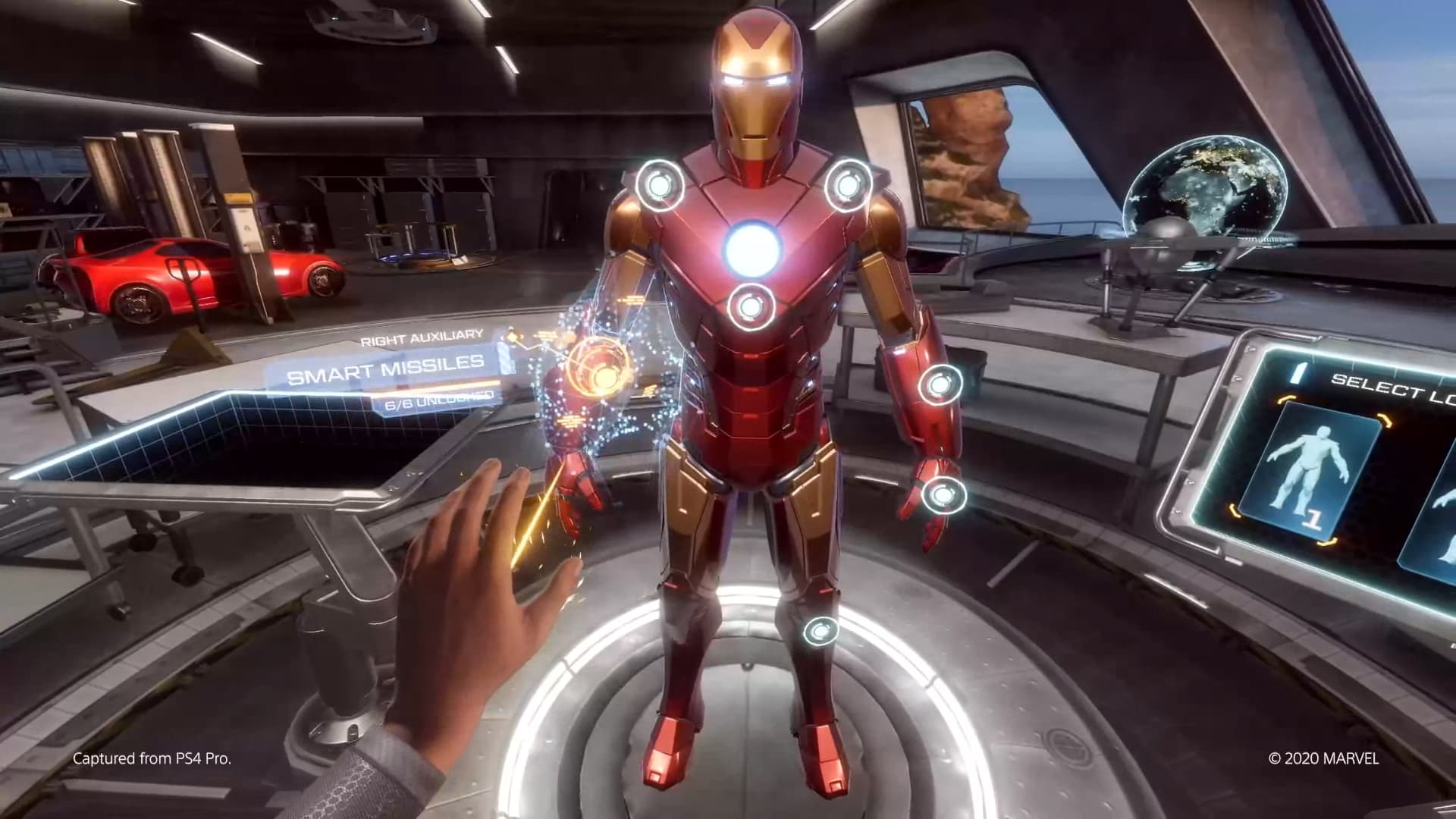 Iron man VR
Iron Man VR is a great shooter for Marvel fans. From the moment your Iron Man suit starts attaching itself to your virtual self, you feel like a hero. The story follows you on as you track down Ghost and her army of hacked Dones. Putting your hands behind you fires your rocket boosters whilst using the trigger buttons in front to shoot your hand cannons. The camera is mainly on rails but there is some freedom of movement whilst inside. The graphics are ok and the interactive cut scenes can be a little jarring, but definitely add more depth to the story. Chatting with Nick Fury and Pepper Pots is great but it's the action sequences that really make this game.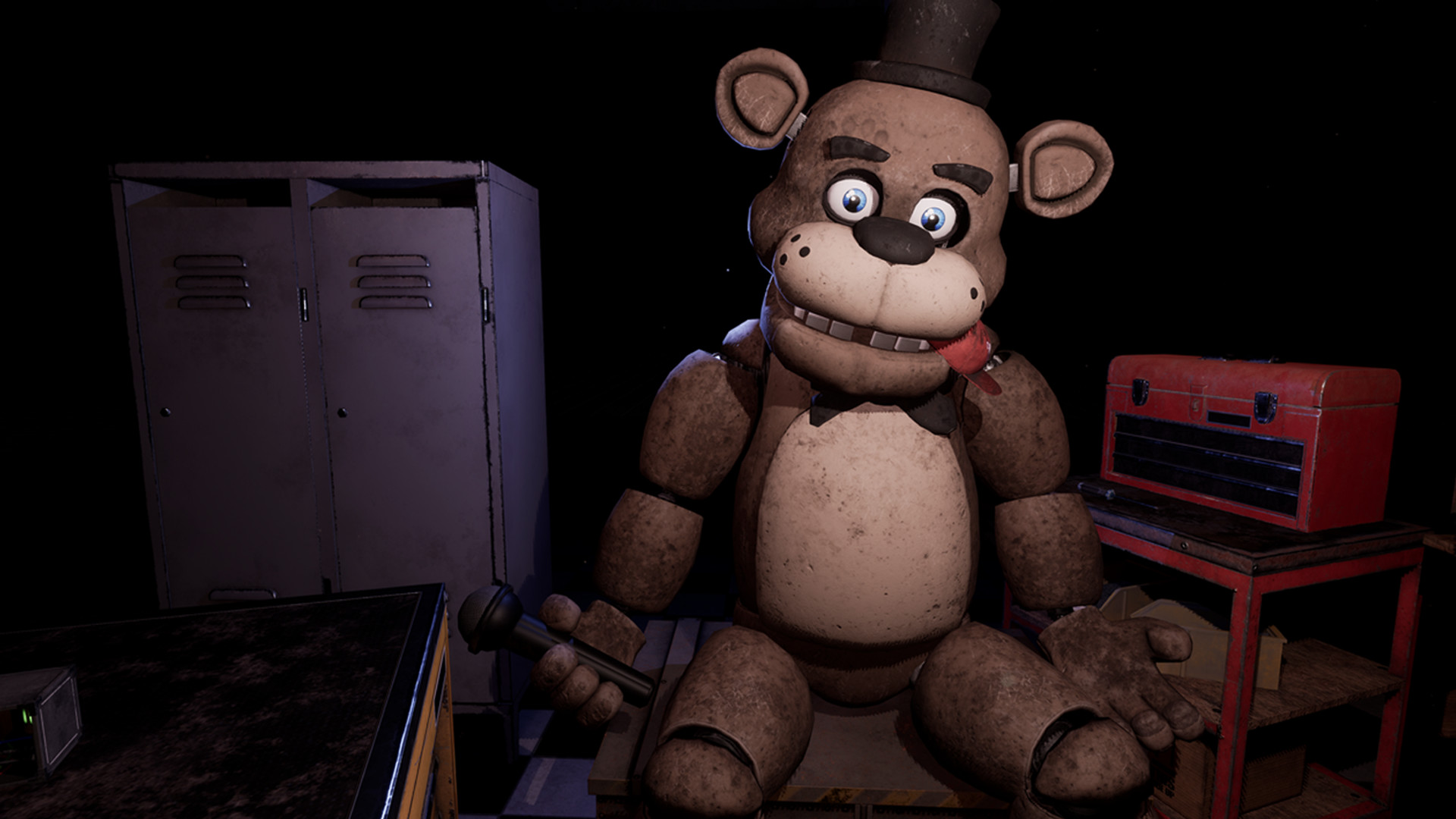 Five Nights at Freddy's
Five Nights at Freddy's VR: Help Wanted is the kind of VR game you need to take a deep breath to prepare yourself before playing. Whilst the original game was a masterclass in suspense, it could be argued that the VR version is now the definitive version as it offers the tensest and most powerful scares you can find in a VR headset. It may be difficult to play for very long before your heart rate spikes and it won't be for the faint-hearted, but as many older Children already know everything there is to know about FNAF, they would love to try it in VR.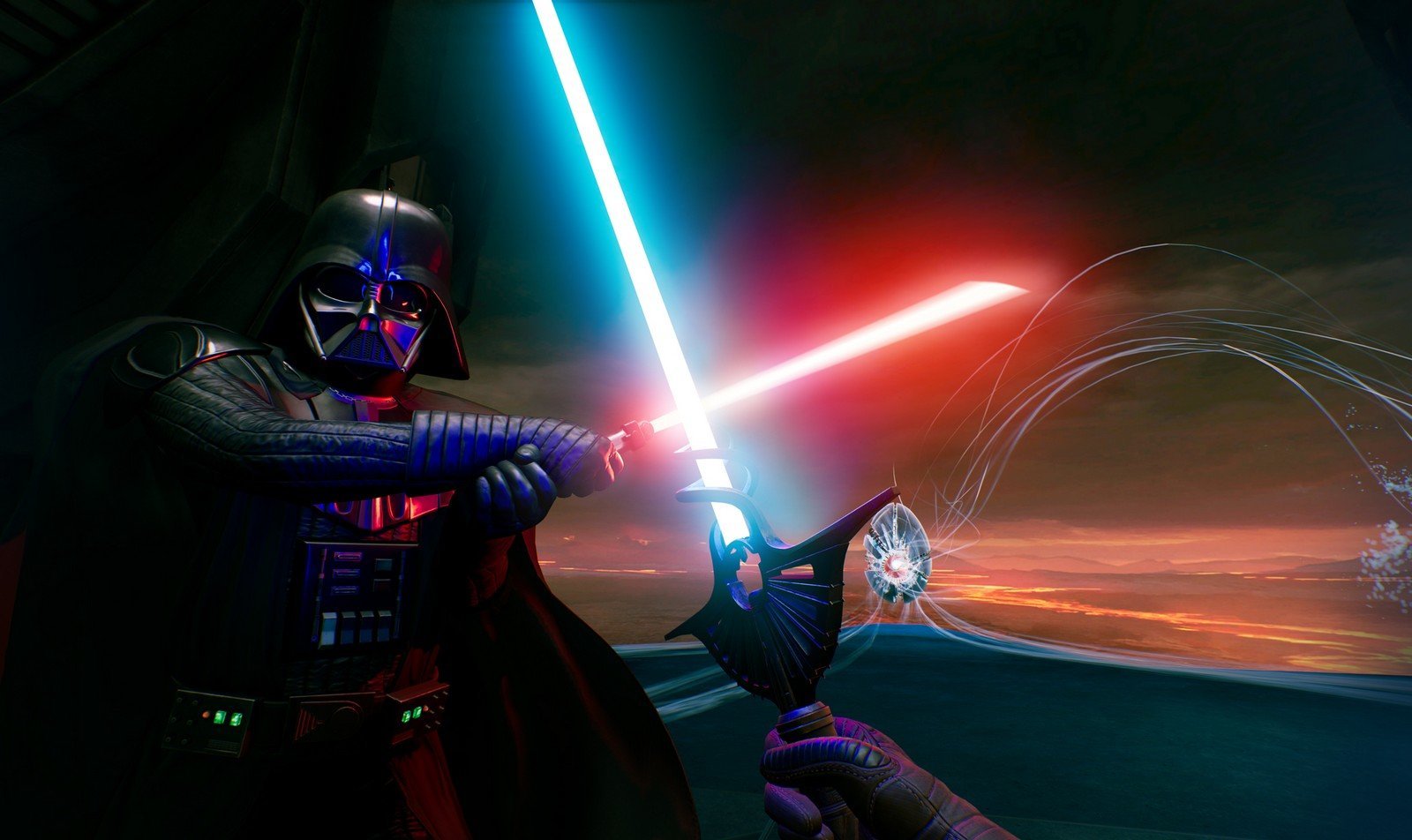 Star Wars: Vader Immortal Trilogy
For Star Wars fans, the Vader Immortal trilogy is a great VR introduction to the Star Wars Universe. The story and graphics are fantastic and meeting Lord Vader for the first time is every bit as nerve-racking as you might expect. The dialogue is well-acted and the detailing on the ships and levels is fantastic. The lightsaber duels are as good as you would hope but work well enough to keep the story moving.
Obviously, there are plenty of other games that look like great fun VR games for children, but I haven't tried them yet so can't comment on their quality. Some games that I am hoping to try soon include:
The Curious Tale of the Stolen Pets
Floor Plan 2
Zenith: The Last City
What VR games are you considering for your Children, let me know in the comments.