Licensed games are usually based on movies, tv shows, and toys. Games such as Minecraft, Roblox, or Spyro were games first so they are not included in this list.
To help you choose a game for your children, I have outlined 25 licensed video games for children out on consoles. I have added a list below in no particular order with jump links to each game or ease of use. Let's get started.
Xbox Kids Games

Addams family: Mansion Mayhem
Addams Family is a simple and fun game for the whole family. With four-player couch co-op and easy-to-defeat enemies, young children will have a blast working through the levels either alone or with the rest of the family. The game won't feel revolutionary for adults playing together and the levels get a bit samey but it's easy to pick up and play and kids will enjoy the simplicity.
4/5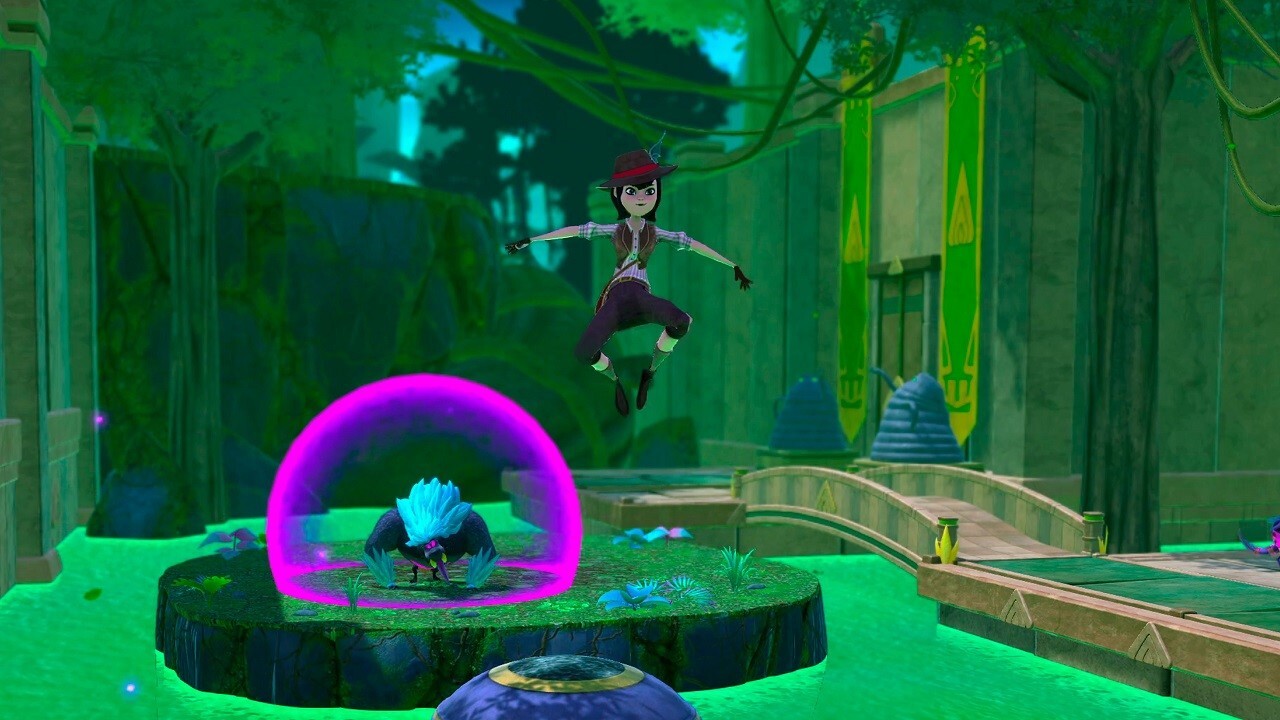 Hotel Transylvania: Scary Tale Adventures
In Hotel Transylvania: Scary-Tales Adventures, you take control of Drac and Mavis and play through various fairy tale worlds with their own spooky spin. From Little Red Riding Hood to Ali Baba and the Forty Thieves each level is easily recognizable but can take up to half an hour to complete. The game is very repetitive but still fun. However, those under 7's will struggle and the long levels with no save means you have to commit serious time to complete each level.
3/5

Hotel Transylvania 3: Monsters Overboard
Released alongside the movie, you play Drac and Mavis on a mission to save the other monsters from three desert islands. Using little monster minions called impas, you direct your miniature helpers to defeat enemies and solve puzzles. Overall, the game can be fun at times, but the constant struggles with the controls will frustrate many. For those familiar with Nintendo's Pikmin, this is a substandard clone.
1/5

Spirit: Lucky's Big Adventure
For fans of the TV show and recent movie, Spirit is a happy-go-lucky adventure in a bright and colourful world. After finding her mother's treasure map, Lucky rides across the world completing a series of quests to unlock new areas and additional outfits. Riding across the open plains is wonderful, but when you are in more confined spaces, the controls become cumbersome and frustrating. Fans of the show will enjoy it but horse fans may get more fun from Horse Club Adventures.
3/5

Dragons: Dawn of the New Riders
This game bravely carves its own path by not following any of the movies, instead, tell a new story about a young rider with amnesia and his new dragon Patch. The gameplay is mainly a dungeon crawler with some simple puzzles. During the periodic combat sequences, the battles are clunky and slow and the ranged attacks from Patch are rarely accurate. The new story was a great idea but doesn't really go anywhere or add to the Dragons canon.
1/5

Ben 10: Power Trip
There have been two Ben 10 games on this generation's consoles that actually play very differently. The first game sees Ben 10 in a 3D side-scrolling beat em up whereas Ben 10 Power Trip is more of an open-world adventure. Out of the two, I would recommend Ben 10: Power Trip as it plays really well, has a fantastic open world with plenty of side quests and the two-player split screen means a friend or sibling can play as Ben's frenemy Kevin 11.
5/5

Rabbids: Party of Legends
Rabbids is a solid Mario party clone with a lot of endearing features. For those not familiar with the party game genre, Rabbids is a game in which 1-4 players compete in various mini-games to earn books and become to ultimate champion. The mini-games are generally longer than those in Mario Party giving players more engagement in each activity. The wheel spin and stealing mechanics for players in last place help keep the playing field level and additional games and Rabbids are unlocked through player progression. It's really fun with friends in couch co-op but the single-player experience is a little limited.
3/5

Blaze and the Monster Machines
With its big chunky cartoon graphics and wealth of character voices, Blaze and the Moster Machines is a great introductory game to the world of video game racing. The auto drive feature means it is great for children under 7 and the four-player local coop is good for sharing with friends. The different characters are represented well with each having their own special ability from Blaze's nitro boost to Watts' electro boost. However, with only 10 standard-looking tracks, the appeal is limited and children more familiar with driving games may want more.
2/5

Paw Patrol The Movie: Adventure City Calls
There are at least three Paw Patrol games out on consoles, Paw Patrol: On A Roll (terrible), Paw Patrol Mighty Pups Save Adventure Bay (ok) and Adventure City Calls (better). In short, go for Adventure City Calls as it is the best of the three and has the biggest world to explore. As the movie introduced a new character, this game also has the biggest roster of playable characters, all with voice acting from the characters. The game can be played in local coop with family members and the variety of missions and vehicle levels keep it interesting for young players.
3/5

Last Kids on Earth and the Staff of Doom
Last Kids on Earth is a top-down beat-em-up with light RPG elements. Players can either go it alone or team up with four friends in local co-op mode. The fighting mechanics are solid and don't feel too repetitive while the upgrade system doesn't do much apart from increasing bonus points. Single players can switch between the two ranged and two melee-focused characters by using the various phone booths littered across the levels. The graphics match the cartoon series perfectly which much of the audio lifted directly from the show. However, the game is criminally short and can be completed in under 4 hours. Some side quests to help to flesh it out but I would have liked more.
4/5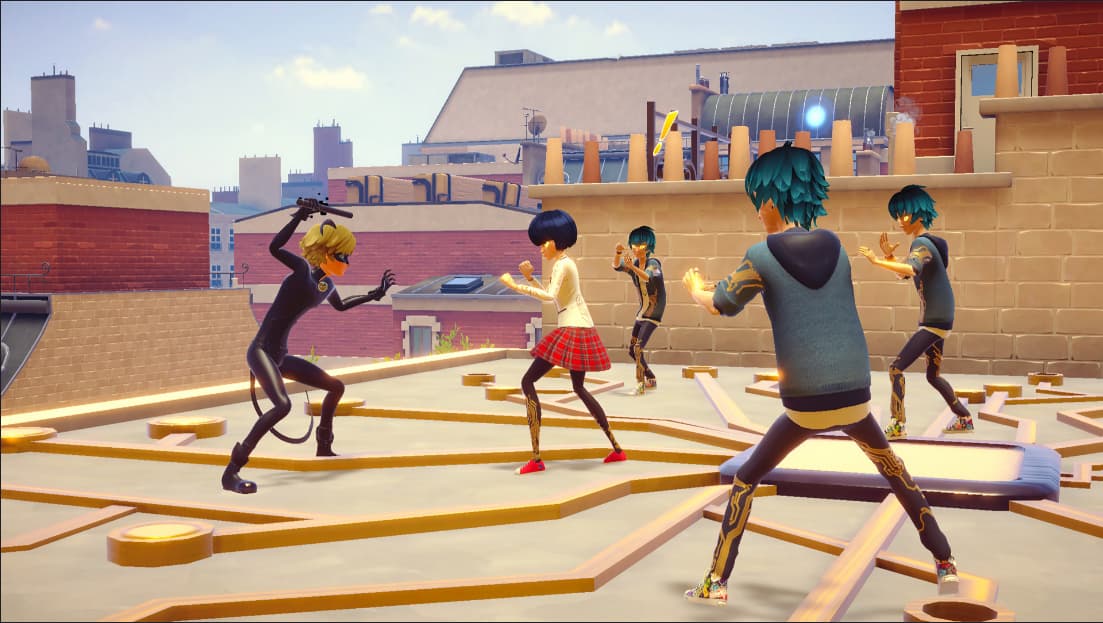 Miraculous: Rise of the Sphinx
Miraculous: Rise of the Sphinx has huge ambitions with its fully explorable Paris setting, rooftop parkour, multi-goon fighting mechanics, and two-player action. However, slowdown and graphical issues do break the magic a little. Fans of the show will happily look past these glitches to enjoy a game packed with macaron collecting, hero upgrades, and de-evilizing. The gameplay is generally very forgiving for younger players and the voice and music is absolutely fantastic. Younger players will need help with the six end-of-level bosses when the difficulty really ramps up but the two-player option means that it is a great game to play with your children.
4/5

PJ Masks: Heroes of the Night
With 12 reasonably sized levels, easy and repetitive gameplay, PJ Masks: Heroes of the Night is great for young children who are fans of the show. The voice actors of both the heroes and villian reprised their roles and all contributed original voices for the game. Whilst for some, the constant voice guidance may be annoying, it helps keep young minds focused on the task at hand. Each level plays exactly the same, so whether you are a fan of Gecko, Owlet, or Catboy, each hero gets 33% of each level to climb walls, fly around, or double-jump over difficult obstacles. The vehicle levels break up the platforming action and the controls are so simplistic, it is impossible to go wrong.
4/5

My Friend Peppa Pig
My friend Peppa pig is a great introduction into video games teaching young children about the fun you can create pressing buttons. Right from the start screen players feel like part of a brand-new episode. From the character creation in the beginning to jumping in muddy puddles with Pippa at the end, the game is short, and simple but young fans of the show will be happy to jump back in. Whilst most of the voice acting is done by the cast, there is the new Peppa and a couple of changes that 'hardcore' fans of the show will notice but overall it was like Dragons Lair for a newer younger generation.
4/5 for new gamers
2/5 for experienced gamers

Ice Age: Scrats Nutty Adventure
The true hero of the Ice Age saga has finally got his own video game and it sees Scrat platform his way through Ice fields, ice caves, and even a lost world collecting crystal acorns across 12 fun-filled levels. Sadly, the lack of cut scenes, various glitches, and some horrible camera angles mean that it can be both fun and frustrating in the same play-through. Scats Nutty Adventure is mediocre at best and a missed opportunity for a fun character that totally deserves better.
1/5

Jumanji: The Video Game
The video game of a movie about a video game that was a board game in a movie. Jumanji uses the characters and settings of the 2017 film in a third-person shooting/fighting game. Players can team up with four friends in local co-op or play online. Players run and gun through various maze-like levels fighting and shooting goons and natives to collect four pieces of a jewel. Once collected, they move into a safe room before tackling the next level. The game is nothing like the films but it's simple enough to battle through with friends. Achievements come thick and fast but the gameplay soon becomes repetitive. It's a bit of fun but don't expect it to be anything like the films.
2/5

Teenage Mutant Ninja Turtles: Shredders Revenge
Teenage Mutant Ninja Turtles: Shredder's Revenge is a lovingly crafted homage of the TMNT arcade beat-em-up. Its 6-player co-op is fantastic with friends and the gameplay is simple to pick up but with lots to master. The nostalgic pixel aesthetic will resonate with parents as they bash through the whole game in a single sitting with the family. Whilst the level design can get a little samey, the range of characters, fighting mechanics, and fantastic music will keep you playing. A must for any big family looking for a game everyone can play.
5/5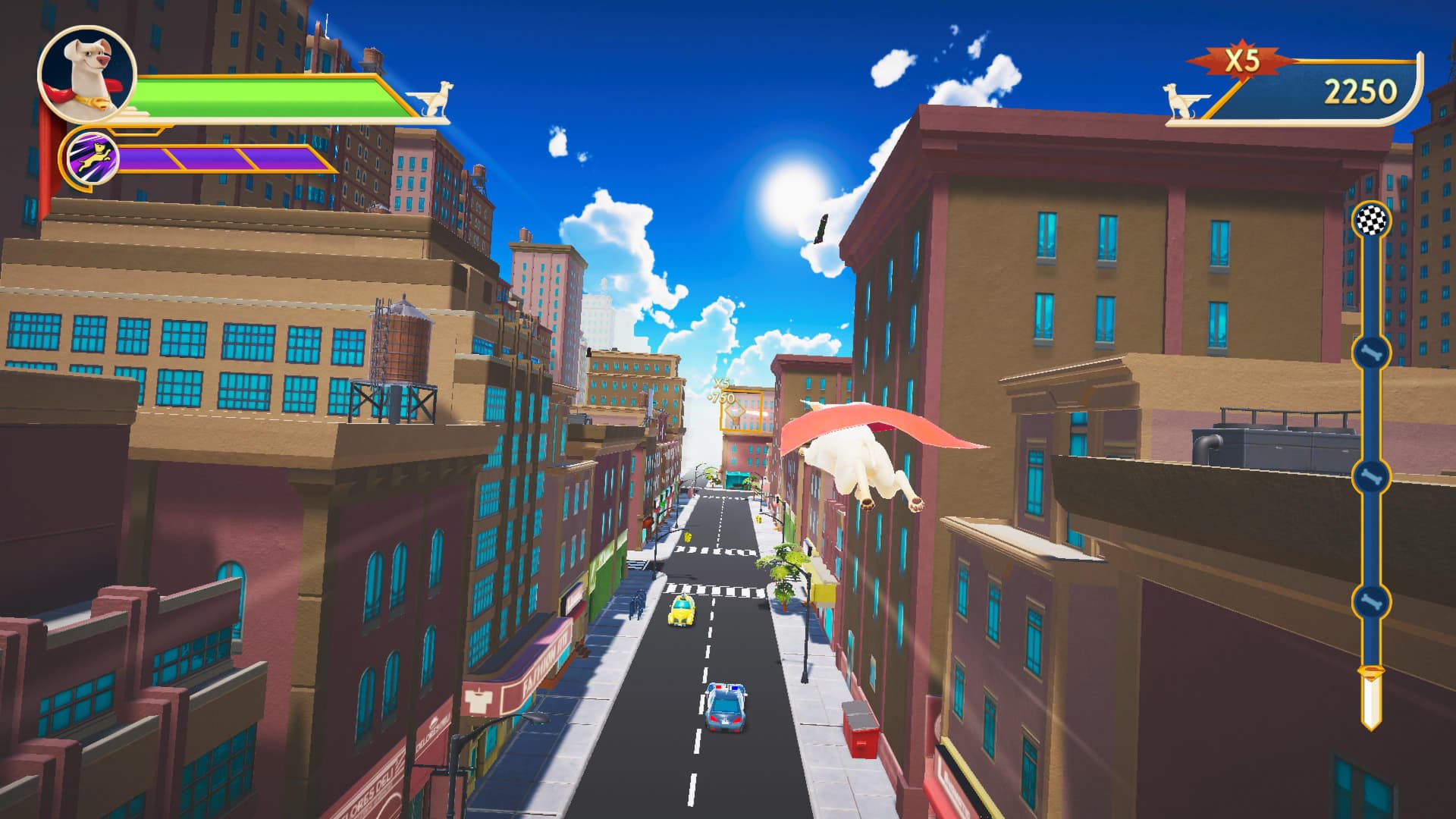 DC League of Super Pets
DC League of Super-Pets: The Adventures of Krypto and Ace might will not be the game you expect as it involves Krypto and Ace flying through Metropolis is a star-fox-inspired shoot-em-up. Using Krypto's eye lasers and Ace's batarangs, the two fly through 15 levels trying to save the city's lost pets from the evil Lex Luthor. The graphics look great and calling upon PB (Wonder Woman's pig), Merton (Flash's tortoise) or Chip (Green Lantern's cat) is great. Sadly, the lack of enemy variety, repetitive level design (it's always Metropolis), and hard-to-handle controls mean that only super fans of the movie need apply.
2/5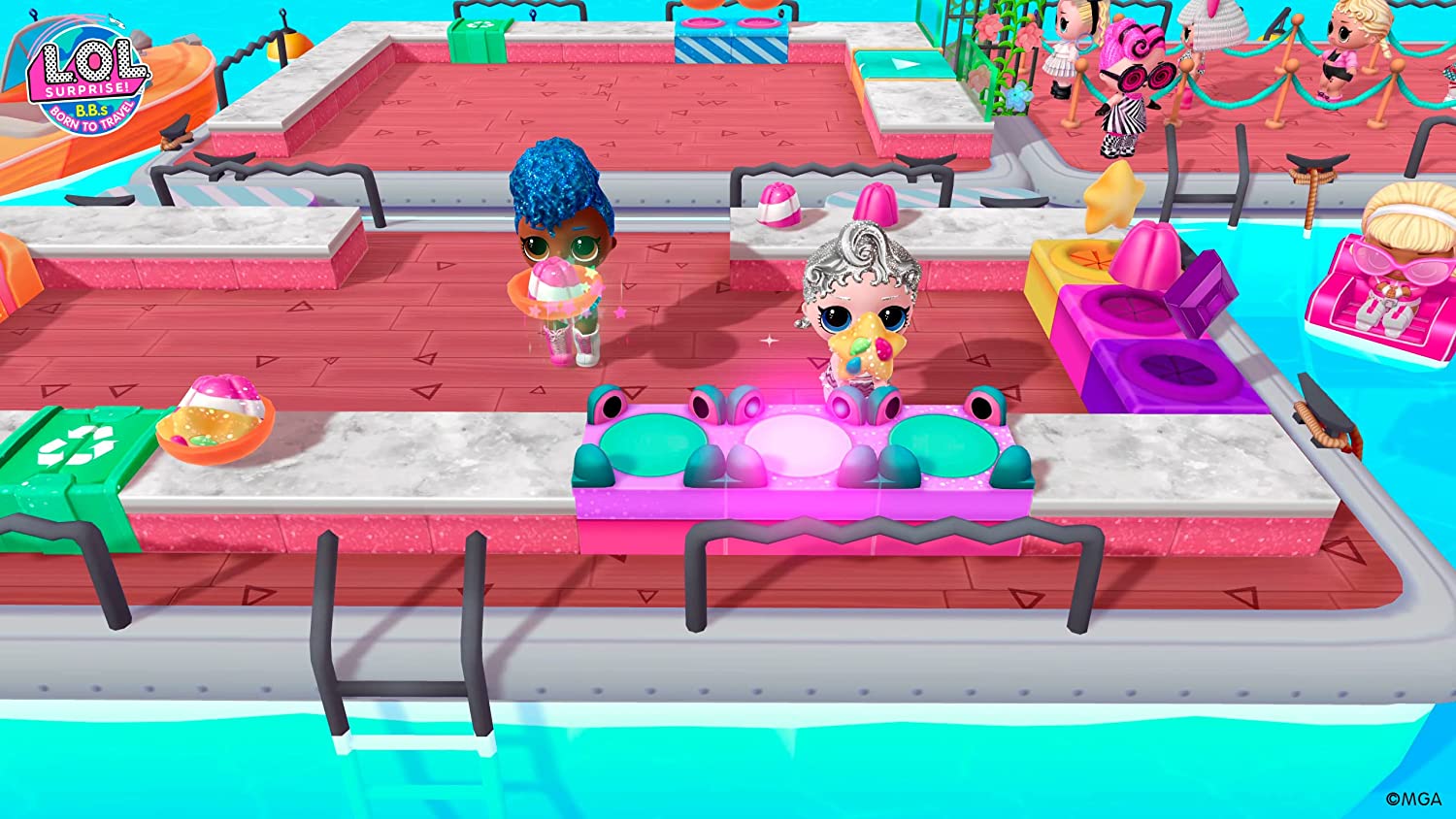 L.O.L surprise! BBS Born to Travel
The LOL game is a lightweight version of Overcooked as it sees the Dolls packing and making the L.O.L balls that the toys usually come in. By using the right mix of sunshine, stars, and hearts, you fill each complicated little ball before sending them out into the world. The intricate recipes are complicated for the target age group but the lack of a time limit does make it easier. Up to four players can team up to work through the various levels that get more and more complicated with lifts and platforms. Players unlock new dolls and accessories and can update their character throughout. The music and fashion mini-games between levels add a little more to the mix but feel bolted on compared to the main game. Fans of the dolls may need parental help to complete but it's interesting enough when playing with friends.
3/5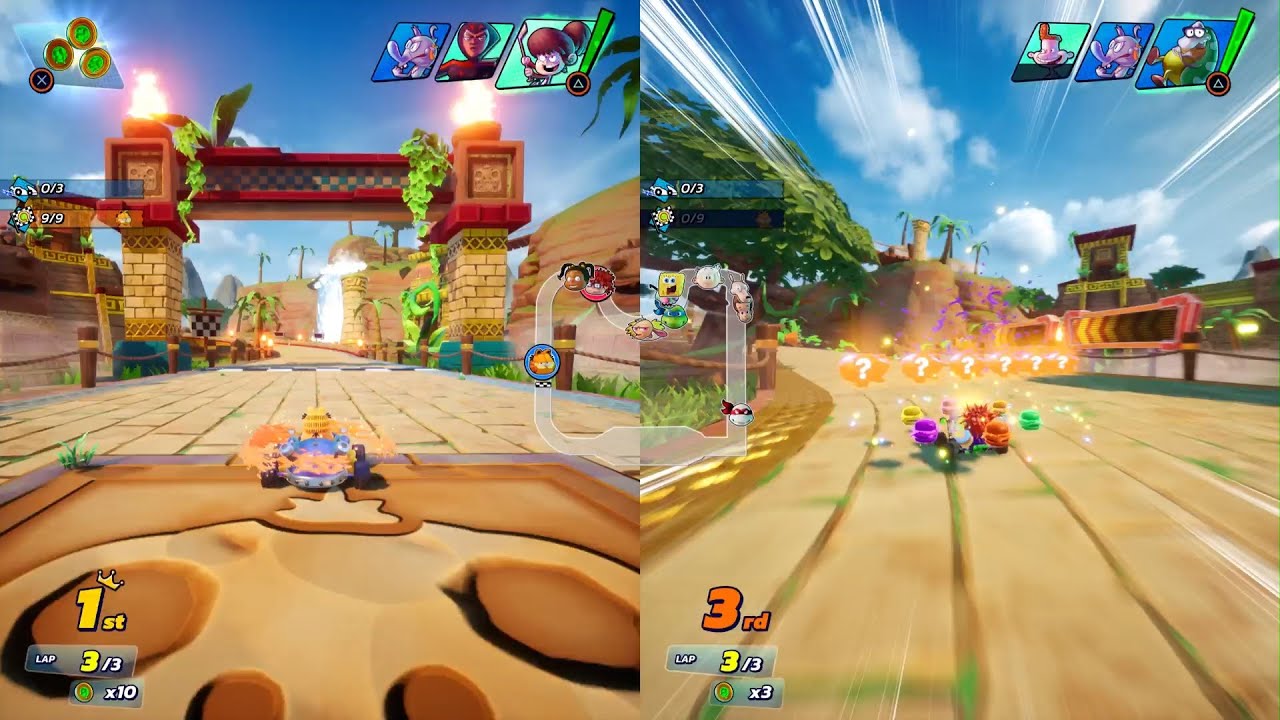 Nickelodeon Kart Racers 3: Slime Speedway
If Mario Kart holds the top spot when it comes to Kart Racers, Nickelodeon Kart Racers 3: Slime Speedway is definitely second place. With over 40 characters, tonnes of weapons, hundreds of unlockables, and a massive variety of tracks, Slime Speedway actually outperforms Mario Kart in all but one department: accessibility. The sheer wealth of options can mean jumping into a multiplayer game is not a quick affair. These options are fantastic in the single-player mode, but when you want to do a four-player couch co-op or 12-player online play, there are so many choices. For Xbox owners, Slime Speedway is the best kart racer on the platform.
5/5

JoJo Siwa Worldwide Party
Don't let the name fool you. This is not a party game, instead, Jo Jo Siwa Worldwide Party is a mix of an endless runner with a rhythm game. Jo Jo runs across 12 levels jumping, sliding, and bashing her way through 4 of her big hits. Jumps and bashes need to be in time with the music to keep your speed and unlock bonus items. In between each song you can unlock makeup, clothes, and obviously bows to enhance your character. Whilst the game is quite fun, it feels stretched out to make a full game. The 4 songs have 4 variations from instrumental to full-blown concert variations, but it would have been nice to have a few more songs. With no multiplayer and limited appeal, this one is only for the fans.
1/5

Horse Club Adventures 2: Hazelwood Stories
Horse Club Adventures 2 is an open-world horse riding game based on the popular toys from Schleich. Players can create their own horse and take part in an array of horse-related disciplines from dressage to show jumping. Players are given tasks by the inhabitants of Hazelwood that include working on the farm to taking photographs of local wildlife. You will need to feed and clean your horse throughout and unlock new gear to enhance the speed, endurance and agility of your pony. Some riders may be annoyed by the invisible barriers in the 'open world' but with lots to do and no pressures, this is a fantastic game for pony fans.
4/5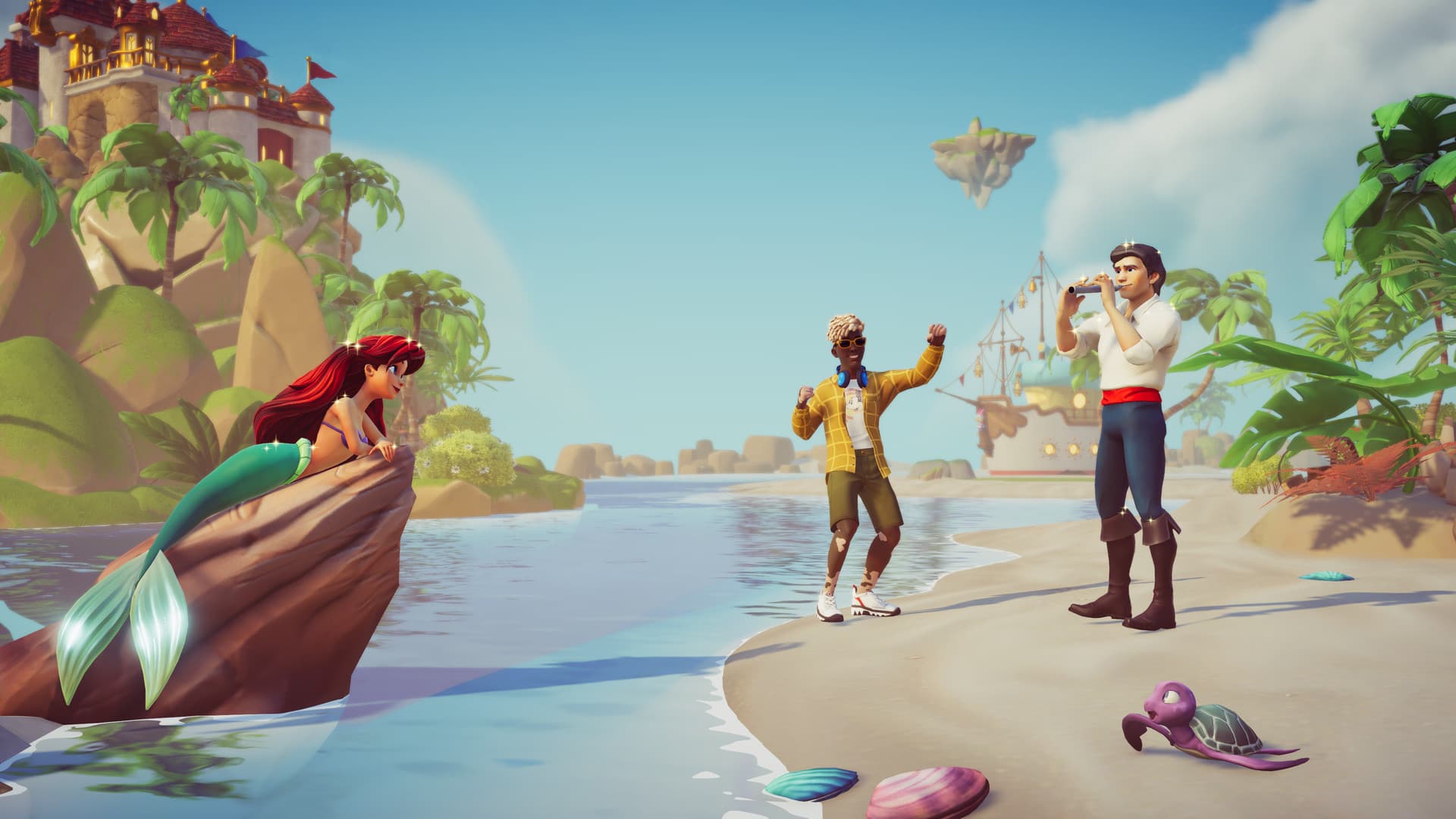 Disney Dreamlight Valley
Disney Dreamlight Valley takes the tried and tested formulas of Stardew Valley and Animal Crossing and sprinkles on some Disney Magic. After moving to the valley, Players must befriend and help the various inhabitants with quests, errands, and tasks. From mining valuable resources to simply having a picnic with Mickey to cheer him up, there is so much here for Disney fans to enjoy. The graphics and voice acting are fantastic and there is new content being added regularly. Sadly, there is a lot of grinding to be done to earn the in-game currency and lots of microtransactions such you want to skip the grind.
5/5

Lego Star Wars – The Skywalker Saga
Lego Star Wars: The Skywalker Saga is a mammoth beat of a game with over 300 characters, 45 levels, and over 1000 collectibles, this game will keep players busy for a very long time. Add to that the various DLC packs for The Madolorian and Rogue One and you have a game that is fantastic value for money. The graphics are the best yet in a Lego game and it uses all the iconic music and sound found in the nine movies. Some levels are more memorable than others and those that have played any of the previous Lego Star Wars games will recognize many of the levels. but with improved graphics and gameplay, this is one not to be missed.
5/5

Bratz – Flaunt Your Fashion
Play as your favorite Bratz character and begin your globe-trotting adventure to become the world's best fashion reporter. Blaze a trail as you chase the biggest style stories, take on quests to help new friends, and play various minigames in order to unlock the latest scoop for Bratz Magazine. The in-game currency can be used for new outfits, characters, and even scooters. The semi-open world is fun to run however many of the characters just stand in one place waiting to be talked to making it feel a little static. However, the variety of activities and the solid voice acting make this a great all-rounder for fans of the show.
4/5

Dragons: Legends of the Nine Realms is a dragon-focused adventure that is equal parts combat and exploration. The journey takes you across five worlds, each with five levels (the last level per world being a boss battle with a dragon many times your size). The vibrant and chunky levels are fun to explore and fly around and switching between the different dragons like Wu and Wei when Skrills appeared, or Thunder for some of the larger dragons is easy enough. Collectibles allow you to purchase character upgrades such as new combos and new skins and whilst it annoyingly has no two-player option, it's fun to play and easy for children to complete.
3/5
So there you have it, 25 licensed Xbox games for children. With a handful of 5/5 titles in the mix your kids can enjoy exploring, driving, or fighting on the mighty Xbox. Which games do your children play the most on Xbox? Leave your comments below.