Hearthstone is fantastic and I have lost many hours to it. However, with recent price hikes and updates it has definitely made me rethink my addiction. I am not jumping on the backlash bandwagon, as I still really enjoy it and I don't foresee myself quitting anytime soon. Needing a break, I decided to look at other online card games to fill the void from shameless clones to themes not yet used in collectible card games (CCGs). I haven't yet settled on a replacement, but have looked at a number of possible alternatives to Hearthstone.
Magic Duels
https://itunes.apple.com/gb/app/magic-duels/id881106329?mt=8
Magic: the Gathering regularly releases digital versions of its offline card game. This year is no different with a refreshed roster of all new all stars. However, with Hearthstone gathering momentum, Magic: the Gathering has switched to a freemium model and is reinventing itself as a digital locker rather than simply a standalone game.
Each game is a duel between yourself and an opposing planeswalker. Planeswalkers are like Jedi who have dominion over the multiverse, its creatures and the magic 'force' that binds it all together. Each player has 20 health and through the placement of various cards the aim is simple take 20 damage from the opposing Planeswalker and revel in the victory. The initial tutorials can be tiresome for card playing veterans, as it feels like it targets first-time players however, if you make it through the hand holding and ropey cut scenes it becomes fun and a viable alternative to Hearthstone.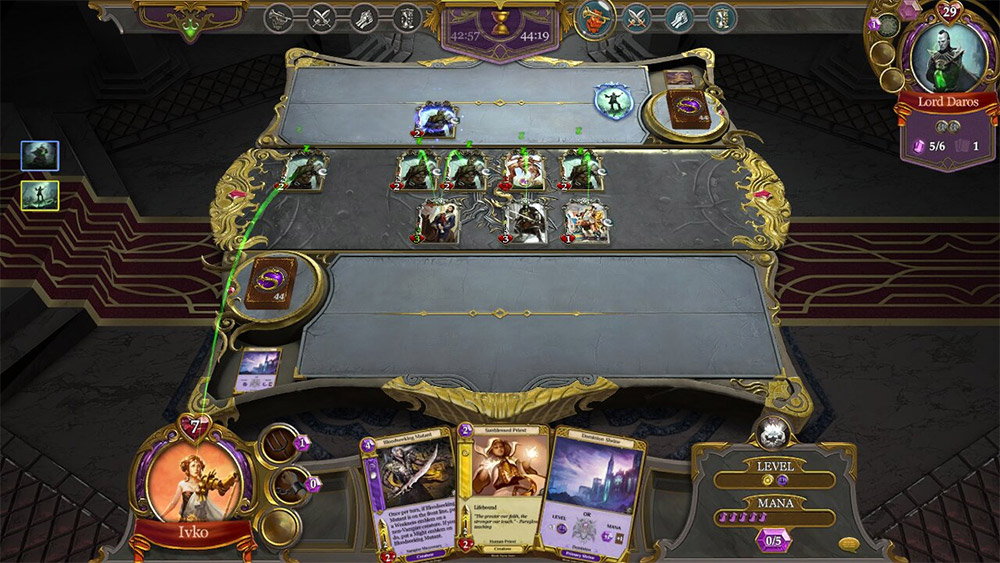 Spellweaver
Developed a Magic: The Gathering Grand Champion in partnership with Dream Reactor, Spellweaver is a free-to-play digital card game true to the classics of the genre. Those familiar with Magic: The Gathering will be able to get stuck in right away, however, there are various options to break-in new players. Sadly, the starter packs are limited and there is a lot of pay-to-win options. For those who see themselves dedicating a lot of time on Spellweaver, there are two 'box' options for £50 and £100 which gives you hundreds of pounds worth of packs and drip feeds you additional cards on a weekly basis. A great option for hardcore players, but very daunting to new players hoping to enter the tournaments. Whilst this looks very similar to a tabletop card game, the online version allows for greater depth and complexity and might be overwhelming for players new to CCGs.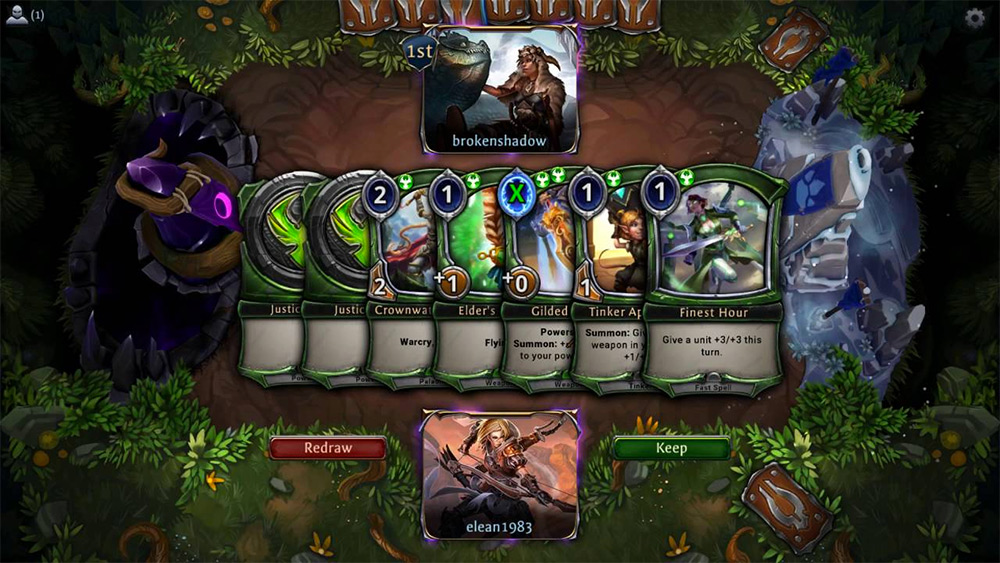 Eternal: The Card Game
https://itunes.apple.com/au/app/eternal-card-game/id1077866163?mt=8
Brought to you by Dire Wolf, the creators of the Elder Scrolls card game, Eternal beautifully merges aspects  of both Hearthstone and Magic: The Gathering. From the card design to the deck building, there are a lot of borrowed aspects however, the addition of the five factions that include time, primal, shadow, justice and fire that can be used in a normal 75 card deck. The life count starts at 25 and like most CCGs, the aim is to beat the 25 out of your opponent. What I love about Eternal is the generous amount of content available at the free-to-play level with a fully realised campaign with AI opponents and both real PVP and draft PVP options. Its great fun to play, fast paced and has monopolised more time than the others on this list.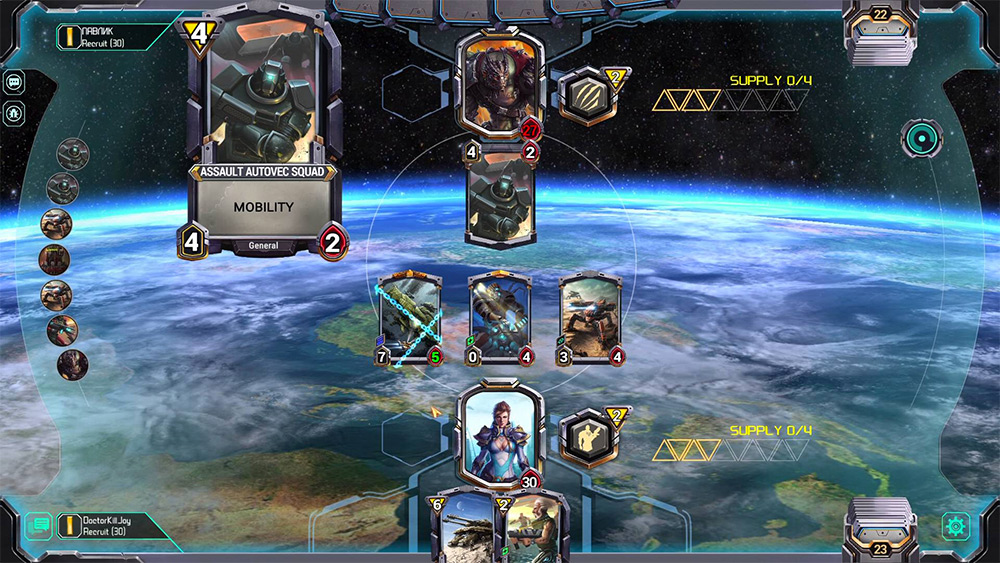 Star Crusade
https://itunes.apple.com/nz/app/star-crusade-ccg/id1084636093?mt=8
Dubbed as Hearthstone in Space, Star Crusade: War for the Expanse is a free-to-play card game based in a richly styled sci-fi universe. Players takes command of one of the six factions vying for supremacy in an unclaimed exotic sector of space. Factions are unlocked by beating them in a match and they all play very differently. The story is engaging and a lot of effort has been put into backstory and worldbuilding. One aspect that is pretty unique is that custom decks can have between 25-40 cards and your health is dependent on your number of cards. Therefore, you can play the standard game type with a health of 25 org for a bigger deck lowering the chance of certain cards coming up. Due to the different factions and play styles there are many routes to victory and you can get a good feel of the game with investing a lot of money. The biggest draw of Star Crusade is the setting, as I am huge Sci Fi fan so its great to see this theme in a CCG.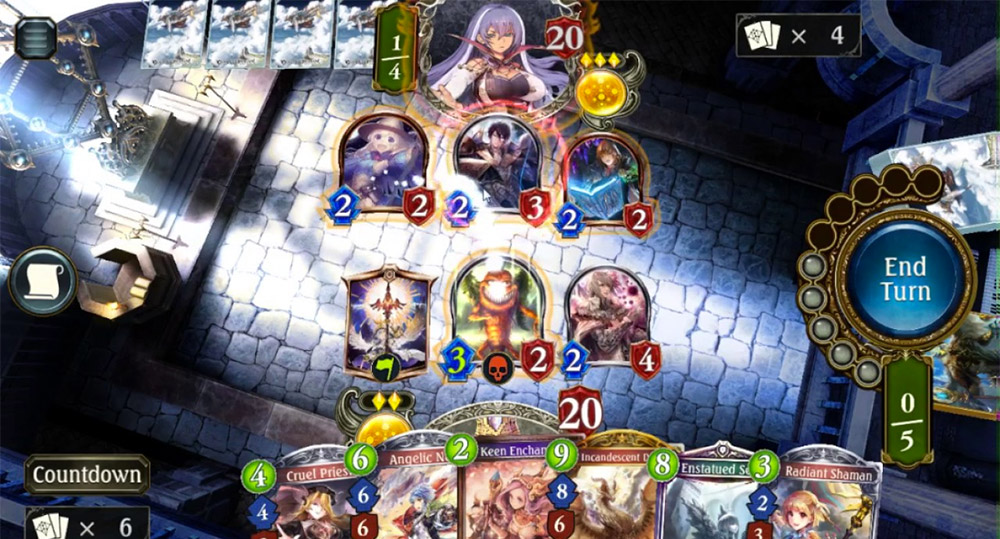 Shadowverse
https://itunes.apple.com/us/app/shadowverse-ccg/id1091512762?mt=8
Shadowverse is a Japanese card card with a beautiful anime art style packed full of typical anime ladies. The seven classes include forestcraft, swordcraft, runecraft, dragoncraft shadow craft, bloodcraft and Havencraft. Each craft has their set of creatures from fairies in forestcraft to huge creatures in dragoncraft. The cards have a special ability called Evolve that allows players to 'evolve' the cards in your deck to more powerful version. The 400+ cards each have special effects and an array of voice work. The story mode is a simple way to learn the ropes and become familiar with the UI and once you feel more comfortable you can enter the PvP arena. Game wait time was minimal indicating a growing community around the world. One of my favourite parts of Shadowverse is the user interface and its multitude of animations from simple card flips to spectacular level up explosions.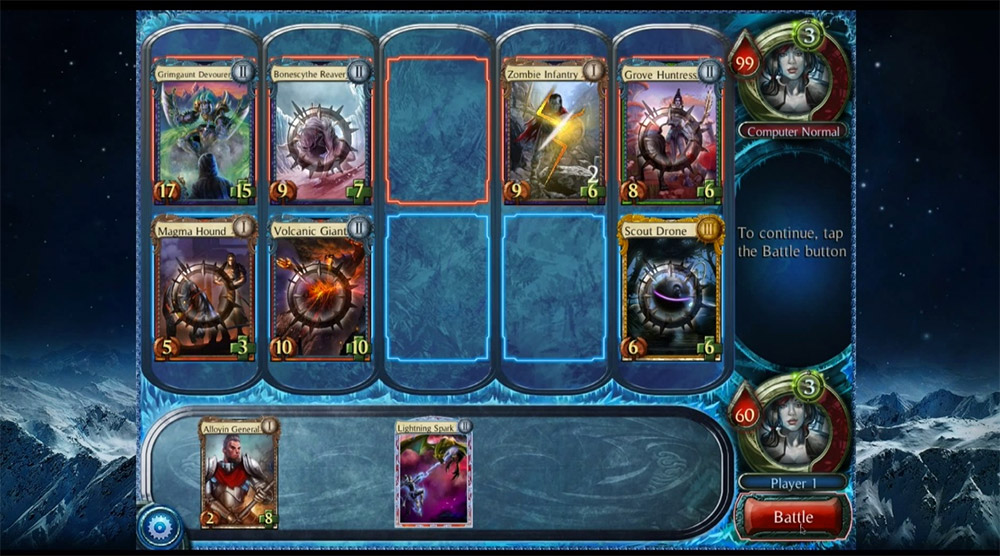 Solforge
https://itunes.apple.com/gb/app/solforge/id582493858?mt=8
Born from the co-creators of Ascension and Magic: The Gathering, SolForge boasts the strategy and depth of a traditional trading card game experience all designed around the convenience of mobile gaming. In SolForge, you take on the role of a Forgeborn, one of the select few who can wield the magic of the SolForge itself. You collect cards that represent ferocious creatures and powerful spells and use those cards to construct decks and battle AI opponents or test your skills against other players in the arena.
The play takes place in a two lane field and the cards fall into two categories; spells and creatures. Each player has 120 health points and as with the other CCG's, the aim is to reduce your opponent's health to zero. Like Pokemon, each card has three levels that increase the starter creature to and buffed up super beast. Whilst I like the artwork, it would be so much better if they were animated.
Of the various card games mentioned above, my two favorites had to be Star Crusade and Eternal and have seriously pulled me away from Hearthstone. So whether you are simply after something new or have an issue with the price changes in Hearthstone, these games are well worth your time and as they are free-to-play, you won't lose anything by simply trying them out.
Which is your various CCG and why…