When the first lockdown was announced and people were asked to stay at home and do nothing, gamers rejoiced, we had trained for this for years. But as the months dragged on and more lockdowns were imposed, the need to get some kind of exercise became apparent.
When I wasn't gaming, I was working, writing, filming and editing. I soon realised that I needed to upgrade my workstation. I had seen standing desks about and whilst the theory of standing up whilst working or gaming was sound, my view of these trailblazers adopting this new way of working was less than positive. I thought of them in the same vein as those who used exercise balls as chairs. And yet, now over a month in, I can confidently say that I am a believer. Once you are in the zone, whether gaming or working, standing seems to fade into the background and hours can pass without you realising. When you do finally collapse on the sofa, you can feel it in your legs like a mini-workout.


Enter The WorkFit-T Stand Up Desk Converter
As I wasn't ready to commit to a fully mechanical standing desk with buttons for increasing and decreasing the height, I opted for the Desk Convertor from Ergotron, so I could try in on my existing desk. This way, if I found myself sitting more than standing, I would be able to garage it or give it to another hopeful. But as it turned out, I loved it.
The desk arrived securely packed and fully assembled, which was fantastic as DIY skills are useless. Thanks to its size, there is plenty of space on the surface and a dedicated keyboard tray for your keyboard and mouse.
The handles for raising and lowering the desk on each side are easy to use and the spring-loaded mechanism means going up and down is easy to do and doesn't require a great deal of strength. The movement up and down is beautifully smooth and I have consistently adjusted the height with laptop, monitor, and drink without a single spillage. It really is THAT stable.
The WorkFit-T Stand Up Desk Converter is £330 from Amazon and comes in two sizes, 35 inches and 37 inches, and whilst you might think that two inches isn't much, they make all the difference if you are using a mini mac keyboard and mouse or a more clunky number pad keyboard with mouse.
The desk comes with dedicated monitor fittings to set up dual monitors and some handy cable management solutions to tidy up all of the wires.
For peace of mind, the desk converter also comes with a five-year warranty which is handy considering you are constantly moving it up and down depending on your energy levels. 
I have to say that I was skeptical when first trying out this new way of gaming, but standing up whilst playing is a lot easier than I thought and can improve focus, blood flow and general fitness levels.
If you are interested in the Ergotron WorkFit-T Stand Up Desk Converter, please visit amazon using my affiliate link – https://amzn.to/3jcAhme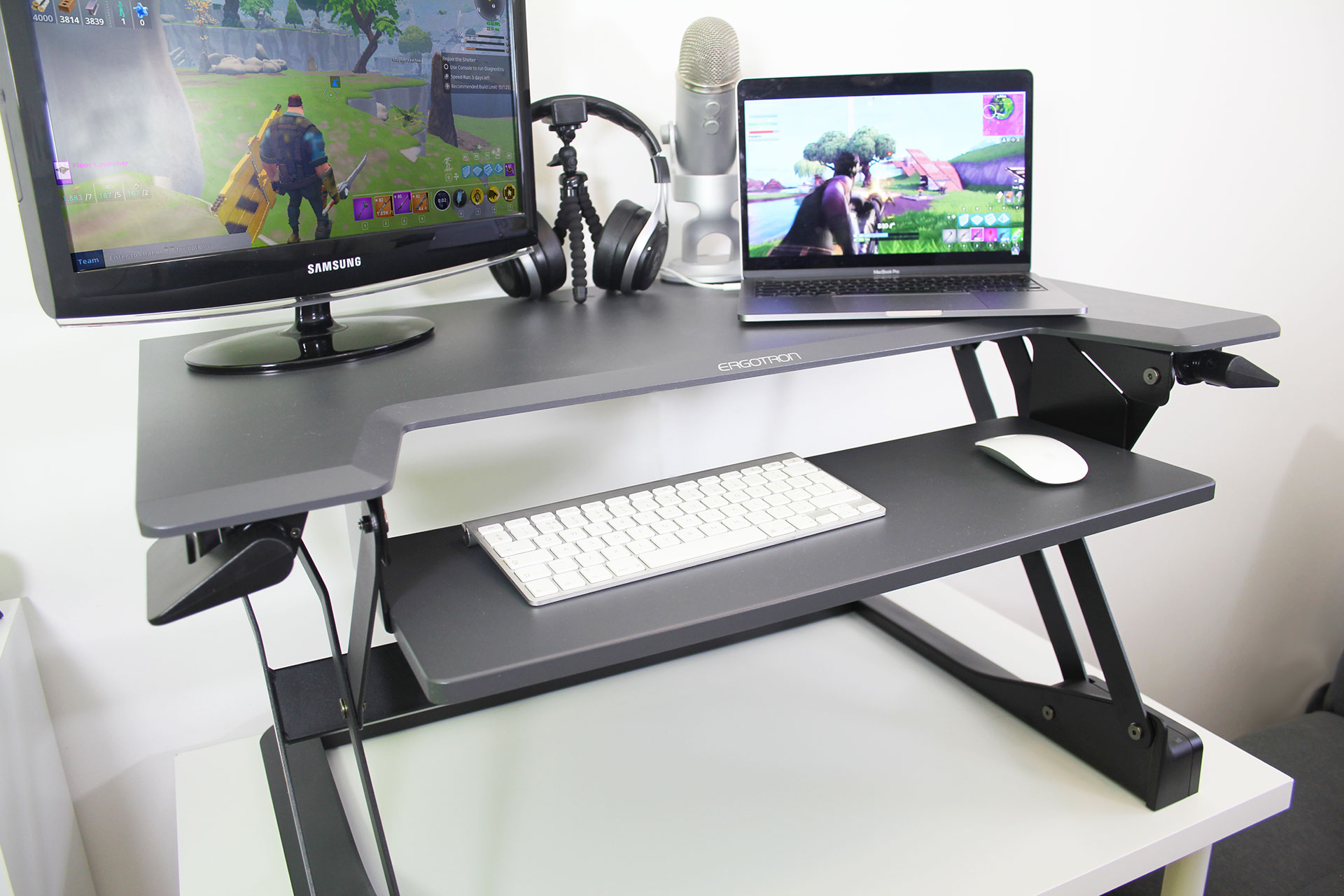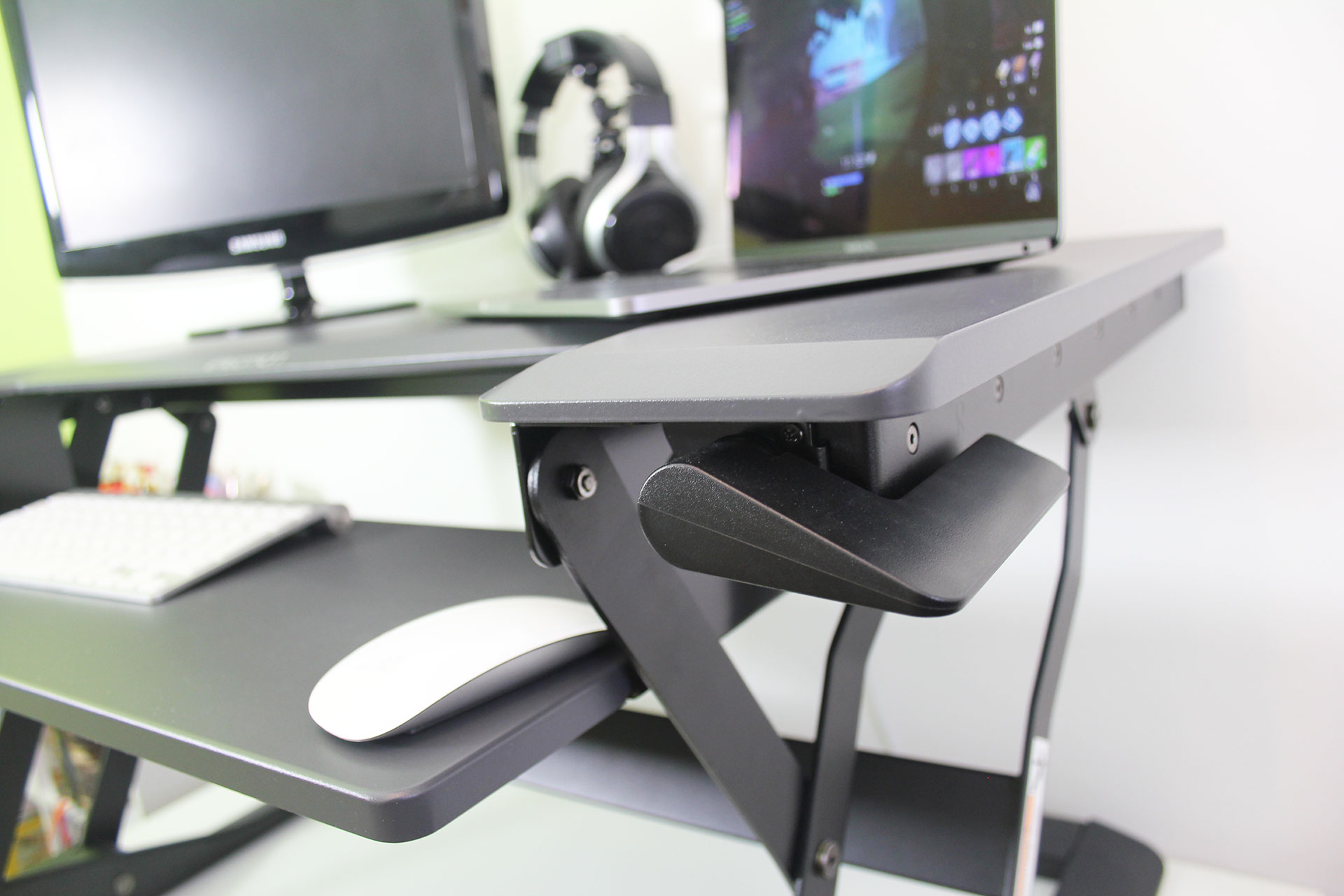 Other gaming solutions they offer are flexible arm stands, dual monitor stands and adjustable keyboard and mouse trays.
*Affiliate links do earn me a very small commission which goes to the upkeep of my website. I only endorse products I actually like. I will be sure to spend the 50p wisely.