Nothing beats the frantic fun of a couch coop party game. Whether you're preparing food, dodging obstacles, or collecting gems, playing with friends and family in the same room is a very different experience from playing online. As you may already know from my previous party games post, I am a huge fan of the two games. As such, I wanted to share a few other party games that are similar to Overcooked but different enough to warrant a play.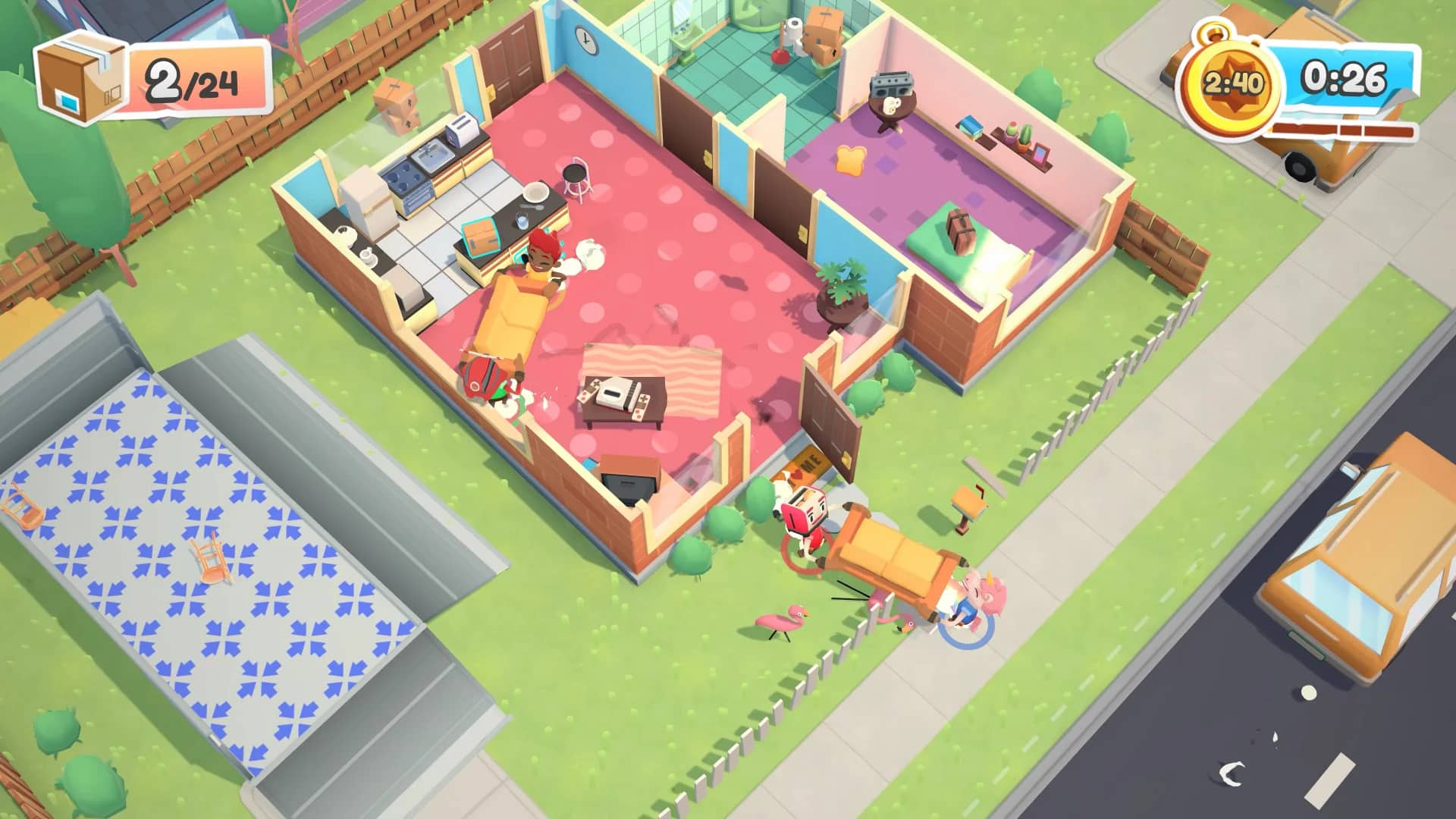 Moving Out
Moving out is a frantic four-player party game that sees a crew of movers empty the content of a house into the moving truck. Not only is it great fun throwing lamps out of the window or teaming up to tackle the heavy fridge but there is a level of skill involved as you need to ensure everything actually fits in the van. The game has the same colourful cartoon graphics as Overcooked and is just as fun.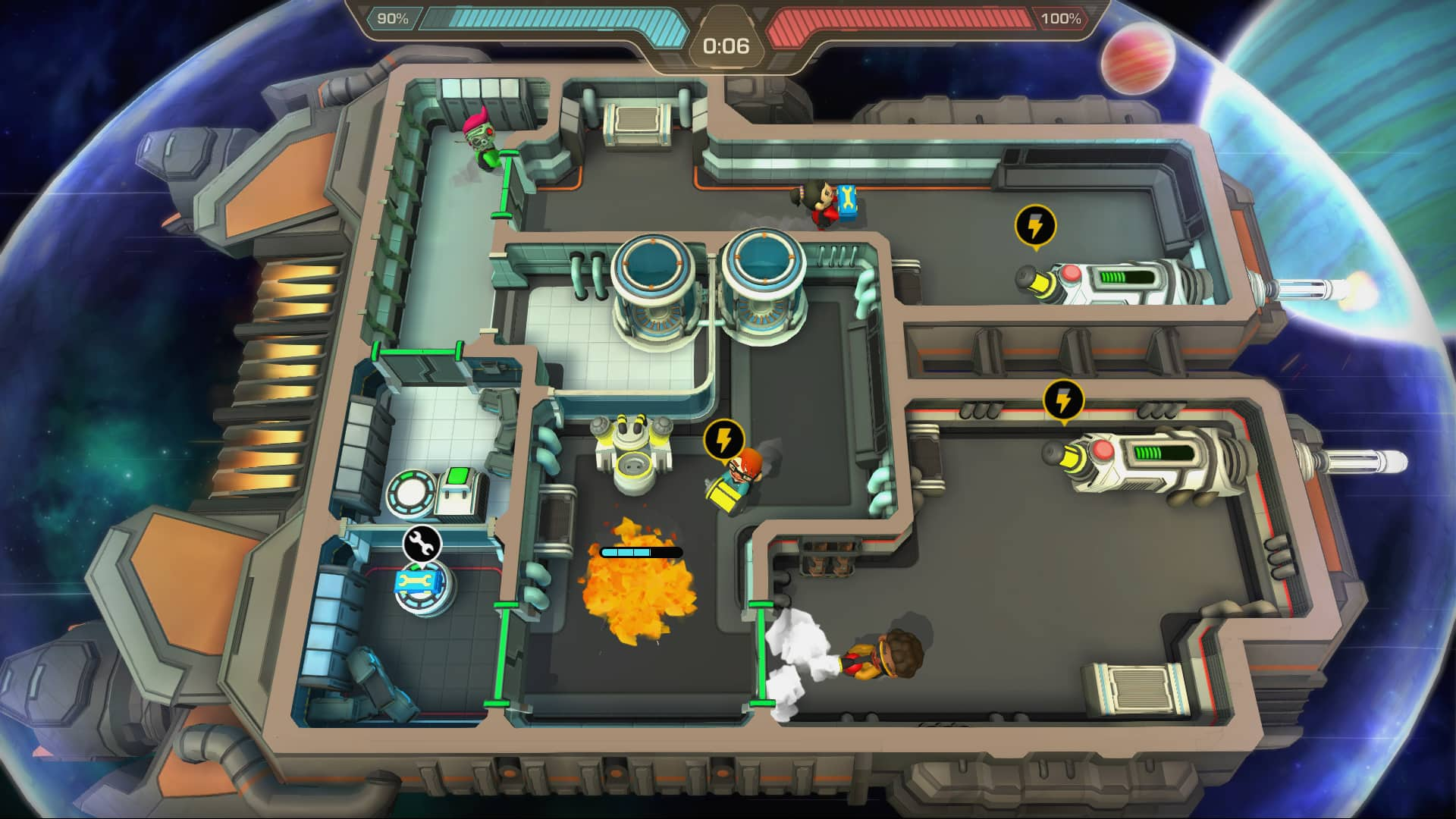 Catastronauts
This sci-fi-themed panic fest sees up to 4 players form a crew of a small ship in the midst of a battle. Players must prime the laser cannons, fox the cracks, put out fires, and depose teleported in mines. The game is frantic fun but wickedly hard and requires teamwork and patience to work through the difficult levels. The characters can be customised into various star-trek-inspired tropes such as green-skinned aliens, cyborgs, or geek-like humans.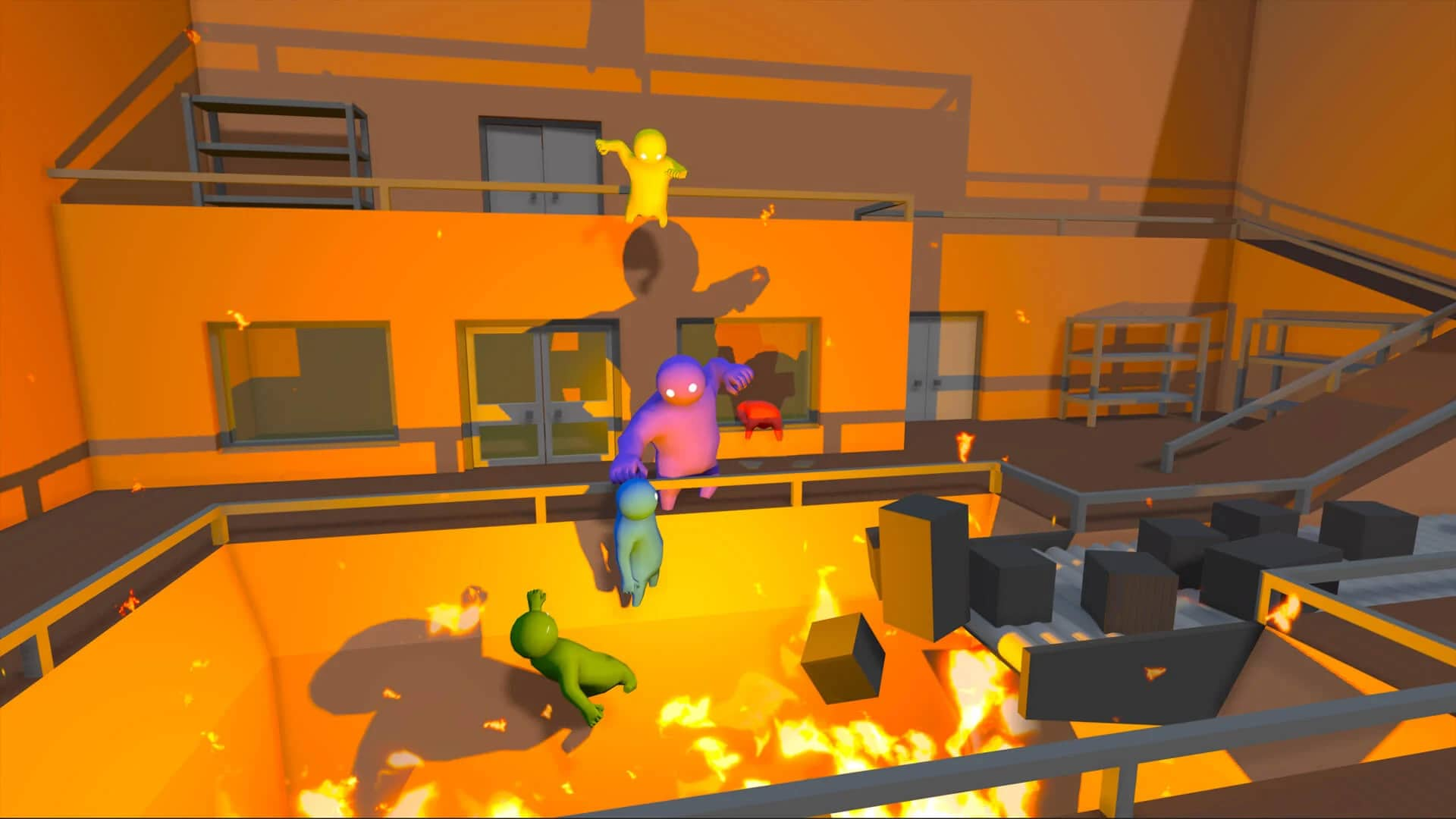 Gang Beasts
Set in the mean streets of Beef City, Gang Beasts is a crazy multiplayer party game with jelly-baby-style characters and slapstick fight sequences all set in ridiculously hazardous environments. The objective is simple; knock your opponent to the ground and push or throw them out of the arena. If you are the last jelly baby standing, you win. But the fact that each character controls like a drunken toddler means it never always goes to plan.
Minecraft
Beginners to Minecraft tend to see the game as a mining and building game in which you can create anything you can imagine out of the multitude of block types. Others see it as a survival game in which you test your might against the elements to gather, craft, and build. But many are surprised to hear that there are games upon games in which four or more people can team or go head to head in an array of party games. From gladiatorial arenas to a full-on Hunger Games experience.
Big Crown Showdown
Four brave knights have been pulled away from the kingdom they once protected into a time vortex by an evil wizard. Returned 100 years later, they are dropped into a zany medieval game show and forced to compete to the death. Players must run, jump and push all whilst avoiding a multitude of traps, gaps, and enemies. The first to cross the finish line is crowned the ultimate Victor.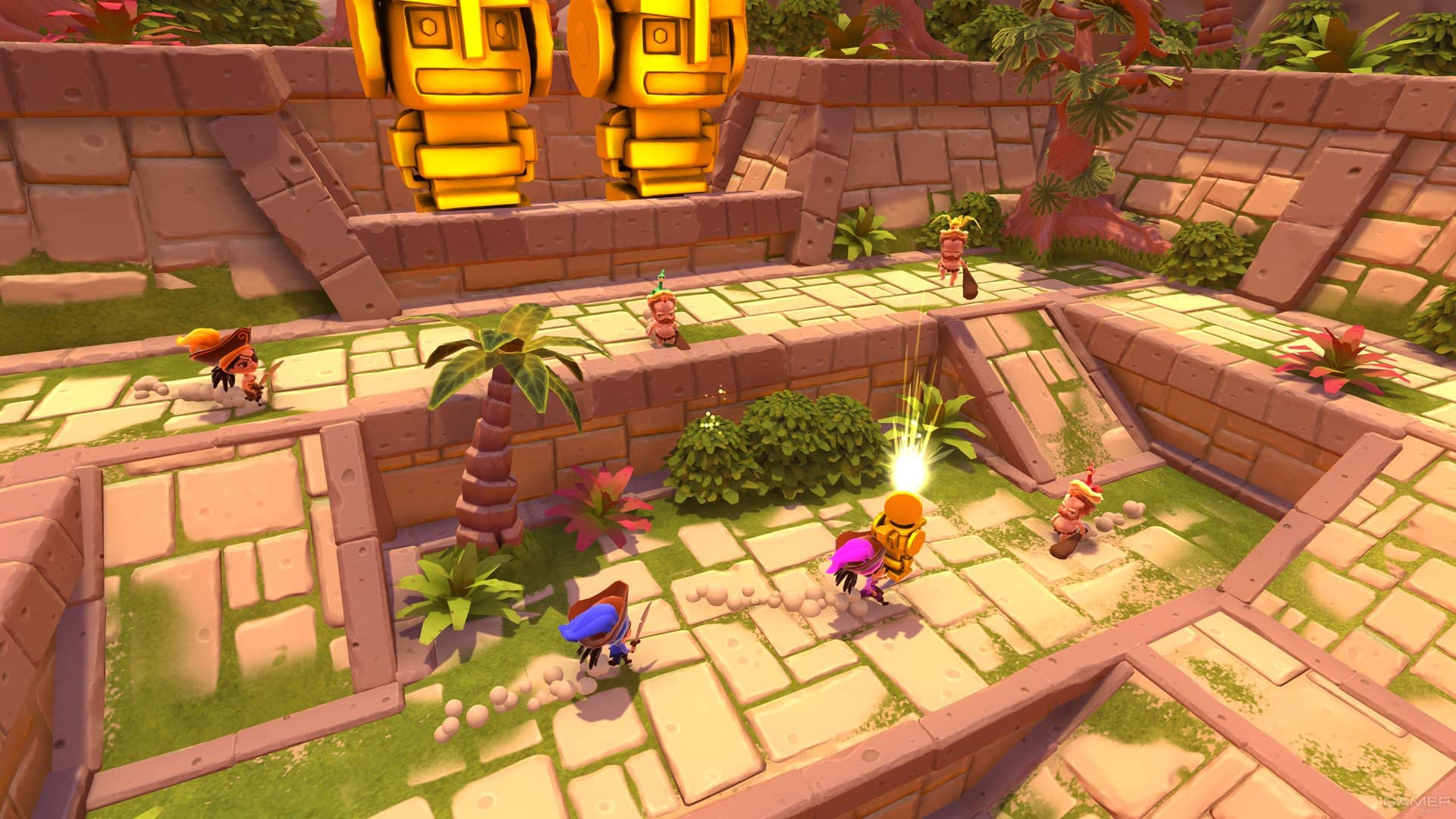 Marooners
Imagine playing a party game in which someone changes the game mid-action and then later returns to the game five games later. It is like Mario Party: Channel Surfer Edition. One minute you will be dodging falling boulders before being transported to a temple in which the ground is falling away. Each game plays out until there is a winner, but you only play a few seconds at one time before moving to the next game. Once all games have a winner, the overall winner is crowned. It's mad and fun and a great game for the whole family.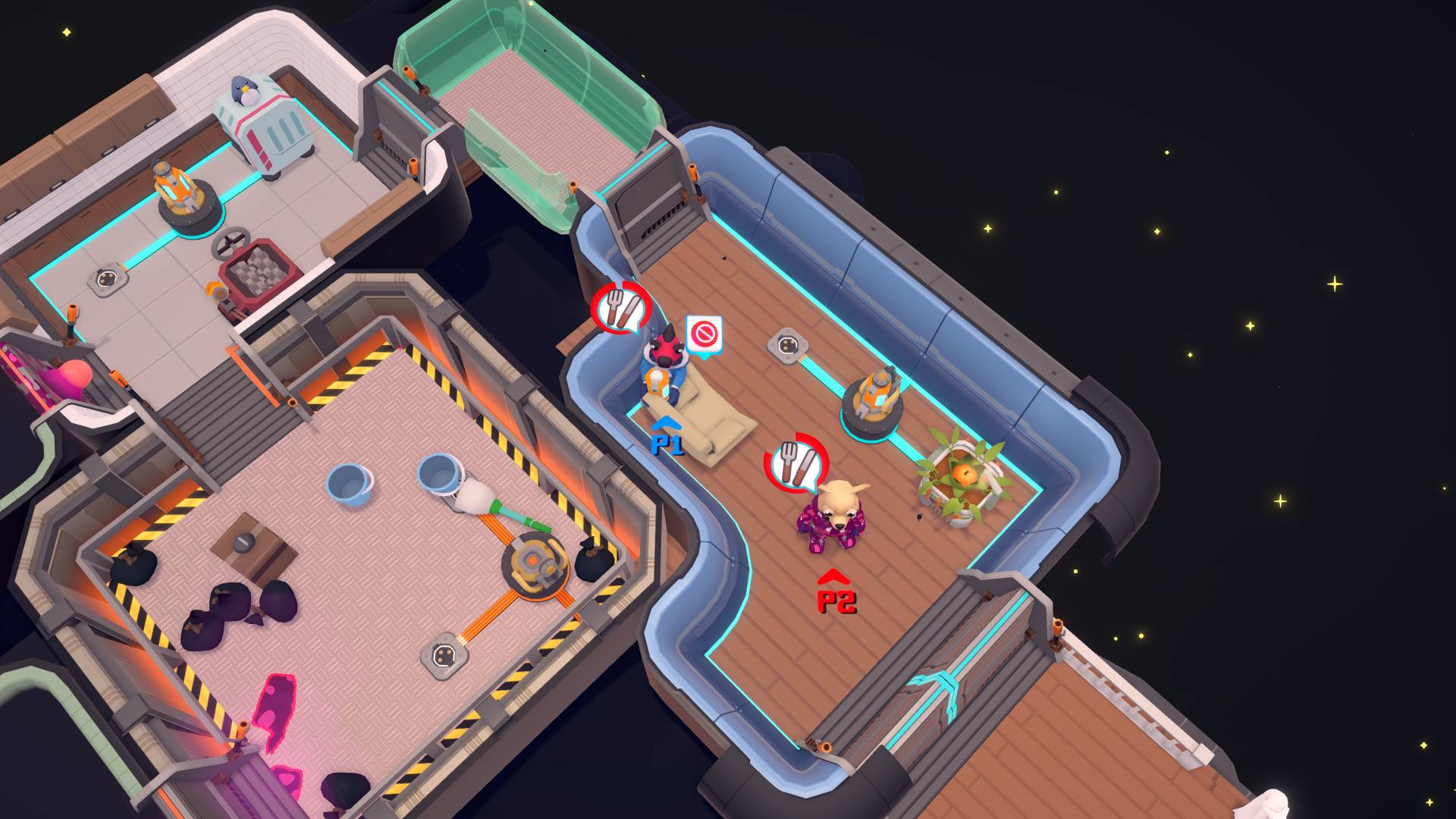 Out of Space
Get together with friends and family, grab a mop and bucket and clean up an alien-infested space station. Out of Space is a sweet couch co-op game that sees players move from room to room, cleaning up, decorating, adding power, and recycling the alien vermin. station sizes grow as you progress and the array of different tools, furniture, and machine all serve a purpose from a shower that gives you water or washes the alien slime off your character, to a TV that gives you discounts off the latest bug-busting tools. The addition of a dog bed and dog is also a nice touch.
I love playing party games with family and friends and have lost many hours to the games above. If Overcooked is too stressful or if you need a break from restaurant life, the above games are different enough to be fresh but still hit the same notes as Overcooked.