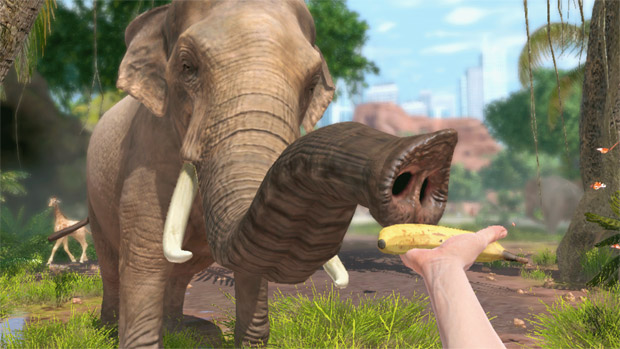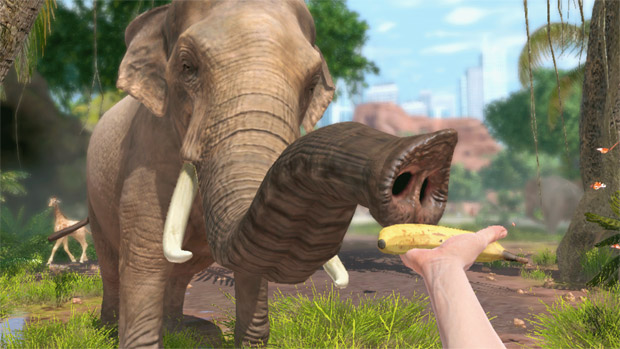 [Updated: November 2015]
The iPad showed both the industry and families that simple games that appeal to toddlers and young children is a growing market and despite Leapfrog's best attempt to address this audience, the iPad is dominating the market. Other more affordable tablets are being released everyday in order to appeal to this growing younger market.
I ran a story a few months back looking at toddler friendly games. There I struggled to find many and had to settle for Fireworks HD and Aquarium HD as these had limited controls and no real goal. Either way, my girls love them and it was their first introduction to the Xbox 360 controller. The Kinect is better for small children, which is why I am so excited about the possibilities of the Xbox One. With this in mind I wanted to look at the current 'known' games for children on the upcoming Xbox One:
Jump Links To:
Xbox Games For Children 2015
The following list was compiled at the end of 2015 to highlight the best games 2015 had to offer on the xbox One.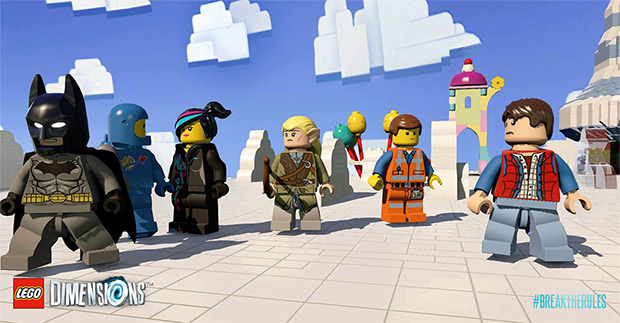 Lego Dimensions
Released in October 2015, this toys to life game enjoyed instant success thanks in part it it being a fun game but also thanks to the sheer amount of licences included. Players can get figures and playsets that cover Batman, Lord of the Rings, Back To The Future, Scooby Doo, Doctor Who, Ghostbusters, Jurassic Park to name a few. They also have Lego owned properties such as Ninjago and the Lego Movie characters to players have lots of choice. The game itself allows you to build, drive, fly and explore on your own or with friends. Lego has taken a fantastic leap from blocks to pixels is this ever growing platform.
Does include cartoon violence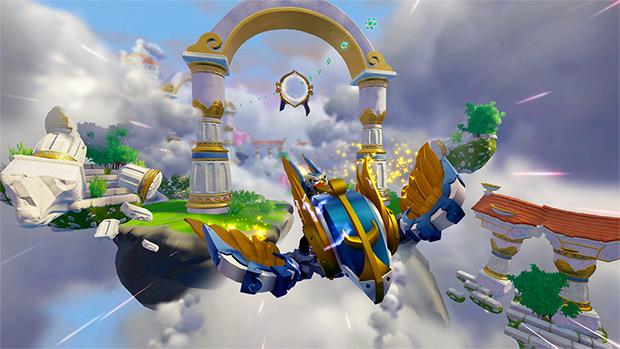 Skylanders Superchargers
My 2014 list included the previous games 'Swapforce' and 'Trap Team' which are both fun games in their own right. Superchargers adds 20 vehicles to the mix so you can fly, drive or dive around the Skylands. Each of the vehicles have additional 'superchargers' modifications and the best thing is that all previous Skylanders figures work with it.
* Does include cartoon violence
Rare Replay
Whilst this might seem one for the dads, I added this because some of the games in Rare Replay are not only great for introducing players to gaming (due to their simplistic control systems) but are also really fun. Viva Pinata sees you building a garden and breeding sweet-inspired animals, Banjo Kazooie is an inspired platformer, Grabbed By The Ghoulies has been lovingly updated for the release and Kameo is a beautiful Legend of Zelda clone. Some games might not be appropriate such as 'Perfect Dark Zero' which is a James Bond inspired first person shooter and Conkers Bad Fur Day may look sweet and innocent but contains bad language, drinking and smoking.
* Not all of the 30 titles are suitable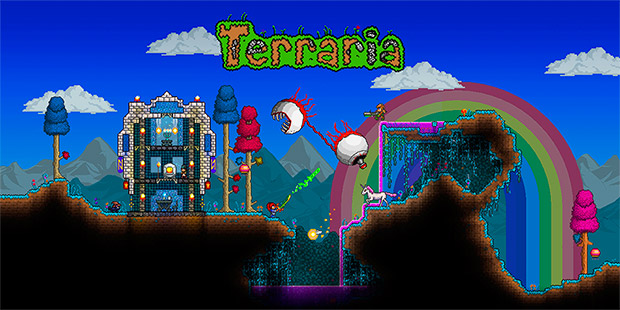 Terraria
Terraria is as sweet as it is addictive. This retro inspired 16 bit adventure game has all the mining, crafting and adventure of Minecraft adventure mode all packaged in a 2D environment meaning their is one less dimension to worry about. Terrains are randomly generated so you can have countless adventures and build and explore to your hearts content. Whilst there are cartoon monsters and skeletons to slay the violence is limited to them breaking into pieces. However, bunnies to roam the forest and weirdly you can behead them by accident.
* Some pixel art rabbit beheading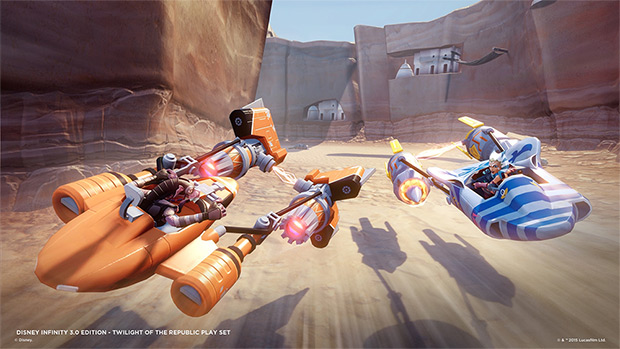 Disney Infinity 3.0
Disney Infinity 2 was also on my 2014 list and I couldn't be more excited about Star Wars being added to the mix. Disney Infinity 3.0 builds on the success of the previous iteration and improves it on every level. The single player Star Wars campaigns offer about six hours of gameplay each and the toy box mode make building your own levels easier than ever. Now Disney Infinity can use figures from the movies, Marvel Superheroes and Star Wars Characters, this title certainly has stepped up its game.
*Game contains shooting and lightsaber battles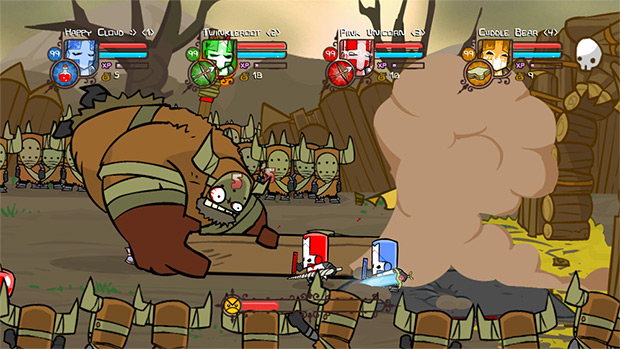 Castle Crashers HD
An evil wizard take your kingdom's power crystal and all the princesses. It's your job as a knight to fight through hordes of colourful and often crazy enemies to save these damsels. Gore can be turned off in the settings menu and four players can play at the same time making this a great game to share with the family. The Xbox One version is fully remastered at 1080p and 60fps so it looks and plays beautifully. The game also contains all previous DLC levels and a new board game mode. It might be violent but it is fun.
*Lots of cartoon violence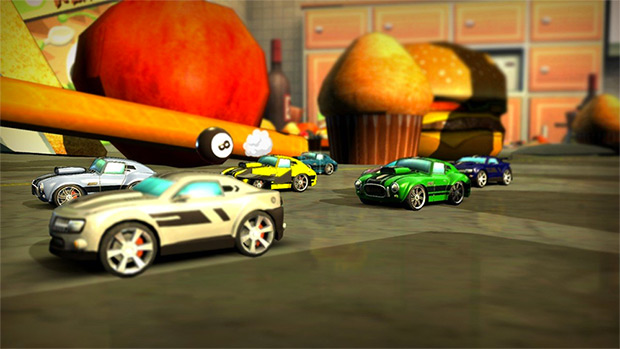 Super Toy Cars
It was a tough choice between Super Toy Cars and Beach Buggy Racing as both are fun racing games for children. However, Super Toy Cars is better for children as you race around tracks made up of toys, food and household items. There are tonnes of cars and customisations available as well as a four player local multiplayer. Whilst Beach Buggy Racing has more cartoon style 'big-headed' racers similar to Mario Kart, and an impressive career mode, Super Toy Cars has multiple camera modes which mean you can play in both classic 'behind the car' mode or a zoomed out top down view for a more 'Micro-Machines' experience.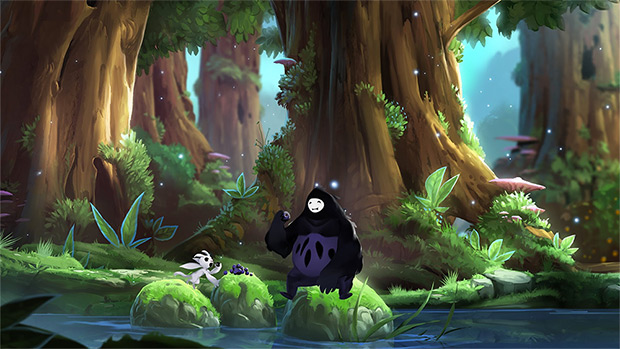 Ori And The Blind Forest
The best word to describe Ori and The Blind Forest is simply 'wow'. The game is beautiful, the story is enchanting and the gameplay is a joy. However, (and it's a big however), after the first five minutes the 'mother' character dies and after you finally pull yourself together (I cried) you are tasked with saving the forest. Ori is the prime candidate for 'games as an art form' as the storytelling and visuals are spell-bounding despite it dealing with the difficult truth that nothing lasts forever. Whilst this is not suited to smaller children, I think many older children would have an 'emotional experience' with this game which is very rare in mainstream gaming.
Mother dies in the start (not violently)
The following are still fantastic children games on the Xbox One, however these came out in the early part of the console's lifecycle.
LEGO Marvel Super Heroes (Xbox One)
The Lego brand games of recent times have never failed to disappoint. The are all pretty solid games with an over arching sense of fun. Although they are becoming all too frequent, don't let that fact stop you if you haven't played one in a while. This one promises more superheroes than you can shake a magical hammer at boasting over 100 marvel characters. These games work on so many levels that young children can get just as much fun out of it as parents. Also, the two player co-op means that if your children are struggling on a level or puzzle, it's easy for you to jump in and play without disrupting your child's enjoyment.
* There is some violence in this game
Minecraft (Xbox One)
Minecraft is the Lego of the digital generation and just as addictive. You and the family can lose hours building castles and shaping the world around you. Up to four players can player simultaneously and you can jump into others games quickly and easily. The best thing is that there are no quests or end to the game, only creatively and some very simple rules.
* At night, creepers come out and some violence is shown
Just Dance 2014/15 (Xbox One)
The latest iteration of this popular dance game has over 40 tracks to choose from and has Ubisoft extremely excited due to the advanced movement tracking capabilities of the Kinect 2. This will be the first game to be able to track six players at one time means the children could have an entire dance party in the living room. So get your camcorders ready as hilarity is highly likely.
* This does include a 'battle' mode which does have a competitive nature.
Fantasia: Music Evolved (Xbox One)
If you prefer you music by the likes of Vivalidi instead of One Direction then its worth exploring Fantasia. This game mixes motion controlled conducting with the exploration of a 3D world. Players can search and manipulate a colorful world filled with creatures that you can interact with before launching into either classical or modern tracks. With over 30 tracks and a 'remix' mode we are looking forward to seeing Harmonix's vision of music games on the Xbox One.
Kinect Sports Rivals (Xbox One)
This one has me most excited, not only because of the calibre of the studio behind it (Rare) but also because it seems to be inclusive to children. Every player can create their own superstar avatar and compete in a range of events from rock climbing to jet skiing. This has the making of being a real family crowd-pleaser and if the game manages to balance children versus adults then this will be A LOT of fun.
*The rock climbing does show players pulling other players from the wall and falling to the ground
Zoo Tycoon (Xbox One)
Zoo Tycoon mixes the strategy and thought of a simulation with an interactive third person zookeeper mode meaning you can not only build a living breathing Zoo but also see it come to life at the ground level. Whilst children might find it difficult to manage the building and running of the Zoo, they are sure to enjoy see the 100+ animals available, feeding them, washing then and giving them toys to play with. As the game can be controlled by both the controller and Kinect, it means that parent an child can work together to create a Zoo that can be shared and enjoyed by others.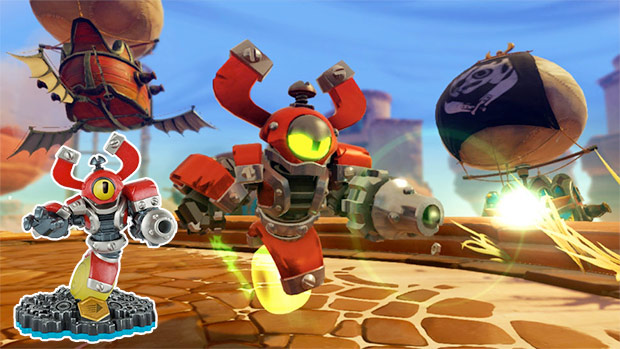 Skylanders SWAP Force (Xbox One)
The SWAP Force are a group of Skylanders who protected the volcano that supplied magic to the Skylands. However, a surprise eruption blasted them apart and gave them the ability to swap powers and body parts. The game is a third person cartoon adventure where you mix and match your players to complete a series of fetch quests. What is different about this is that you need to put physical/real world toys on a power pad in order for them to show up in the game. This game is dangerous and yet so good. It is dangerous because it wants you to buys physical toys in order to get the most out of it. As you quest you will find yourself winning weapons and items of clothing for team members you don't yet own as well as shown an advert for said team member in-game making children turn around and ask mummy and daddy to buy them. It is a really clever idea and annoying at the same time but before long you will find you have shelves of these figures around your house. At the same time, the game is a lot of fun and it is nice that toy figures still exist even if they now have digital counterparts.
*Cartoon violence throughout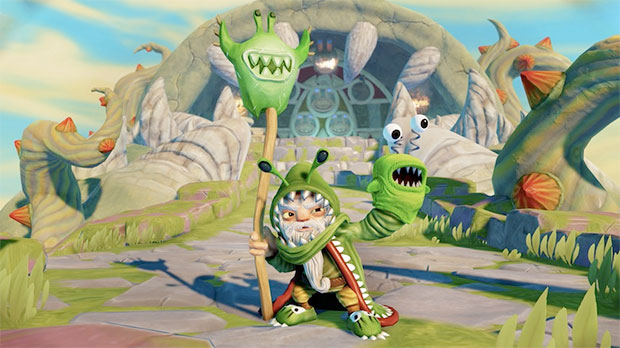 Skylanders TRAP Team (Xbox One)
Due out in October, this sequel to SWAP Force sees you being able to collect and control the villains of the series as well as use all your previous Skylanders. However, TRAP Team goes further than SWAP Force in that instead of just putting characters into the game from the physical world you can now pull the villains out and 'trap' them in the all new power pad. Once you defeat an enemy, the game shows the enemy being sucked out of the screen and there voice comes out of the power pad giving the illusion that you have them trapped.
*Cartoon violence throughout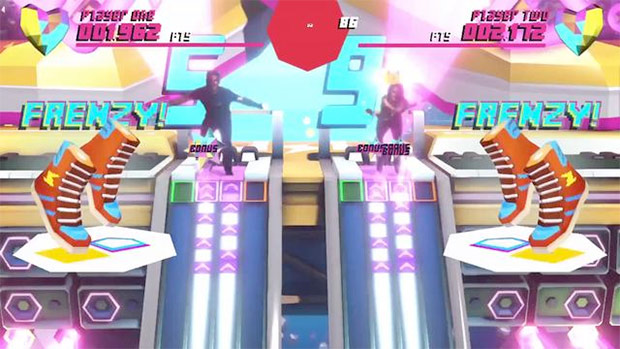 Shape Up (Xbox One)
Shape up mixes crazy mini games with exercise as players compete in a series of mad cap activities from push ups with heavy virtual objects on your back to squat thrusting to the moon. The game uses real-time green screening to put you directly into the game so you can see your likeness run, jump, thrust and push your way to victory, Whilst this game does look like fun, I would be interested in seeing the lag time between the real you and your digital version.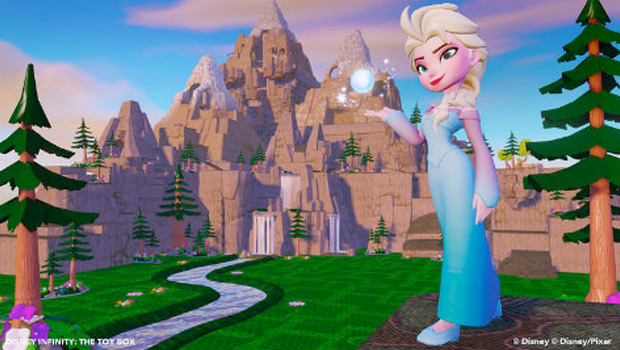 Disney Infinity 2.0 (Xbox One)
After Skylanders earned over a billion dollars, Disney was soon looking for a way to leverage its own wealth of characters. As such, they created Disney Infinity which is a virtual toy box where real world toys can be used to unlock characters and games in the game. Play sets can also be bought that include additional in-game worlds and a story driven quest. Xbox One will see version 2.0 arrive in September and all the characters from the original can be used in the toybox (however playsets do not work). Version 2.0 will also see the addition Marvel characters being added. So Elsa from Frozen can play along side Spiderman battling pirates. I am really excited about this one but at £10-15 per character it is going to be an expensive hobby.
*Characters do have the ability to shoot weapons at enemies (however it is up to the gamer to play that game type)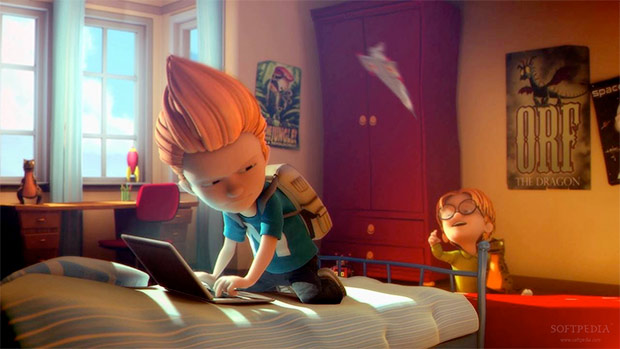 Max: The Curse of Brotherhood (Xbox One)
This game was a surprise when it appeared on the Xbox Marketplace and an even bigger surprise when it was given away free for two months as part of Microsoft's Games With Gold initiative. Max: The Curse of Brotherhood is a 2D platforming game that sees young Max try and save his little brother from a strange world, after using a spell he found on the internet to banish him from his bedroom. The characters are really sweet and it looks beautiful. The violence from Max is minimal but there are a number of difficult puzzle elements that might need an experience gamer to work through. However, the game is a joy to play and some of the action sequences are truly epic.
* Monsters chase Max but Max and after one hit it fades to black.

Child of Light (Xbox One)
This game is worth getting just for the visuals as it is a stunning piece of art where you play a fairy-like girl who floats around the levels solving puzzles and battling monsters. However, the battles are fought in a classic RPG style so neither player or enemy actually touch, only display an animation when hit etc. The combat system is simple and well thought out and although there are monsters in it, the hand painted art style softens their effect greatly.
* Some monsters and battle animations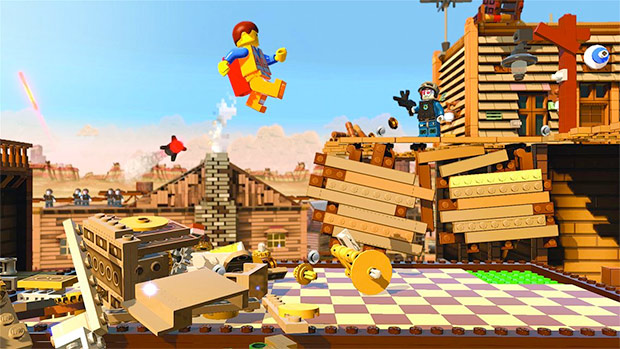 The LEGO Movie Videogame (Xbox One)
This game follows Emmett on his quest to save they world with a myriad of over 90 random characters including Batman, Superman, Wonder Woman, the Green Ninja, Gandalf, Shakespeare, Cleopatra and many more. If you are a huge fan of the movie then this could be a lot of fun, however, the gaming press has suggested that the games graphics are not up to par with other Lego games and it does suffer from some glitches.
[UPDATE: January 2015]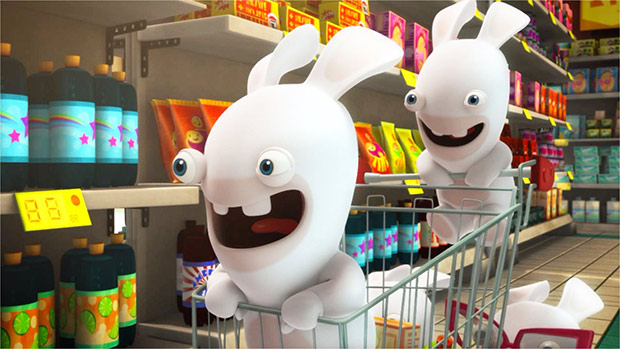 Rabbids Invasion (Xbox One)
Originally from a Rayman game, the Rabbids have now got their own show on Nickelodeon. This show is one of the first of it's kind as it invites viewers to use a iPad to interact with the show. This game is the self contained version of that show. Players use Kinect to take part in a series of mini games that move the TV show along. The graphics are Pixar quality and and it can be quite funny but you might find that there is more standing and watching than active gameplay.
*Some cartoon violence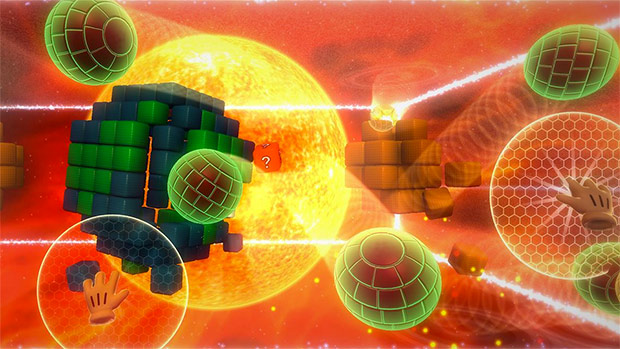 Boom Ball For Kinect (Xbox One)
Boom Ball For Kinect is a harmless full body Kinect game that see players hitting virtual balls towards a wall with the aims destroying all the blocks. It looks and feels low budget but it costs less than some high end mobile games so could be worth a go for Kinect fans.
*Explosions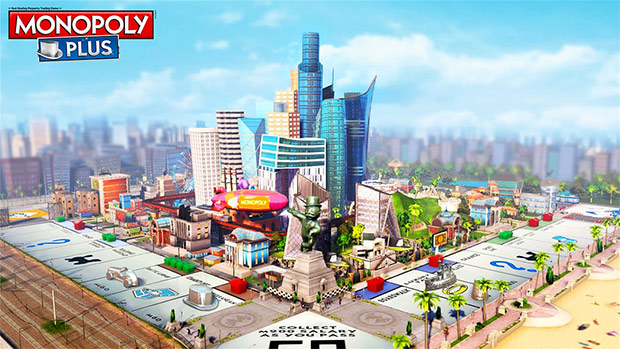 Monopoly (Xbox One)
The classic board game has come to the next generation with all new 3D graphics and various new game types. Whilst the classic game might be suitable for older children, younger children will enjoy the My Little Pony DLC or the 'My Monopoly' that allows players to create custom boards meaning you can add places relevant to your Children. Once created you might find you children buying up the Grandparents house and charging rent to all those who set foot in there.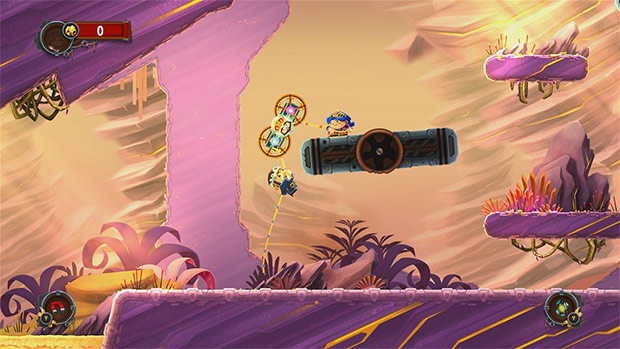 Chariot (Xbox One)
Whilst the premise of the game is a little strange (moving the coffin of a dead king), the game itself is quite sweet as the Prince and Princess must work together to get the 'Chariot' to the end of the level. The visuals are sweet and it might be one of those games that brothers and sisters might interesting as it challenges them to cooperate together in order to complete the game.
*Ghost character in the beginning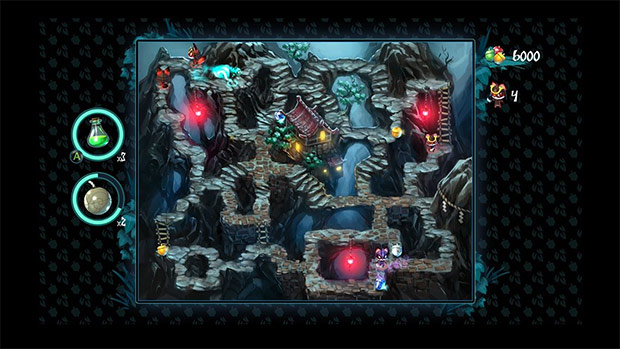 Nutjitsu (Xbox One)
Nutjitsu is basically a Pac Man game where a Ninja Squirrel walks around a level collecting acorns whilst avoiding foxes. There is no fighting but additional power ups can be earned throughout the game such as bombs (giving it a Bomber Man style appeal) but overall the game is pretty harmless. The graphics are nothing to write home about and they retain their original Windows 8 styling but this 2D top down game would make a great introduction to gaming for those looking to get used to twin stick controls.
The kinect is great when you have small children as it frees them from having to use the complicated 16 button controller, which is often too big for their hands. However, when Microsoft decided to drop the Kinect Sensor with many console bundles, the take up has been much slower. This has meant that less game developers make games for it. If you have kids though, it's great for getting them up and moving. Here is a few Kinect games ideally suited to children.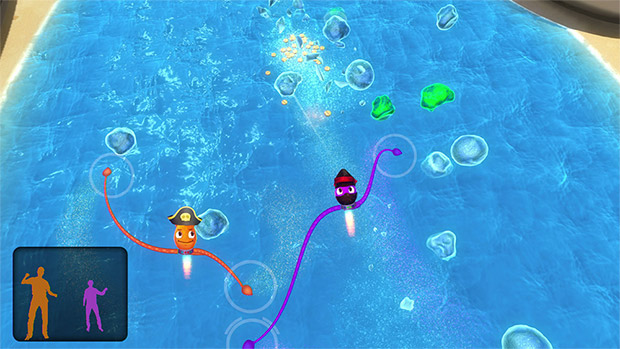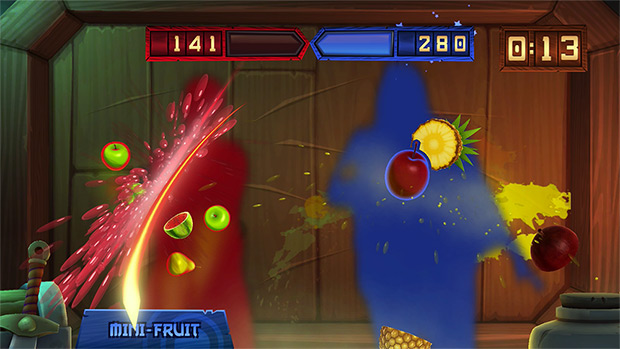 Fruit Ninja Kinect 2
My children love chopping fruit, dodging shuriken and leaping around the living room like ninjas. This fun little game is great for short bursts and enjoys various game modes including Zen mode which is devoid of bombs. The game supports two players and introduces 'festival modes' which sees players dodging lights or avoiding throwing stars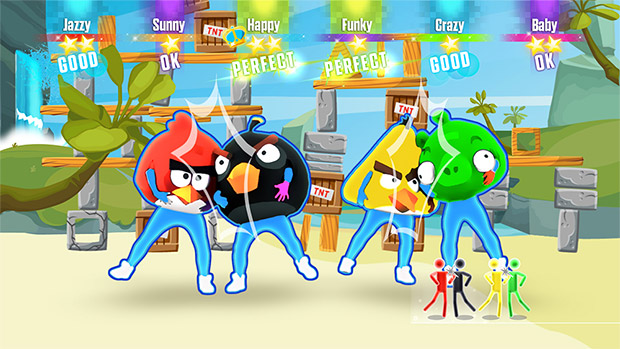 Just Dance 2016  (Just Dance® Disney Party 2)
The Just Dance games are some of the most played in my house. Just Dance 2016 has 43 tracks out of the box (including the little Mermaid and Grease) as well as access to Just Dance Unlimited which is another 150+ tracks (for a small monthly subscription). Dancers have various routines to enjoy and include variations for groups, on stage and even chair dancing. With over 200 songs at your fingertips this is the most complete Just Dance to date.  There is also Just Dance Disney Party 2 out on Xbox One for those who are fans of the Disney TV shows such as The Descendants, Liv & Maddie and Violetta, but don't expect any of the classic movie tracks, this one is strictly Disney Channel content.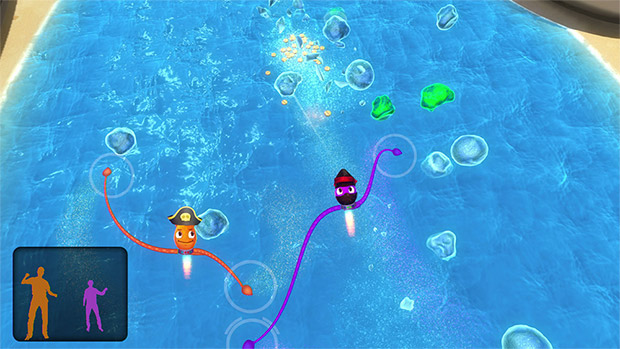 Squid Hero / Boom Ball Combo
OK, so this is two games in one but they come in a bundle so I included them together. Both Squid Hero and Boom Ball feel 'made-for-kinect' and are a lot of fun for children and adults alike. Boom Ball was the first to come out and is an 'Arkanoid meets tennis' game where you use you hands (which are represented as white hands on screen) to bat a ball against blocks, trees and creatures in order to clear the level of blocks. Squid Hero see players as an alien Squid who is tidying up a river after a crash landing on Earth. Players reach for smaller blocks of debris and throw them again larger blocks to smash them up. Both games are good clean fun and do offer quite a workout for the player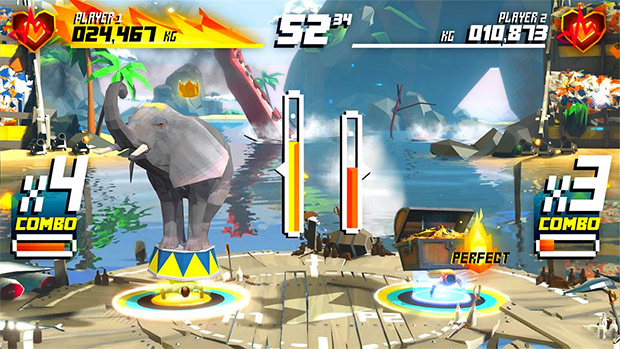 Shape Up
The ultimate workout game on the Xbox One has to be Shape Up which literally puts you in the game and makes your digital doppelganger take part of an array of virtual exercises. Players will be doing real world press ups, whilst their digital version does the same except with elephants on his back. There is a range of exercises, each hidden amongst crazy minigames. This really does make exercising fun.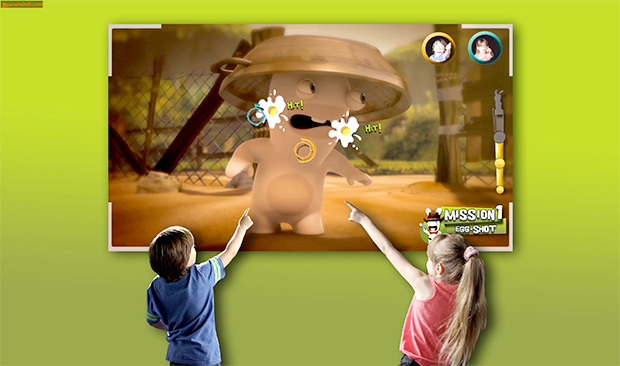 Rabbids Invasion
Rabbids Invasion is an interactive TV show game in which you watch a 3D cartoon of those rascally rabbids get up to all sorts of antics. Think white minions with bunny ears. Throughout the show, there are opportunities to play mini games from simple spotting games (first one to point at a this fish) to running on the spot games to help the characters with their mission. Completing each task earns points which are totalled up at the end of the show. Multiple player can play simultaneously and it's easy to drop in and out of the game at any point. A really unique title that's both fun to watch and fun to play.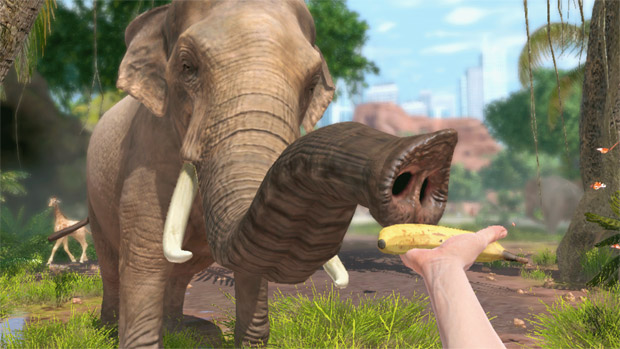 Zoo Tycoon
This is a classic that was on my previous list but well worth mentioning again in the Kinect section as feeding the animals using Kinect is fantastic and something my children like to go back to again and again.
Many of the story driven games mentioned [in this video] do have cartoon violence, monsters and player death. I know my wife would prefer our children's games to be less violent. Out of the ones already covered, Just Dance, Shape Up, Viva Pinata, and Super Toy Cars do not contain violence. The building section of Disney Infinity and Minecraft also can also avoid this is the creator chooses it. The following two titles do not include any violence or 'death' state but may only suite those gamers aged seven and above.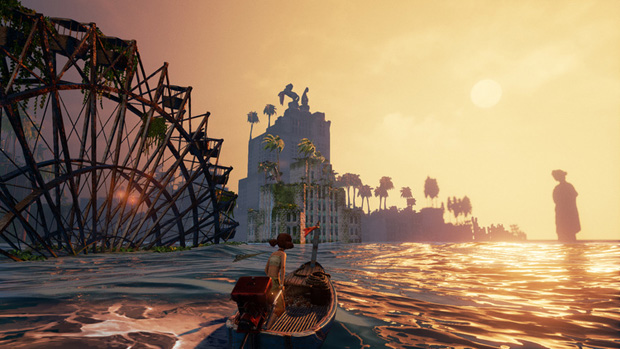 Submerged
Submerged is set in a beautifully realised post-apocalyptic world submerged in water. The story begins with an escaping brother and sister who happen upon a long dead metropolis. You play Miku, the older sister, tasked with helping your injured brother Taku. Armed with a map, telescope, and fishing boat, this third person platforming adventure has no fighting and no failure state. It's beautiful, serene and easy to play but may be suitable for ages six and above.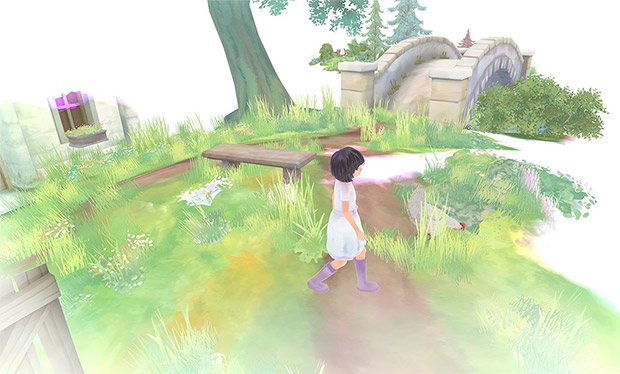 Beyond Eyes
Beyond Eyes tells the story of a 10 year old girl called Rae who was blinded as a toddler. In the game Rae must face her anxiety and goes on a journey to find her only friend (her cat) surrounded by an unseen world full of life waiting to be revealed. This is a slow yet beautiful game that stirs emotions and enables players to empathise with the protagonist.
Kingdom Hearts 3 (Xbox One)
Kingdom Hearts 3 is the third game in the loved RPG franchise and features an older Sora who sets off on an epic adventure with Mickey, Donald and the awesome Goofy through a slew of new and classic Disney worlds. This game has all the ingredients of a child friendly game, classic Disney characters with a strong RPG calibre behind it. The previous games were great but the second one did get decidedly harder, so I hope that the latest game has address that balance and has re-focused on the children that hope to play it. The visuals look stunning and if the story is anything like the previous games then we are in for a delight.
* This does have shadow creatures and enemies in which will need to be fought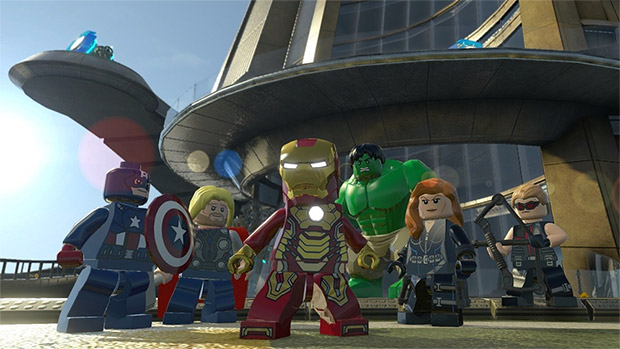 Lego Marvel Avengers
The Avengers game brings together over 100 new and returning characters in this epic game that span various films that not only include the avengers movies but also the Thor, Captain America and Iron Man movies. Due for a February release I wonder whether this will have any Lego Dimensions cross over content.
Summary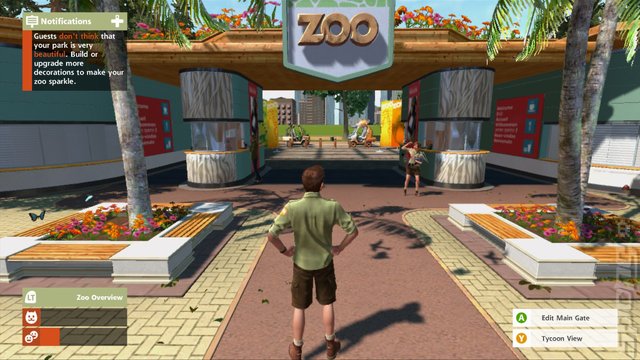 Article Name
Xbox One Games for Children
Description
The Xbox is not synonymous with child friendliness. This list outlines some of best games for children on the Xbox One.
Author