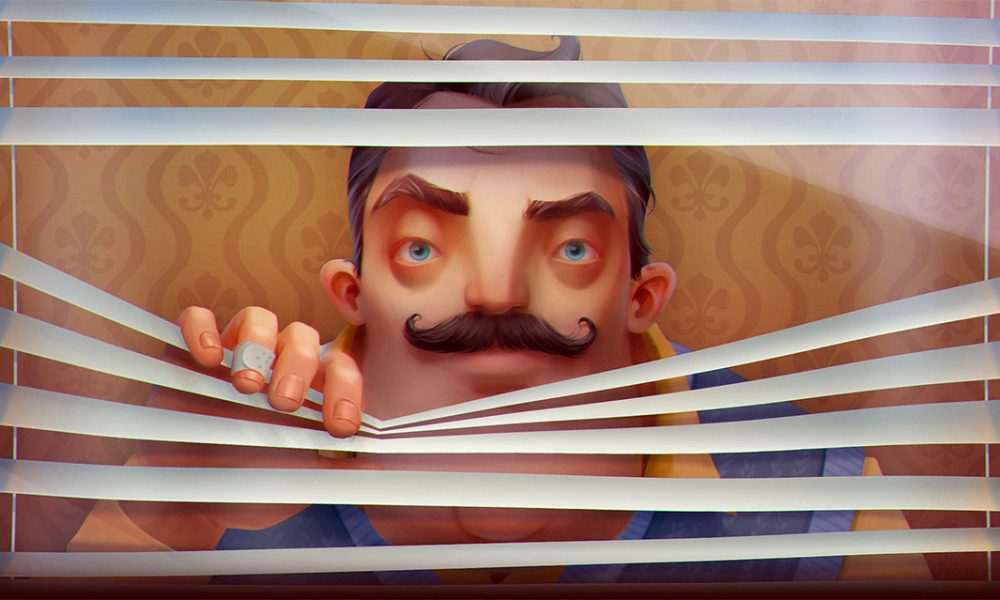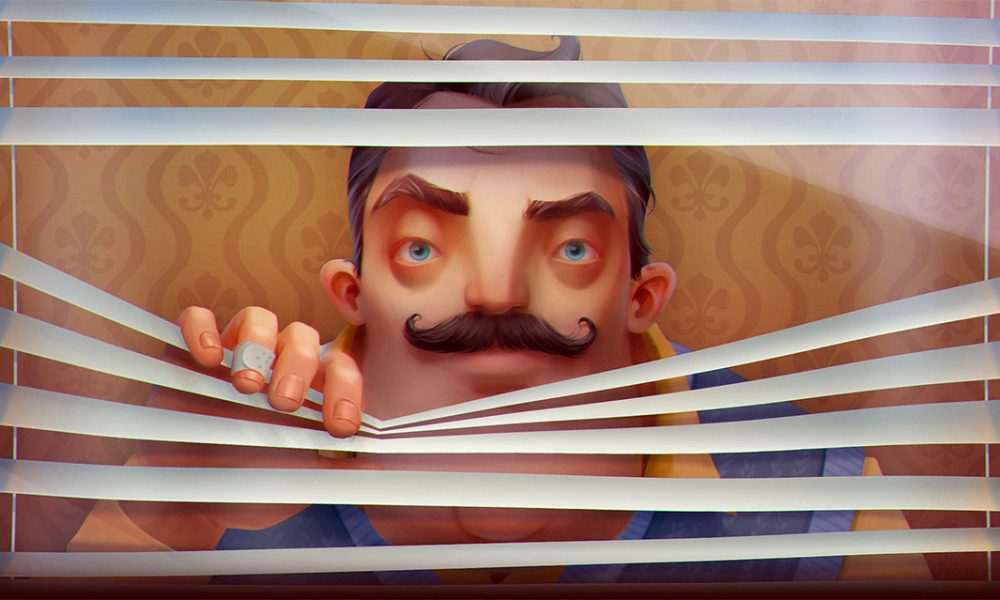 How well do you know your neighbor? That is the question that Dynamic Pixels want you to ask in their upcoming game 'Hello Neighbor'. I was extremely lucky this week to catch up with Irina Minakova at Dynamic Pixels ahead of their Kickstarter campaign for this tactical, suburban, mystery game. After seeing the concept trailer, I was 'on board' and eager to pick their brains about the new project.

How long have you been making games?
We started working in 2004, so we've been developing games for more than 10 years already. Since that time, we've created more than 40 titles; and there are more than 5 mln people worldwide playing our games. All of them were mobile games (J2ME, iOS, Android, WP8), 'Hello, Neighbor!' is our the biggest and first PC project.
Are there any developers or games that inspired you to get into games?
We've always been keen on playing games; and we think that games as a piece of art inspired us to start creating the games, rather than a specific title or a developer.
When did you first come up with the concept of 'Hello Neighbor'?
The idea came to our game designer about a year ago. He decided to create the game that would give a player the feelings he has when he suddenly finds an "Easter egg".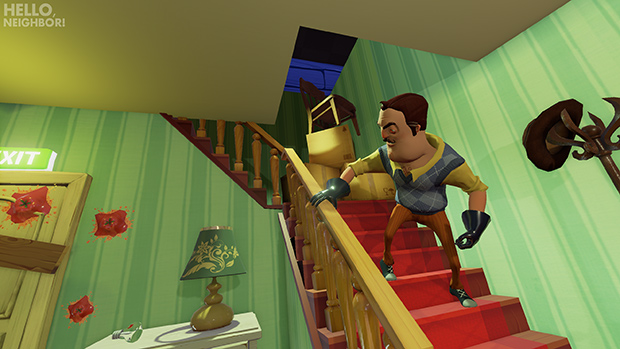 What is the general premise of the game?
The "Orphan Black" series gave us the first impulse to create such sort of a game. A few words about the series. The main character here is trying to find out whether her husband is a spy. She's torturing him and suddenly realizes that she's mistaken. Then she starts doing the same with a woman living next door. Having killed her, she understands that the real spy is her husband. What a twist!
The amount of A.I sounds really ambitious. How will you achieve such sophistication?
There is no mystery here. The only thing our game-designers and programmers do is working very very hard.
Actually, it's not an easy thing to tell in a few words how the A.I. works. We are creating a video now in which we'll show the current state of A.I. development.
How long has 'Hello Neighbor' been in production? and what is your estimated timeline for rolling it out?
We've been working on the game for several months already. We've created design docs, art materials, several videos and are working now over a playable prototype that will come to the light at the start of the Kickstarter campaign.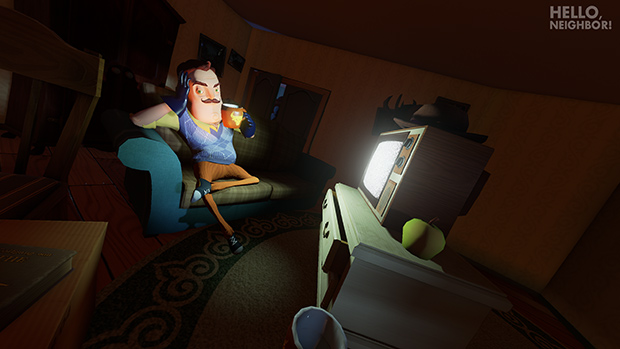 The 'enemy' character is somewhere between Ned Flanders and a Circus Strongman, what was the thinking behind this character?
It was quite a "natural" process. Our game-designer was trying hard to imagine how the Neighbor would look like. Finally, he just took a pencil in his hand and draw the Neighbor as it is.
The whole art style is so bright and colourful, despite the content having a rather dark nature. Was this your intention from the beginning? 
Sure thing! We are not talking about the game as "a thriller for thriller". It's not like Slenderman or Alien…Tactics and creativity are the most important things in the game. However, it turns out that the Neighbor, trying to protect his secret, puts a player in fear. Anyway, it's hard speaking about it without the spoilers.
When the neighbour grabs you in the gameplay trailer it reminded me of Alien: Isolation… Will the neighbour have multiple 'capture' animations?
Of course, there'll be a lot of various animations. Anyway, the game is not intended to thrill the player, as we told before. Therefore, we are not going to focus on the "capture" moments and show horror scenes as in Alien: Isolation. This game is different.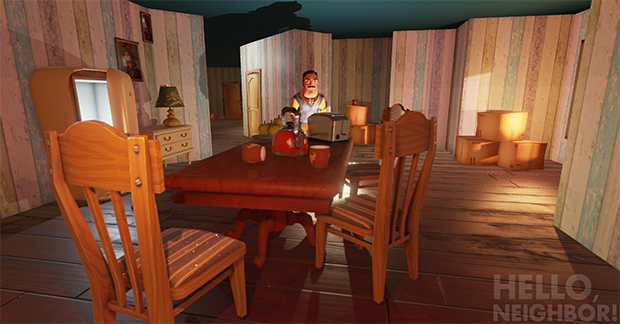 Once you have been captured and respond, does the neighbour remember your previous actions?
Sure thing! It's the main idea! When captured by the neighbor, the player is just respawned to his part of the map, he doesn't have to start the game from the very beginning! The neighbor collects all the info about the player's action and analyzes it. So, it's getting much more difficult to win every time a player gets captured.
What has been your biggest hurdle so far and how did you overcome it?
Unreal Engine 4 is a kind of a hurdle. It's a new technology both for us and the market. Therefore, we're constantly coming across small and big troubles. Anyway, we successfully manage to overcome them!
The game looks to be coming out of PC, Mac and PS4. Why not Xbox One… Will it be a stretch goal?
Lunix! Don't forget Linux!  Speaking about consoles, PS4 is in priority for us, but we are also keeping Xbox1 in mind. Let's wait and see.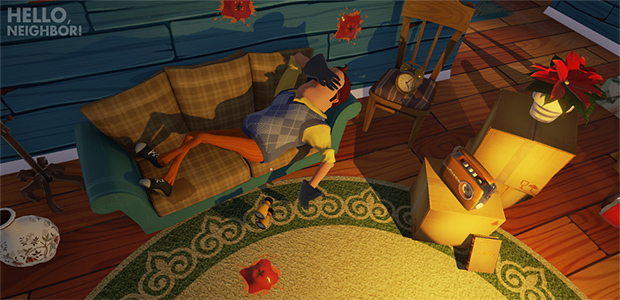 Do you have any words of advice for budding young developers?
We just want to tell that it's necessary to do the things that you really love, the things that inspire you. What the most important – love your players, think of what they want to see in the game and work hard to do it!
Is the Kickstarter for 'additional funding' and 'speeding up the development time'? As I would hate to see the project canned.
We can't say that it'll "speed up" the process because we are going to release the game in fall 2016 regardless of how much funds we'll be able to raise. We'd say that the more funds we collect, the more interesting and sophisticated the game will be. E.g., we'll be able to introduce multiplayer regime and console support.
What can we do to support you in the meantime? 
We are working hard to tell as much player as possible about the game and we'd much appreciate any support of that kind.
For more information visit http://www.helloneighborgame.com/
To support the project on Kickstarter visit the page here: https://www.kickstarter.com/projects/helloneighbor/hello-neighbor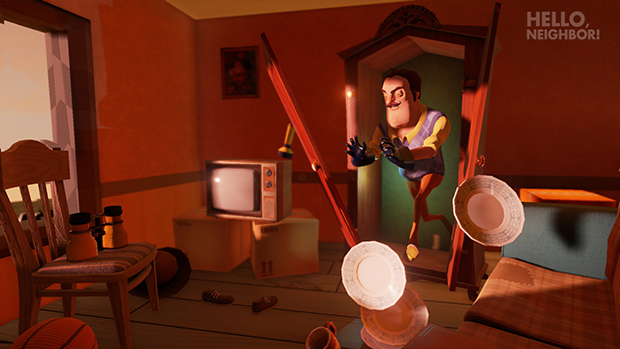 Summary
Article Name
Developer Interview: Hello Neighbor | Indie Game Preview
Description
How well do you know your neighbor? That is the question that Dynamic Pixels want you to ask in their upcoming game 'Hello Neighbor'. I was extremely lucky this week to catch up with Irina Minakova at Dynamic Pixels
Author