I grew up gaming in the eighties and nineties, so I have put many hours into difficult titles such as Castlevania, Actraiser and Altered Beast, which is why the first few hours of Slain was a euphoric yet congenial jaunt down memory lane. Wolfbrew Games have truly nailed the retro look and feel of those side scrolling hack-em-ups from days gone by. The game oozes retro-goodness and the warm and fuzzy feeling is so amazing you'll think you have uncovered a lost Castlevania game.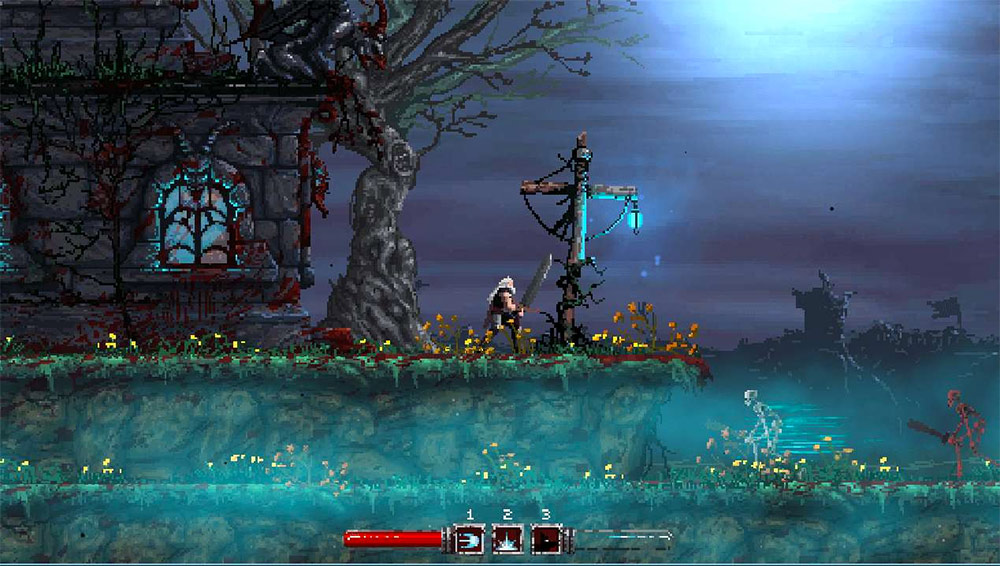 Xbox One owners can celebrate the fact that we get Slain six months after Steam and one month after PS4, because this Kickstarter project, that was funded back in February 2015, did suffer some teething problems on release. The Xbox One version is the most up to date and definitive edition thanks to months of feedback and swift updates. But enough about the rollercoaster launch cycle, lets talk about the game.
Slain is a gothic side scrolling platfomer that mixes 90's inspired 16 bit pixel art, 2D swordplay and a class heavy metal soundtrack. The story follows the exploits of Bathoryn, a long dead warrior awoken once again to liberate six cursed realms from six deadly overlords. Bathoryn will earn a variety of weapons throughout the game as well as use a projectile blast of mana for hurting enemies from a distance. Weapons range from a fiery sword to a huge ice axe and you will need to know which enemies are susceptible to what in order to work your ways through this unforgiving game.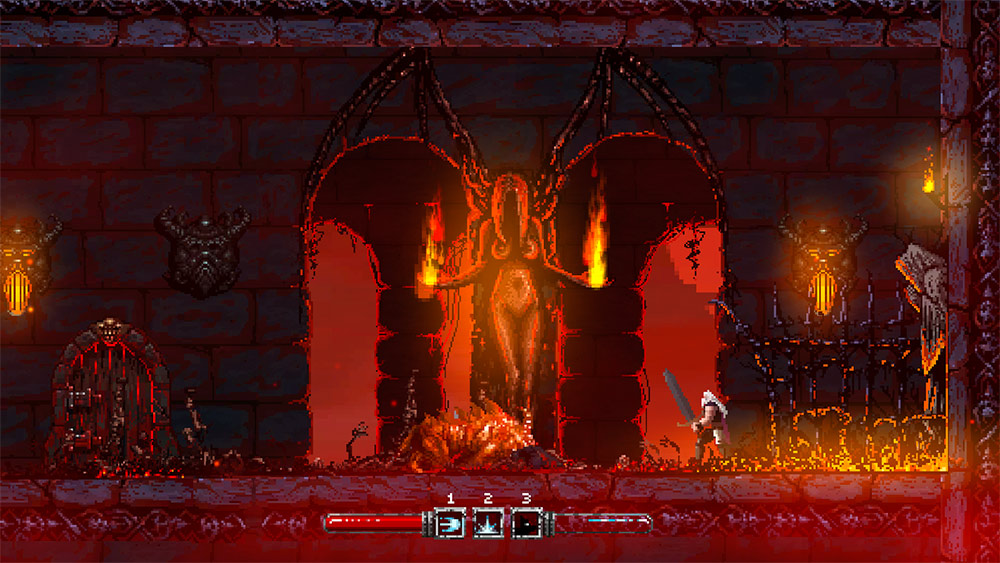 The visuals exude style with levels that have been lovingly designed to mimic that of Castlevania and Actraiser, but the game also pays homage to titles such as Rastan, Shinobi and Stryder. Konami may not want to create another Castlevania game in this style, but thanks to Slain, they will not have to. The backgrounds are highly detailed and there is always movement on the screen, wether it is howling winds blowing items around the screen or a distant storm lighting up the clouds.
The heavy metal soundtrack fits perfectly with the gothic visual style and music's tempo keeps the pace up as you hack your way through skeletons, demons, monsters and spirits, each one intent on ripping you apart. For the most part, they will succeed, as the game is fiercely difficult and some sections will require you to have the patience of a saint to work through them. On numerous occasions, I found myself screaming obscenities at the TV during particularly tense moments, as having to repeat the same section over and over was extremely vexing.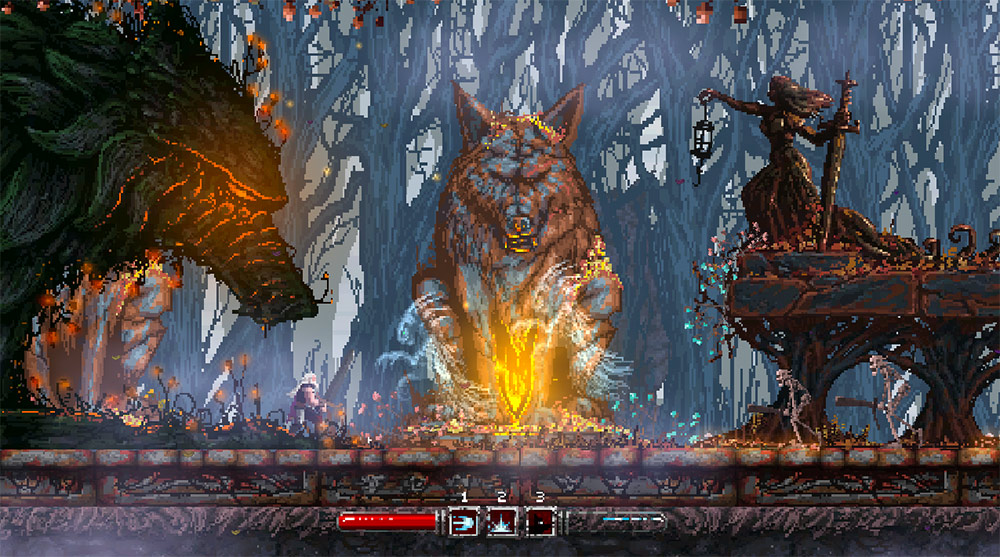 The difficulty level does peak and trough throughout the game and whilst their were moments I wanted to strangle the devs at Wolfbrew, but I kept playing. A dormant part of me was awoken, as Slain not only captures the look and feel of those classic slashers, but it also captures the difficulty and longevity of those older games. Back in the 90's, children would have to make a game last as long as possible and many of the games were particularly exasperating.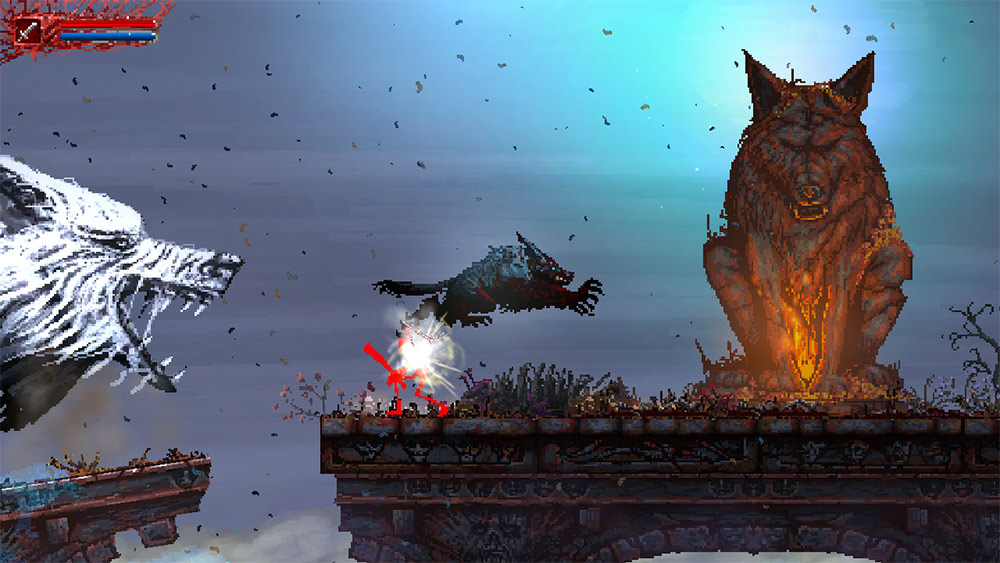 Overall, I have a love/hate relationship with Slain. I can't tell you how warm my cockles became as I played through this nostalgic hack and slash. It's a game that brings out the dad in me and wants to tell everyone under the age of 25 that "this is what games used to be like". The graphic style is fantastic and the array of animations from the multitude of death styles, to the waterfalls of gushing blood look amazing. The heavy metal soundtrack is befitting the game and look out for the moment when Bathoryn rocks out with the wolf god. The gameplay is fun and whilst the levels look amazing and have all the right ingredients, could be bigger and more complex. However, it's hard to concentrate on the levels, as the difficulty is up and down more often than a rockers long hair during a Steel Panther concert. The game is infuriatingly difficult at times, but strangely addictive and you will find yourself working through the six stages over time if you don't through your controller at the TV. If you are a fan of classic 2D platformers and fancy a warm and fuzzy trip down memory lane then you need to play this game, however, younger players might find the game overly difficult and lacking in minute-by-minute checkpoints.
At the time of writing, I had completed nearly 80% of the game and will continue to work my way through it, however, I wanted to get my review up before Halloween and felt I had enough information and logged game time to offer my thoughts and opinions.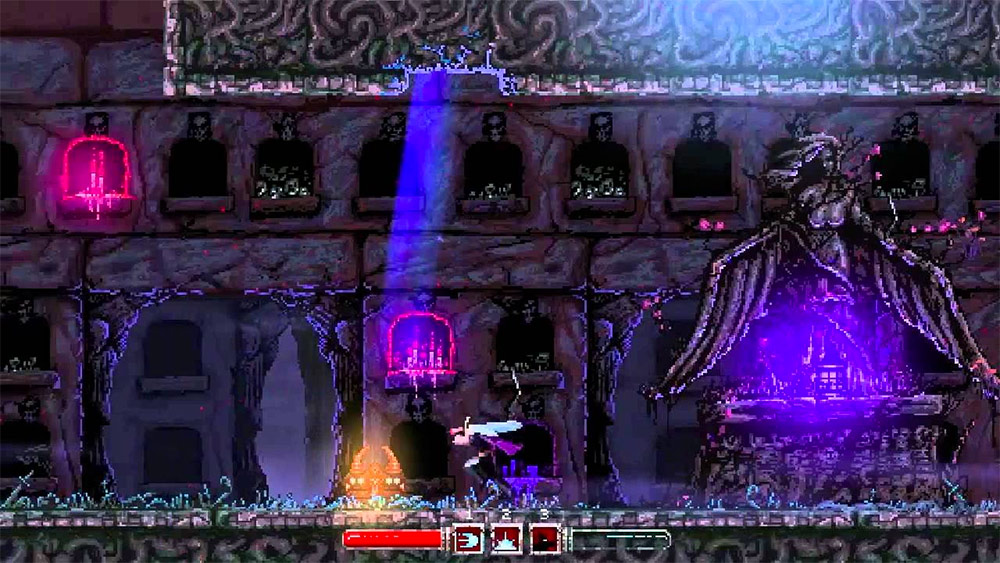 Summary
Reviewer
Review Date
Reviewed Item
Slain: Back From Hell on Xbox One
Author Rating