UK indie developer and publisher VooFoo Studios has today announced that the first two downloadable content packs for its popular top-down racer, Mantis Burn Racing.
The free-to-download 'Snowbound Pack' brings a brand-new snow-themed race environment to the game, featuring four uniquely challenging new tracks. Put the freeze on your opponents as you jump, bump and slide your way across treacherous, wintry snowscapes that will push your driving skills to the limits! The 'Snowbound Pack' also significantly extends the game's single-player campaign by adding season's two and three of the Veteran Class career, with 34 extra events to complete in your quest to be crowned Mantis Burn Racing Champion.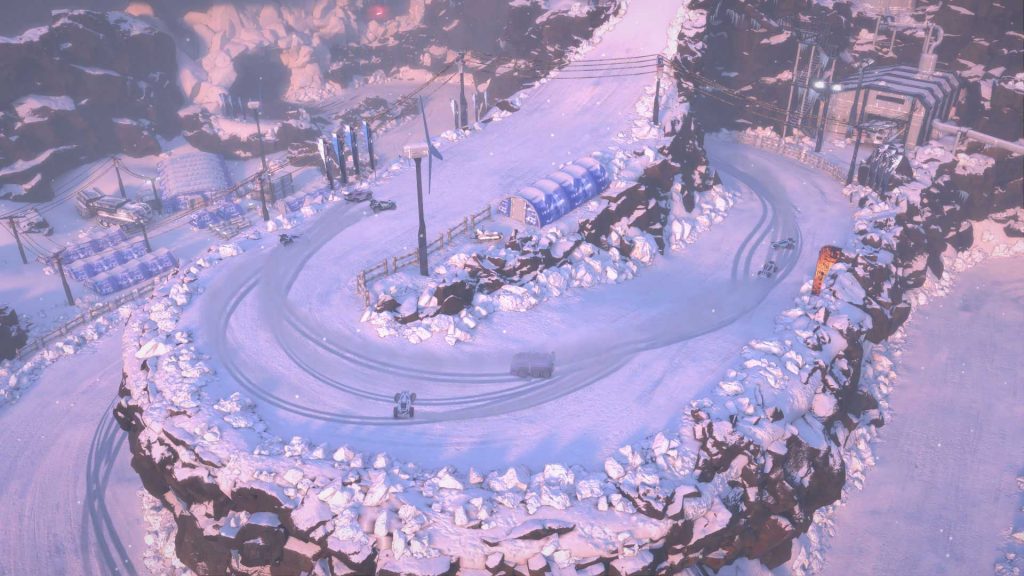 Also available from today, the 'Elite Class' DLC pack, which adds a brand-new class of three 'Elite' Hover vehicles that will see your Mantis Burn Racing game play really take off! Put your driving skills to the ultimate test with these thrillingly-fast, futuristic-looking vehicles that use powerful turbines to hover above the ground making them less affected by the tracks' surface. Hover vehicles also come with their own 12 event 'Elite' career season that is unlocked immediately and only available with this DLC pack. The 'Elite Class' DLC pack is available to download from today for just: £1.99 / €2.49 / $2.49.
View the 'Elite Class' trailer below:
"Since we launched in Oct 2016 the reaction to Mantis Burn Racing® from both fans and critics has been overwhelmingly positive" said Mark Williams, VooFoo Studio's Technology Director. "We've listened to the community and delivered a massive free content update along with paid DLC and a patch that we're confident will extend the depth, longevity and enjoyment of the game, with more to come!"
The updates don't end there, with the next major game patch also now available for all platforms! This latest update brings new features to the game including a new 'Time Out' event and the ability to tune engine upgrades as well as other fan-requested updates and improvements. Full details of the patch can be viewed here: http://bit.ly/2mLW1eK
To celebrate the release of the DLC packs VooFoo Studios are running a 'Double XP Weekend' from Fri, March 31st to Sun, April 2nd, during which time players can earn double the XP in all areas of Mantis Burn Racing.