Out of Space is a strategic co-op cleaning game where you and up to three friends move into a multi-room space station with an ever-increasing alien bug problem.
Out of Space Review on Xbox
Armed with a mop and bucket you must clean and secure rooms in order to live in them. The aim of each game is to add a working battery to every room and ensure each is nice and clean. In many of the rooms, the power sockets can be used for electrical items such as showers, mixers and exercise bikes. Each item serves a different task and helps to achieve your overall goal.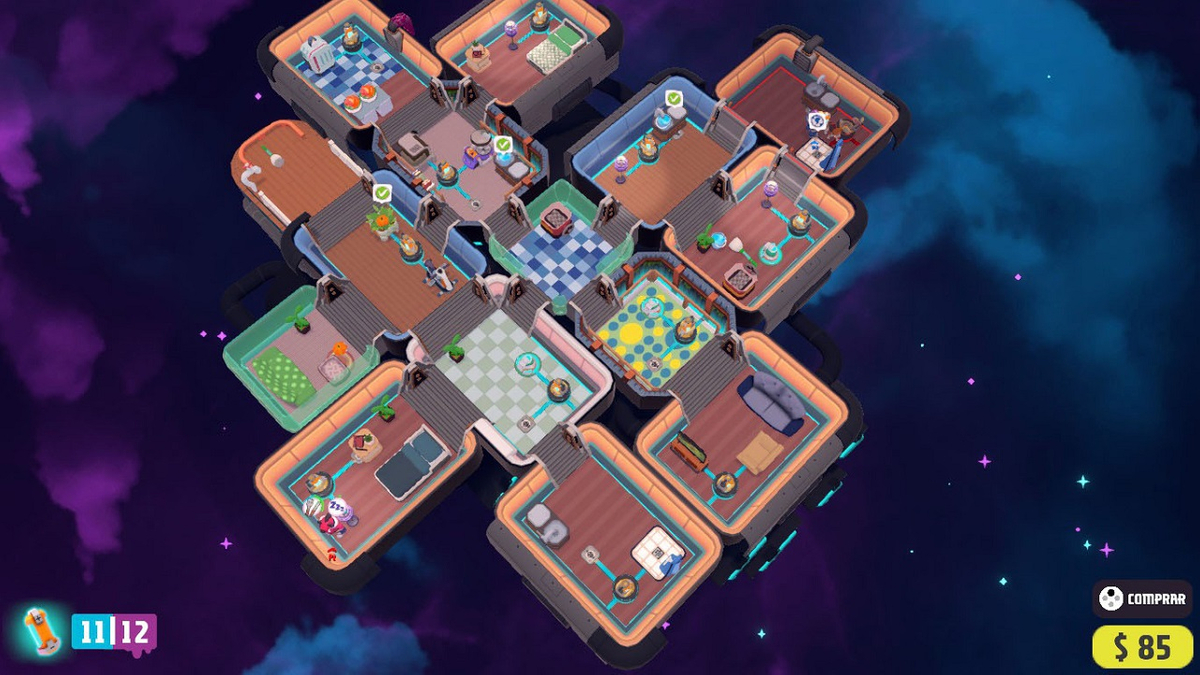 Whilst this sounds easy in principle, the growing roster of slimy bugs crawl across the floors leaving trails are toxic sludge across the rooms. The bugs also have a taste for battery packs and often bee-line for power cells, eating them up and covering all surround items in sludge.
The gameplay starts off relatively therapeutic as you clean and tidy your first rooms and eventually collapse into a frantic panic by the time you reach the last room. Players will need to be organised and efficient to complete the ever-changing levels in order to wash, mop, protect, eat, cook and rest before the bugs get the better of them.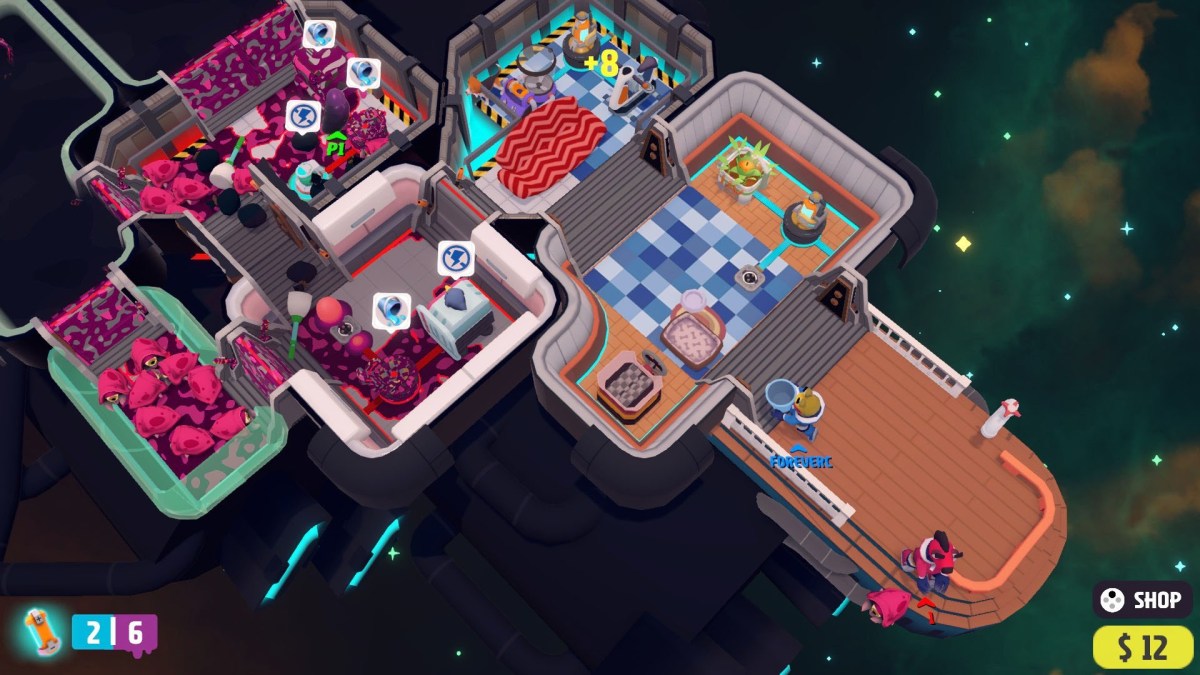 The difficulty increases further as you unlock bigger stations and additional alien bugs. More rooms mean more time for the bugs to grow and multiply. The new bug types include armoured shells which can be hurt with a mop and flying bugs that can't be hit at all. All in all, it can get very stressful.
Whilst this was great fun to play solo, it is better enjoyed with friends, as you become a well-oiled team moving through rooms like a SAS cleaning team. Team members take ownership of buckets, mops, food and shopping and before you know it, you will be a mean, lean cleaning machine.
The graphics are cute and fun and there are some similarities to Overcooked or Catastronauts. However, the ever-changing levels, growing ship sizes and differing starting items make the game fresh and highly addictive.
If you are a fan of panic-inducing party games like Overcooked, then Out of Space will be right up your street and worth picking up if you are looking for fun couch co-op games. This is a family-friendly title that will have the whole family working together towards a common goal and may even inspire some to clean up in the real world.
Get it on Xbox:
https://www.microsoft.com/en-us/p/out-of-space-couch-edition/9pk76x93s6gz?activetab=pivot:overviewtab
Get it on Steam:
https://store.steampowered.com/app/400080/Out_of_Space/