The FifineAmpli-game microphone is a USB plug-and-play mic that comes set up and ready to use, straight from the box. I have been using it on PC, but it works on Mac and consoles as well. Of course, it was the powder pink finish and internal LED lighting that drew me to it, but the big question is… is it any good?
Here's my review of the Fifine A8 gaming mic.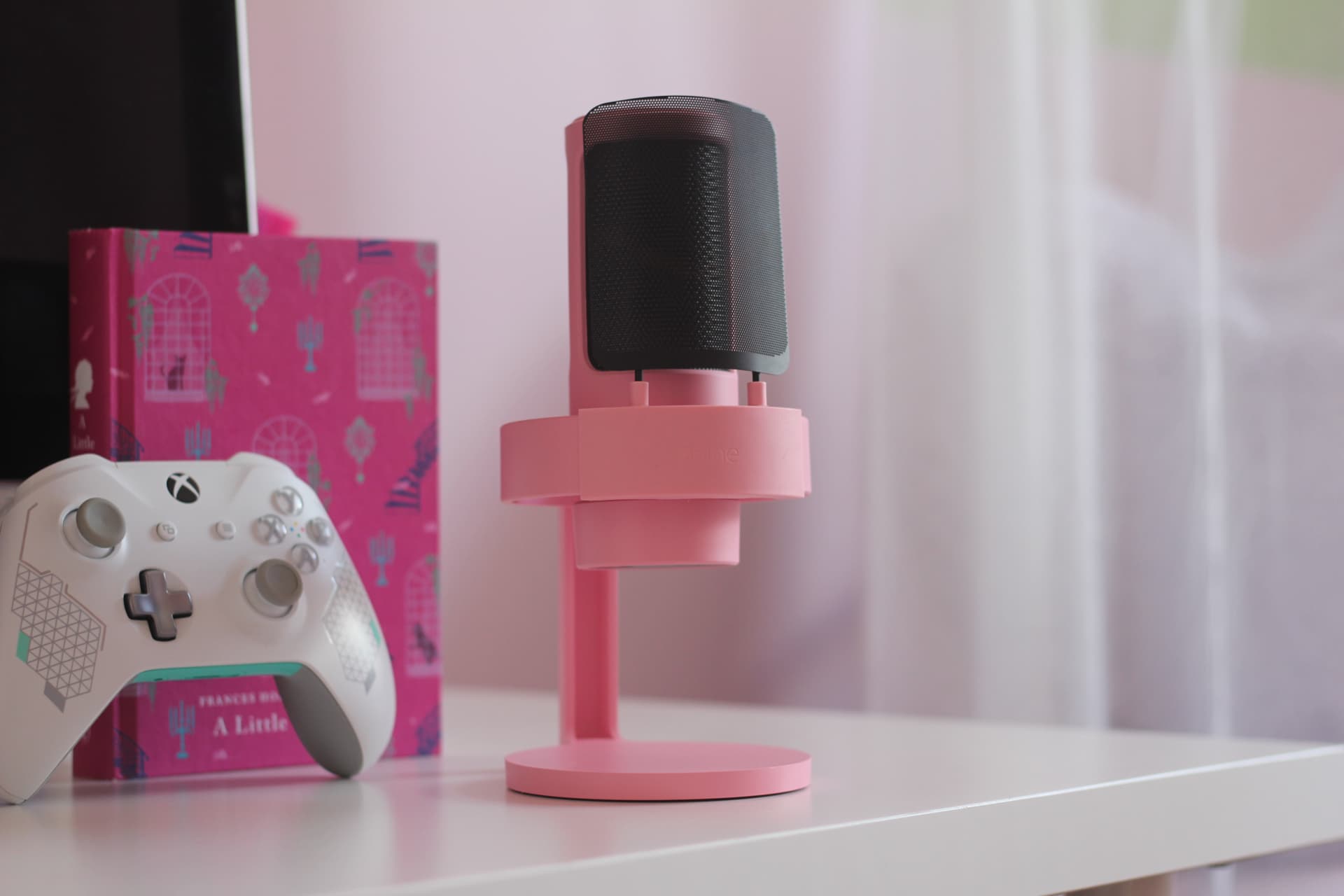 Straight out of the box, you have two USB cables and a mic arm adapter giving it great versatility. Similarly, the shock mount and desk stand come pre-assembled, so it is ideal for those looking to get started quickly.
The shock mount is particularly interesting, as many mics in this price range have mounts that are screwed into the bottom of the mic with a nut, however, the AmpliGame A8 is attached with elastic rubber bands giving it this cool "jiggle jiggle", as well as keeping unwanted vibrations from making their way into my videos.
The look of the A8 Ampligame is fantastic, from its smiling pop filter to its powder pink colour, but this comes at a price. The whole body is made of plastic, which makes it feel light and a little cheap compared to the heavy metal body of the Yeti for example. But when it's on the desk and matches your gaming set-up, the weight will be a forgotten memory. Its small footprint and overall profile mean it can fit neatly into the streaming window without covering the player's face. The LED lighting inside is subtle but works well and streamers can choose a rainbow of colour or use the settings to pick the colour that matches your gaming setup. The pop filter is removable and quite thick which is handy for stopping those pesky air jets whilst talking.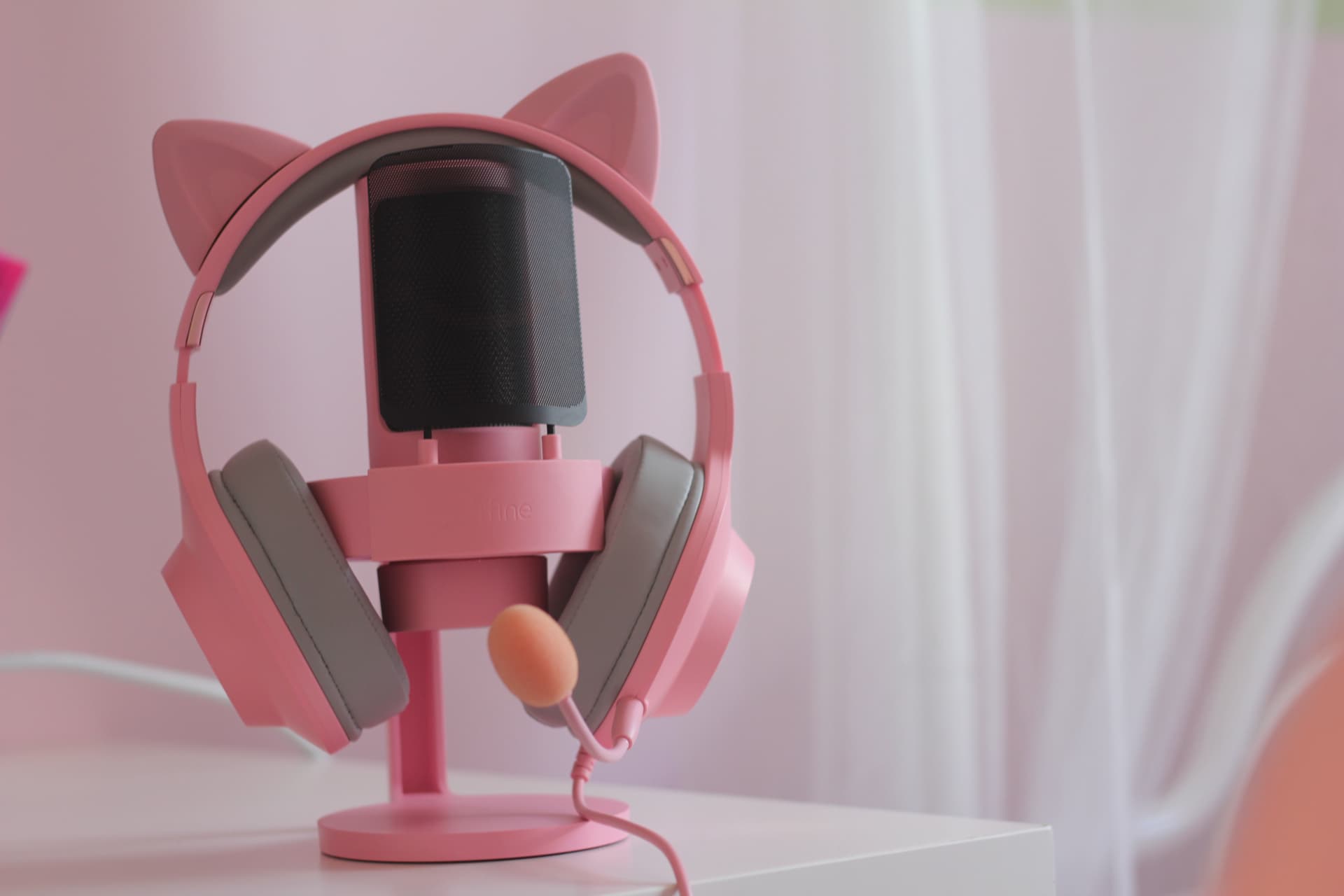 In terms of controls, there is little to talk about. It is a cardioid mic only and does not switch to omnidirectional like many others meaning the mic has to be pointing to you in order to get the best sound. On the top of the mic is a simple mute button with a light to show when it's on and underneath there is a volume knob to twist on the fly. For those looking to endlessly tweak the gain and other audio enhancements, this one is not for you, the Apligame is a simple beast, on, off, loud or quiet. I like things simple. The 3.5 headphone Jack allows for latency-free monitoring allowing users to hear what watchers hear and allow you to alter on the fly. Plus it goes with my Edifier Headphones!
When it comes to sound quality, a soft tone best describes the output of the AmpliGame A8. So whether you are shouting to your teammates in Warzone, part of a podcast or a working-from-home the mic shaves off any hard edge to your voice to give you a more rounded version of your voice.
According to spec, the frequencies below 200Hz are less sensitive to reduce the rumbling sound from the vibration of the desk or PC fan.
Specifications
Type Condenser
Polar Pattern Cardioid
Output Connection USB Type-C (mic end) to type-A 2.0 (computer end)
Power Consumption USB 5V power
Frequency Response 50Hz-20kHz
Sensitivity -40±3dB
Shipping Weight 1.0 kg
To make things better, the treble is high enough to capture a bit more details from your voice. It can't compete with top-end mics but for the price, it works. The combination of low-cut frequency response and decent mids and highs makes the general sound output great for the price.
For the comparison tests, I used the Joby Wavo Pod mic. It's a little more expensive but it held up well against its various sound tests. However, it's worth noting that Joby has more technical features.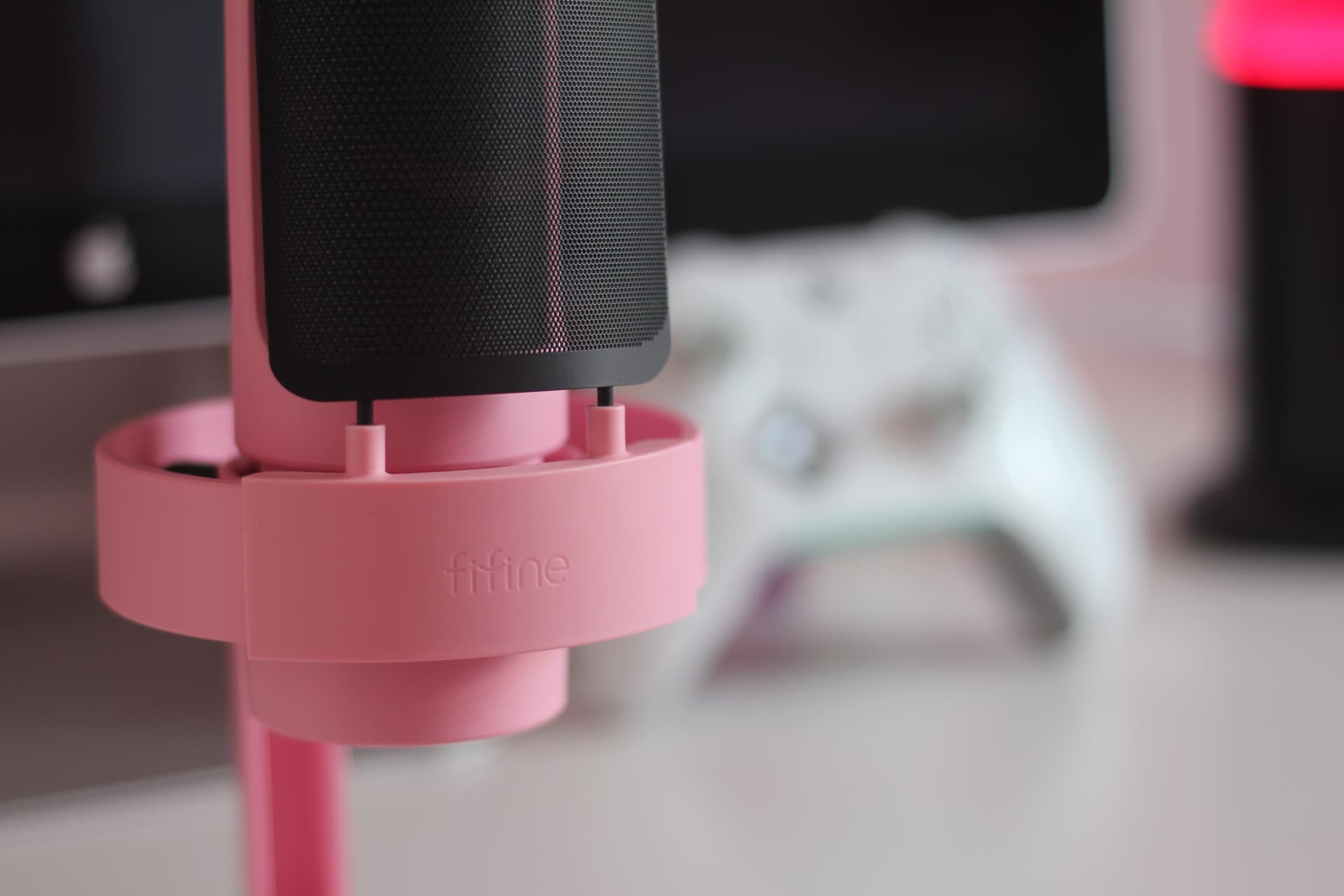 Overall, the Fifine Ampligame is a great starter mix for under $50. The lighting and colour choices are fantastic and its small profile and footprint mean it won't dominate your desk. As it's only cardioid, it's can't be your only podcasting mic. However, the plug-in and play nature and limited controls mean it's great for beginners looking to start their streaming, podcasting or YouTube careers. Powder pink mics and smiling pop filters won't be for everyone but personally, I think it's very cute and confidently bold. The sound quality is good and takes the edge of your voice but limited controls mean any other tweaks will need to be done in post-production. A great little mic for under $50.