With the likes of Cyberpunk 2077 and Modern Warfare hungry for your hard drive space, pressurizing your processor, and grilling your graphics cards, there is no better time to upgrade your gaming PC. If you want a future-proof uber PC, Black Friday is the best time to save hundreds on the latest tech. I have listed my Four ultimate gaming PC deals to suit your budget.
The Onyx Gaming PC is the perfect entry-level performance for PC Gaming on a Budget. Ideal for playing games in 1080p with Medium/High Settings. This PC is powered by ASUS and is the perfect starter PC for those looking to join the PC master race.
The Onyx is packed with an AMD Ryzen 5 4600G Processor, ASUS Prime Motherboard, Radeon 7 Graphics, 16GB RAM, 480GB Super Fast SSD, WiFi & Windows 11. At only £500 you get a lot of bang for your buck.
Features:
CPU: AMD Ryzen 5
Graphics: APU Graphics
RAM: 16GB
Storage: 480GB SSD

The Crystal 6194 -RTX 3060 Gaming PC is a powerful gaming PC aimed at gaming and PC enthusiasts. Play games in 1440p on High Settings and enjoy all that modern gaming has to offer. The system features Intel's 12th Gen i5 Processor, 16GB of RAM, 500GB SSD, and windows 11. The green RGB Case is very cool and the 4 fan setup has excellent thermal performance
Features:
CPU: Intel Core i5
Graphics: Nvidia GeForce RTX 3060 12GB
RAM: 16GB
Storage: 500GB SSD

Prism 5704 – £1,199.99 –
£200 off
Designed for extreme gamers, the super-fast high-end Prism Gaming System enjoys a fantastic Intel Core i7 CPU, a powerful Nvidia RTX 3080 Graphics Card & 16GB of RAM as standard. This model is for the serious gamer allowing players to play Games in 4K & VR on High Settings. The GeForce RTX 3080 features AI performance and enhanced ray tracing as well as a massive 10 GB of memory, designed to deliver the ultimate gaming performance.
Features:
CPU: Intel Core i7
Graphics: Nvidia GeForce RTX 3080
RAM: 16GB
Storage: 1TB SSD, 1TB HDD
And finally, my baby aka 'The Beast'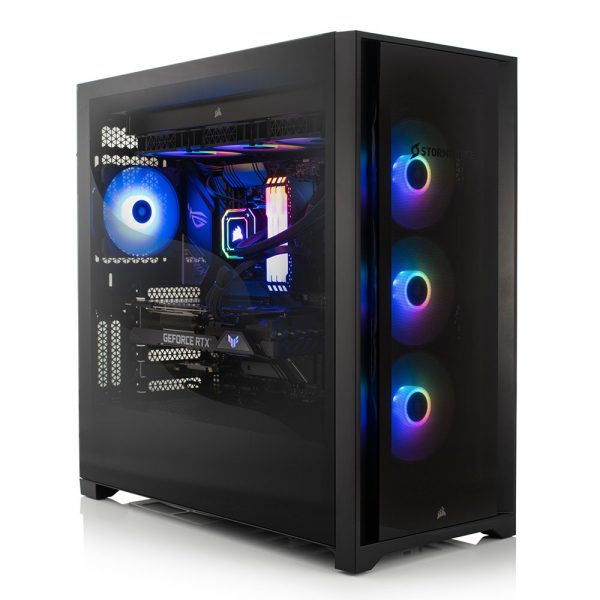 Prism iCue 6209 – RTX 4090, Ryzen 9 7950X – Powered By ASUS – £4,449.00 –
£200 off
Designed to Play the Most Demanding Games out there from Flight Simulator or Modern Warfare, the Prism iCue 6209 is an absolute powerhouse. With its Ryzen 9 7950X this is a Showpiece-Worthy PC that is simply beautiful. Play Games in 4K or VR on extreme settings, multi-task with heavy industry-leading software, or open 1000 tabs on Google. The Beast doesn't break a sweat. If you are looking for the ultimate Gaming PC and budget is no option, the Prism iCue is for you.
Features:
CPU: AMD Ryzen 9
Graphics: ASUS RTX 4090
RAM: 64GB
Storage: 1TB Seagate Firecuda 530 Gen4 SSD