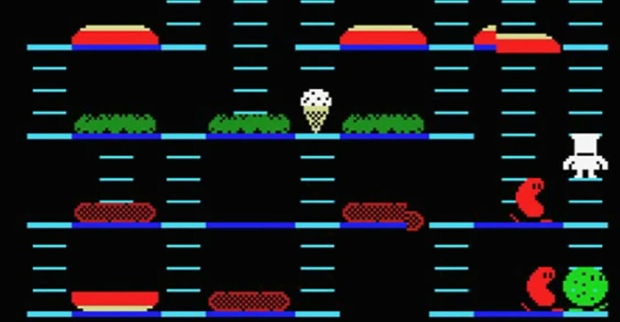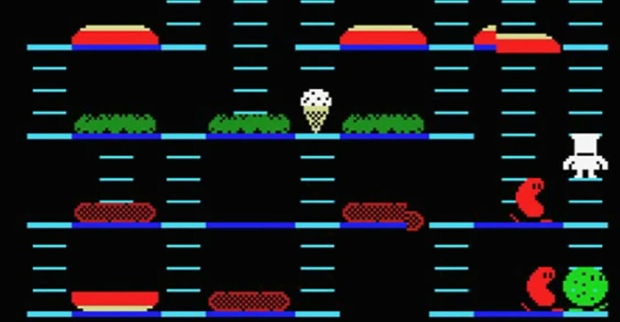 The Original
Before the advert of smartphones the games industry rarely focused on the mundane, opting instead for fantasy, adventure and excitement. It was rare to find games based on jobs which could be considered 'run of the mill'. In the eighties however they could not get enough of these seemingly normal jobs. Excited gamers could on the role of paperboy in 'Paperboy', a dustbin man in 'Trashman' and serve up drinks in the local tavern in 'Tapper'. One such classic was the role of Pepper Pete in the 1982 'Burger Time' by Data East.
Pepper Pete was a rotund little fellow who could race around the screen attempting to make as many burgers as possible. The problem being that all the burger ingredients are scattered around the level meaning there is lots of running and climbing to do in order to build those delicious burgers.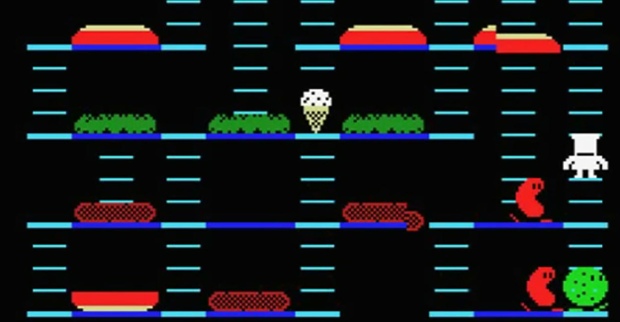 The gameplay revolves around Pepper Pete walking over the different ingredients which then knocks them down to the platform below. Ingredients that land on other ingredients bump them down a level until complete burgers are formed in completion. This might sound easy enough but throw in a variety of pesky foodstuff and you have a world of trouble. The only way to get rid of these you need to use a simple dash of pepper. Once peppered the enemies are held in place for a few vital seconds allowing you to escape and continue on your burger building mission. A word of warning, however, your pepper sprinkles are limited so if you are too heavy handed you could find yourself in a bit of a pickle.
This limited stock and hectic level design makes beating the slew of levels immensely satisfying and you need a cool head and fast fingers to beat the game. A classic of its time!
Burger Time Deluxe
Wow! How could they get something so simple, so wrong!
The graphics are bearable but could so easily be improved. The sound effects are solid enough but the music is beyond twee and gets annoying very quickly. The levels are unnecessarily large But what is the single most in forgivable aspect is the virtually unusable controls. The virtual D-pad is massively unresponsive and you will find yourself bumping into enemies and unable to climb ladders. A truly terrible port and one you should avoid which is sad as the original was awesome.