Games inside games have been around since the dawn of gaming. In 1987 the first final fantasy game had a sliding puzzle mini game as an Easter egg. In 1991, the now iconic game series Streetfighter had bonus levels, in which characters would smash up a car or smash a number of barrels in a set time limit. More recently, we have seen full games being released that started life as a mini game. A notable example of this was Geometry Wars, that featured in the game Project Gotham Racing 2 by Blizzard Creations, on the original Xbox. Similarly, games have been released that are nothing but mini games, such as Mario Party and Nintendoland.
In more adult themed games, it has become more and more common to see gambling games appear in many of the triple A titles. Titles such as Grand Theft Auto: San Adreas had a full working casino with all the trimming similar to what you might find at All Jackpots online casino. The rumour mill has been churning out theories that the record breaking GTA 5 will soon have a casino expansion, due to the fact there is a closed casino on the outskirts of town with the sign 'opening soon'.
To celebrate all these gambling mini games found in big budget video games, I wanted to share my top five, that I have enjoyed on the Xbox 360 and the Xbox one.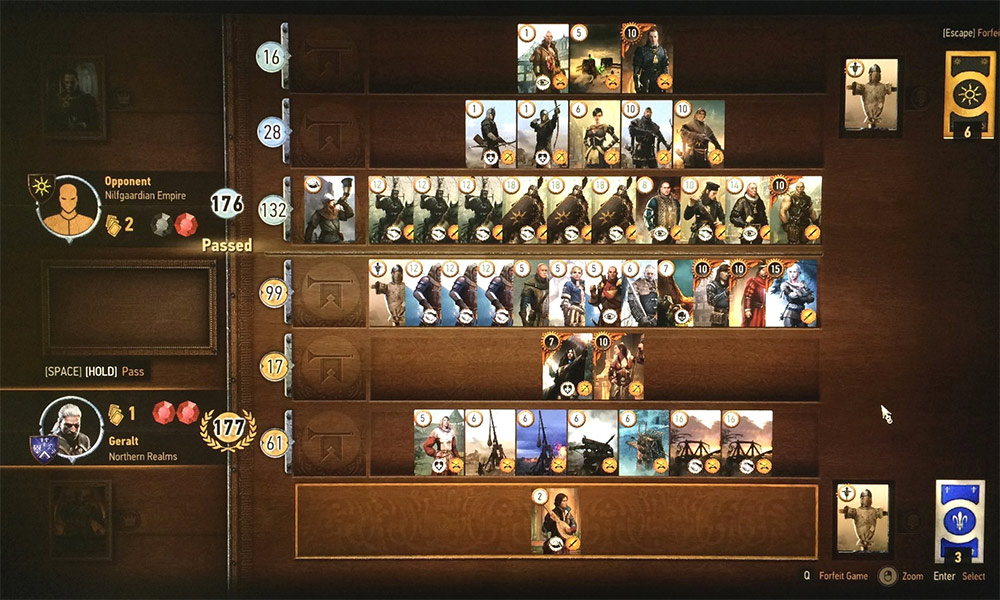 The Witcher 3: Wild Hunt – Gwent
Gwent is a card game invented by Dwarfs and finessed not only through the ages, but also throughout the Witcher games. The objective of Gwent is fairly simple: ensure that the total strength of your cards on the board is greater than that of your opponent's. Whilst you do not directly bet, you can buy different cards,so money does change hands. Gwent has been described as a simpler Hearthstone and there is a huge fan following.

Watchdogs – Drinking Games and Poker
Watchdogs was a victim of its own hype and whilst it was a solid game, a lot of high expectations and launch issues left a sour taste in a lot of gamers mouths. However, the game was great fun despite the dull protagonist. Also, it has two great mini games that really stood out for me. Firstly, the drinking game was a pay-to-play game where you needed to move your drunken cursor to a specific spot and tap the correct key to stay in the game. The second was the poker games that were dotted around the map. The gameplay was solid and you could even cheat by hacking a camera… if you so wished.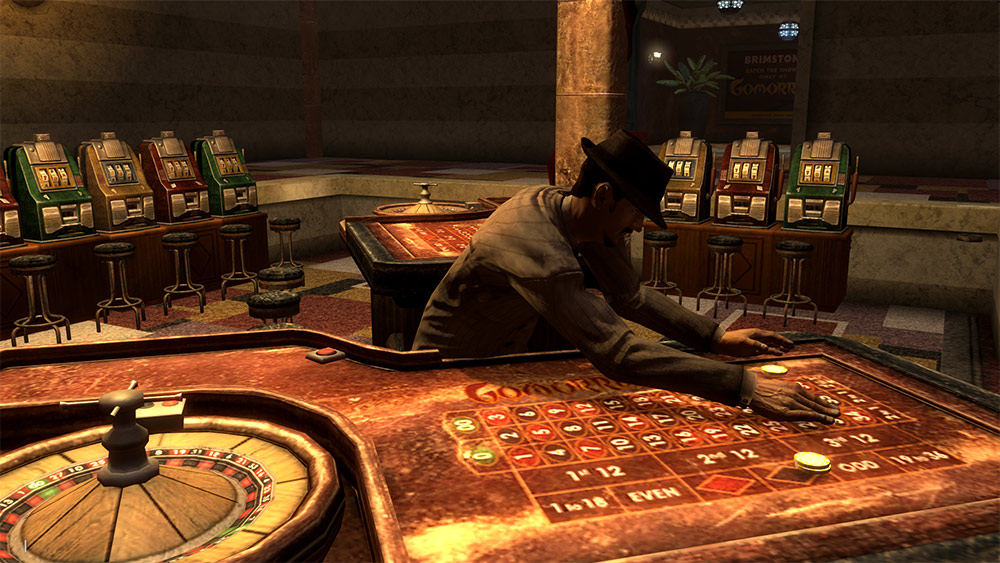 Fallout New Vegas – Roulette, Blackjack and Slots
Fallout: New Vegas was a game centred around a Post-Apocalyptic Las Vegas, with all manner of Casinos trying to steal the money from you, and the other survivors that roamed the remains of the city. There was a choice of Roulette, Blackjack and Slots. and each Casino players could swap around Caps (the standard in-game currency), NCR Dollars or Legion Coins for a specific Casino's Chips. However, if your 'Luck' stat was high enough no matter what you did you would more often than not.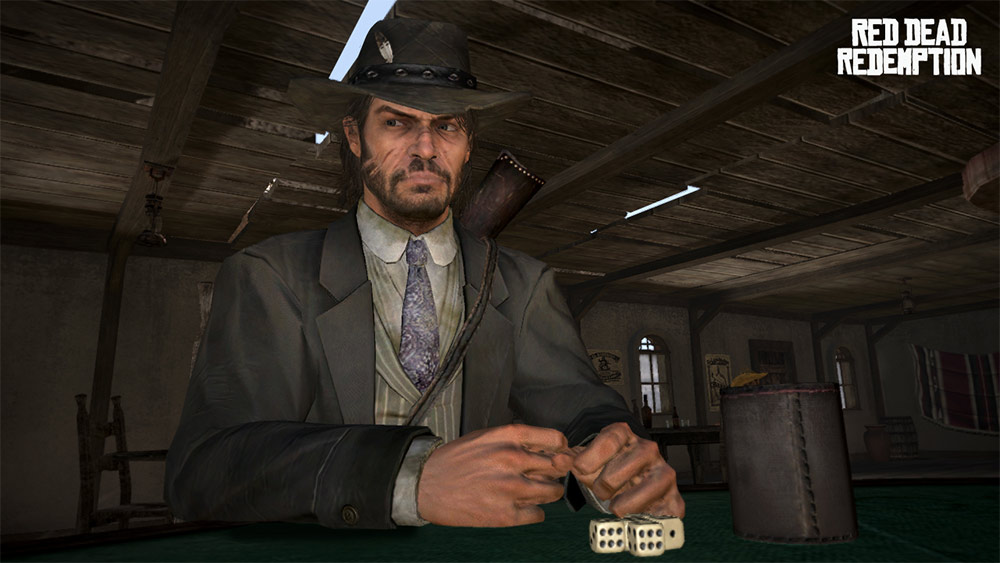 Red Dead Redemption – Liar's Dice
In its simplest form, Liar's Dice is guessing game with gambling. Each player has one cup and starts with five standard dice. The players slam down their cup of dice at the same time and have to guess how many of certain numbers are present on the table. Players can then bet, raise, call or declare. The game is strangely addictive and you can lose a lot of money. However, if you clear the table and beat the other players you can unlock one of the scraps for the Bandito Outfit.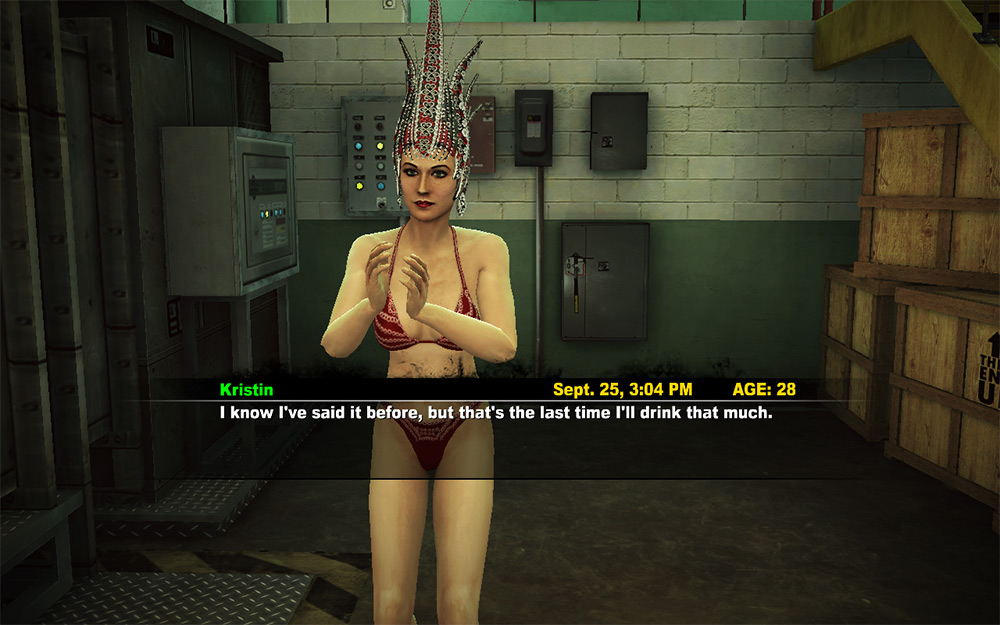 Dead Rising 2 – Strip Poker
My final game has to be Strip Poker in the hugely underrated Dead Rising 2. It had a motocross rider, an infected little girl to save, craftable weapons and the town of Fortune City to explore. The game has plenty of mini-games that mostly revolve around killing zombies on a reality TV show, but the 'Ante Up' mini game sees Chuck Greene invited to a game of strip poker in a safe house.  Playing against both men and women you can strip a showgirl, a cowgirl and pyromaniac. The game seems unnecessary, but was a nice distraction.
Which mini games stand out for you? Add your comments below.