Table Top Racing World Tour had been on my radar for some time due to my interest in Xbox One games for children. Games such as The Crew and Forza Motorsport look amazing, but sometimes fail to hold the interest of younger players. Couple that with my love of the classic retro racer Micro Machines, I was extremely excited to get stuck into Table Top Racing by Playrise Digital.
The team at Playrise Digital was formed by an elite team that had worked on some of my favourite racing games of all times, including Wipeout, Blur and Project Gotham Racing. In 2013, they released Table Top Racing on iOS to a positive reception, as people yearned for a modern day Micro Machines. Whilst it didn't win any major awards, it was a step in the right direction.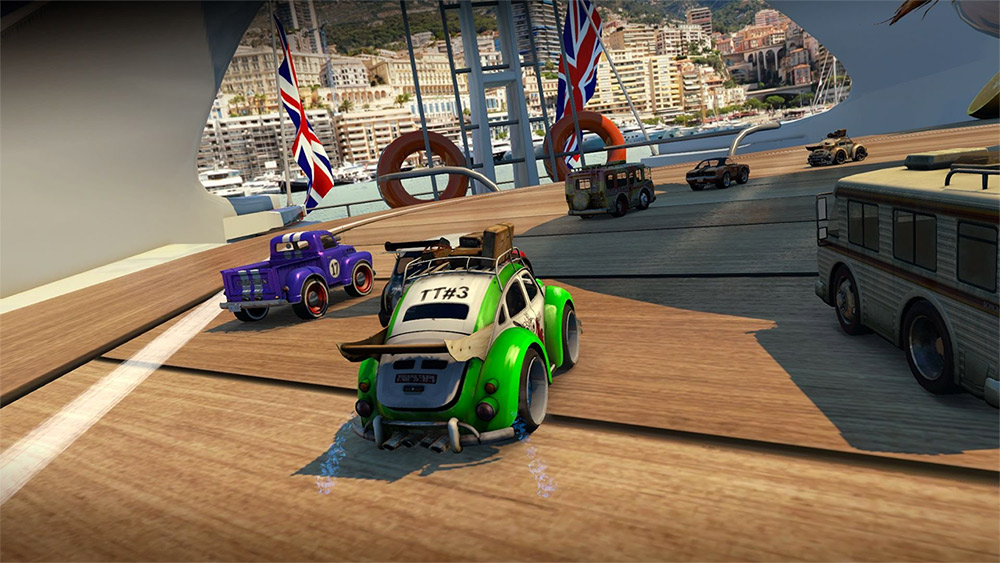 Table Top Racing World Tour on the Xbox One is the most complete version of this game, encompassing all of the extras and DLC that hindered the earlier versions on Steam and PS4. The eye-popping graphics are crisp and clear with a vibrant colour palette all running at 1080p, 60hz. The stubby little toy cars look the part and include close facsimiles of camper vans, VW beetles, Porsches, pick up trucks and Chargers. There are 16 fully tuneable miniaturised racing cars to choose from and 32 different tracks to race on. However, these tracks are variations of around eight central tracks and with 140 events to work through they will get repetitive in the second half of the game.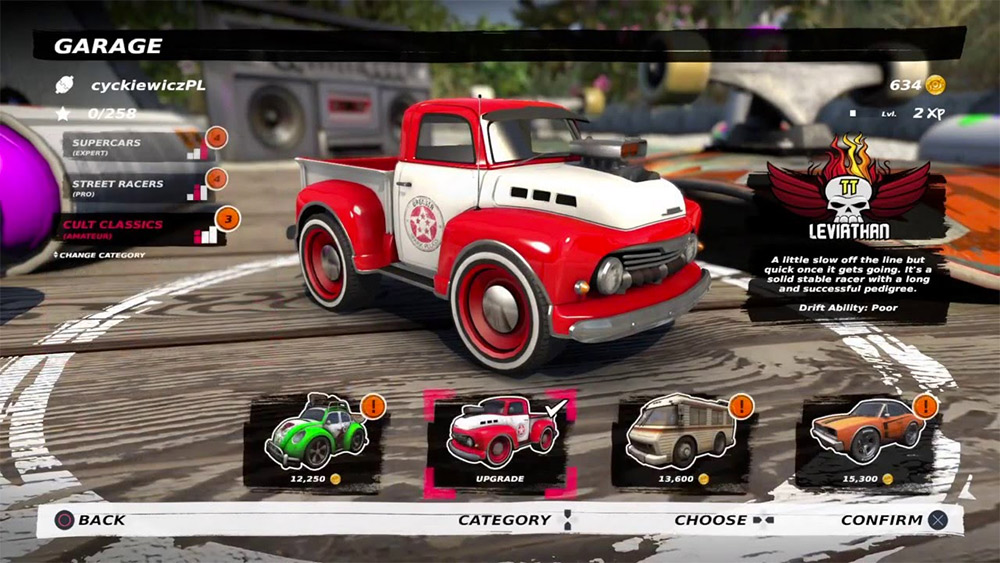 As players race their way through the events they accumulate riches to unlock and upgrade their cars. There is also around 540 stars to collect across the various races. These are unlocked by racing through the comprehensive 'Championship Mode' and a multitude of 'Special Events'. Game types include the classic race, battle mode, fastest lap and hot pursuit to keep you interested. For the older hardcore gamer, the short laps and repetitive tracks with begin to grate after a while, but for younger, more casual players, the commonality will give a certain level of comfort. The power-ups in TTR World Tour are the usual fare of weaponry found in most cart racers. Missiles, bombs and oil slicks all feature and whilst they have made some attempt to make these more toy-themed, such as battery acid instead of oil, cherry bombs instead of mines and toy-looking missiles, there was definitely a missed opportunity here to be more creative.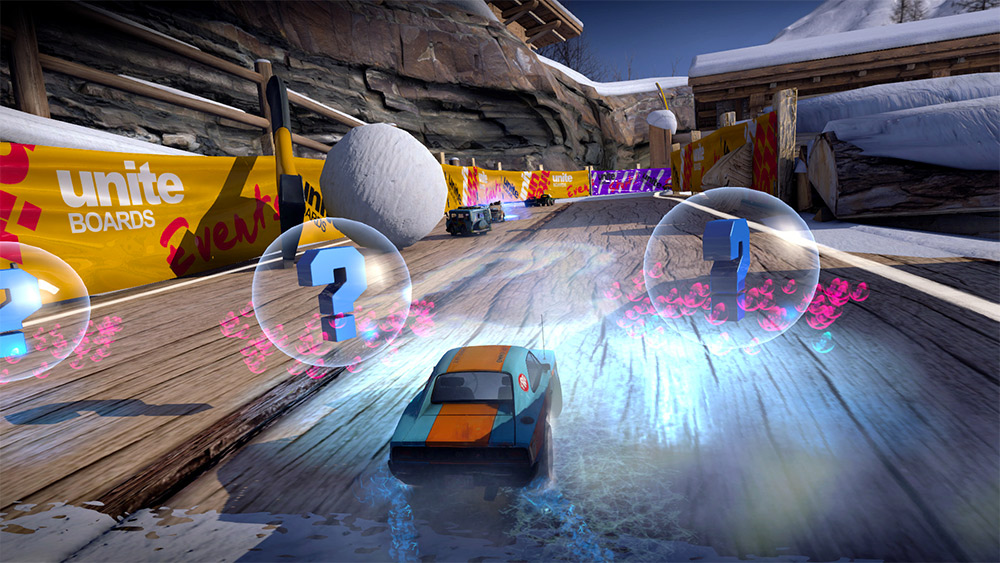 Thankfully, the handling and gameplay are heaps of fun. Your initial run through the amateur events feels fast enough to get you used to the controls, and once you have fully upgraded a car, or moved onto the pro circuits, the game gets much faster and much more difficult. My biggest issue with the game, however, was the lack of an overhead camera view. Table Top Racers was always going to be compared to Micro Machines, so it would have been nice to strum the strings of nostalgia by playing the game from above. Thankfully, I won't have to wait long for this nostalgic hit, as Micro Machines World Series is also coming out this year.
Table Top Racing World Tour can be extended by going online and racing eight other players in a battle to become the ultimate table top racer. The inclusion of all the DLC is particularly good for this, as it means that all players have the same cars and tracks. The Xbox One version also brings voice support should you want to mention players family after winning a race.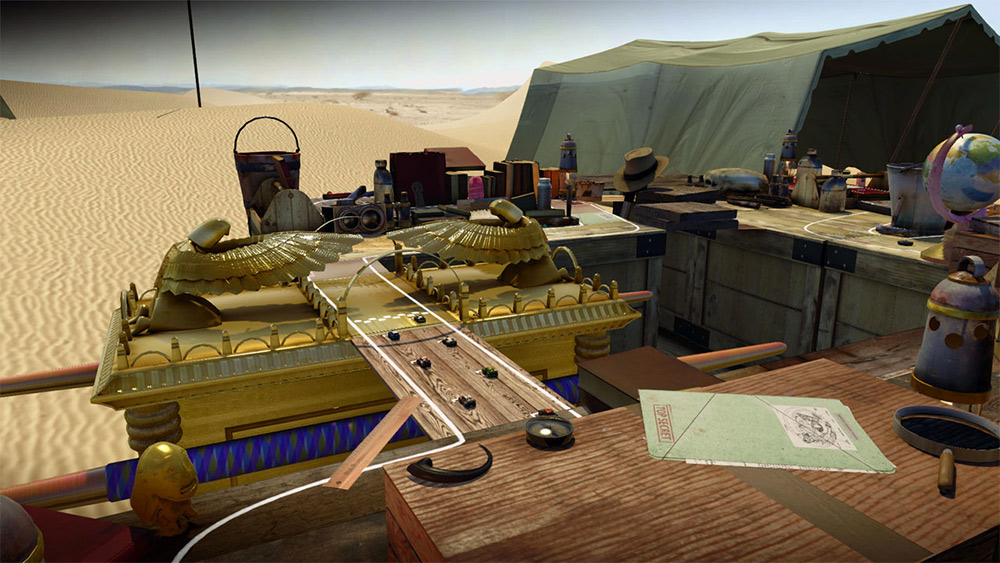 For the budget price, the game looks, sounds and plays great, however, the repetitive tracks will put off some hardcore gamers after a few hours. The various game types do try and keep things interesting, yet the weapons could have been more creative. I can see this being a staple for younger players as its fun, quick and easy to get into. However, I might just have to turn off voice comms before letting my kids play it online. Sterling work from Playrise Digital and I look forward to the definitive third installment that will address a handful of minor complaints. For only £15 on the Xbox Store, this is a welcome addition to the Xbox One's already fantastic racing lineup.