The concept of ads in video games is something that strongly divides opinion among gamers. While there are currently several types of games that don't include advertising, many people are now wondering what the future holds and whether even paid video games might have ads before long.  
The EA Rumors and Denial
Recent rumors suggested that EA had agreed to start using an engine called playerWON that would add in-play advertising to their console and PC games. This was described as being TV-style advertising that would make the playing of these games closer to what users of free mobile games are familiar with.
The company quickly came out and denied this, claiming that the reports are "incorrect" and that it isn't something they are currently looking at. The EA spokesperson went a step further by stating that their "priority focus" remains in creating the best experience for their players that they can.
Yet, doubts remain about exactly how much truth was in the original story, which named Simulmedia as the tech firm that had created an ads engine allowing gamers to choose a 15 or 30-second video in return for being given rewards such as access to exclusive content, currency, or other features.
The initial reports suggested that Simulmedia had reached agreements with various companies aside from EA, with Hi-Rez Studios another big name mentioned. Their EVP, Gaming and OTT, Dave Madden, provided the story and said that they had been spent more than a year testing console ads and gathering brands to work with.  
According to the information provided, developers could use the new technology to add the code for ads into their games, choosing what they want to reward gamers with. Simulmedia would then set the rewards to be unlocked once the video content has been viewed.
If this story sounds familiar, it might be because you remember Sony attempting to introduce ad content in 2009. Back then, their deal was with Double Fusion, who wanted to put high-resolution dynamic video ads into the loading screens on Wipeout HD. In the end, Sony backtracked but it seems that games developers are still interested in this idea.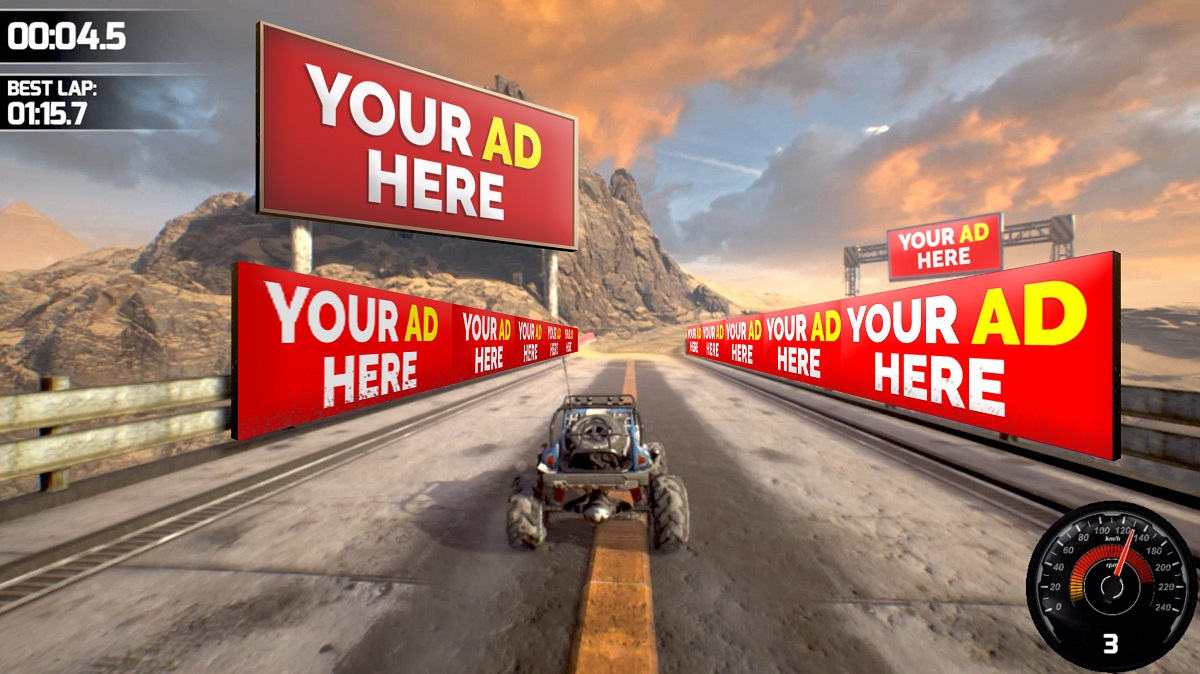 Why Would They Want to Add Advertising to Games?
It may seem strange that games creators are looking to add advertising to their games, since the price of many video games has recently increased following the switch to powerful new generation consoles like the PlayStation 5 and Xbox X.
In terms of revenue, EA generated a net figure of over $5.6 billion in the latest fiscal year, continuing the trend for rising revenues in the last few years. According to this report, the gaming industry recorded $130 billion in revenue in 2020, with the leading name being Sony with $25 billion in gaming revenue, followed by Tencent with close to $14 billion, and Nintendo with just over $12 billion.
It may be worth considering why other sectors of the entertainment industry offer free services and an ad-free experience. A good example here is Spotify, which follows the mobile game freemium strategy, offering a basic service for free without ads. Users who pay for the premium service then get extra functions and the ads are removed, so there is an incentive to move to a paid subscription.
YouTube also offers a premium service that allows viewers to see their videos without any of the ads. For $12 a month currently, you also get access to YouTube originals and YouTube Music. Netflix lets you take a short trial before joining, and there are no ads. However, the streaming company trialed skippable ads for their own shows in 2018 before giving it up due to poor customer reaction.
You can play free versions of popular Vegas slots such as Book of Dead, Starburst, and Rainbow Riches with no ads. These games offer an experience similar to playing in Las Vegas but with dummy cash used as stakes. You are taken to a real-money casino to open and fund an account if you click on the button to play for real money, but there are still no ads shown during the game.  
What Might Happen Next?
These differing approaches suggest that many parts of the entertainment industry need to find a way of generating revenue through ads, while others can find alternative ways of earning money without needing to use ads. The big question is whether video games creators feel the need to change their existing model to add some form of advertising to their games and, if so, how they will do it.
Games creators might consider this as a way of adding an extra level of monetization in exchange for an enhanced experience. However, they are likely to be wary of the reaction of gamers who may see this as being a blatant way of taking more money from them rather than a genuine attempt to improve the overall gaming experience.
It is worth keeping an eye on this situation, as the subject of ads in video gaming is almost certain to hit the headlines again before too long. For the moment, gamers can only wait to see what happens next and how it affects them.