Having a daughter who's mad about horses has meant that we have built up quite a collection of horse games on Xbox. On the off chance that you are an equestrian-loving family AND own an Xbox, this might be just the list you are looking for, so let's get stuck in.
Horse Focused Games
The following are horse-focused games that have horses front and centre and focus on horse riding. The second section will summarise games with horses in them but are not the main focus of the game.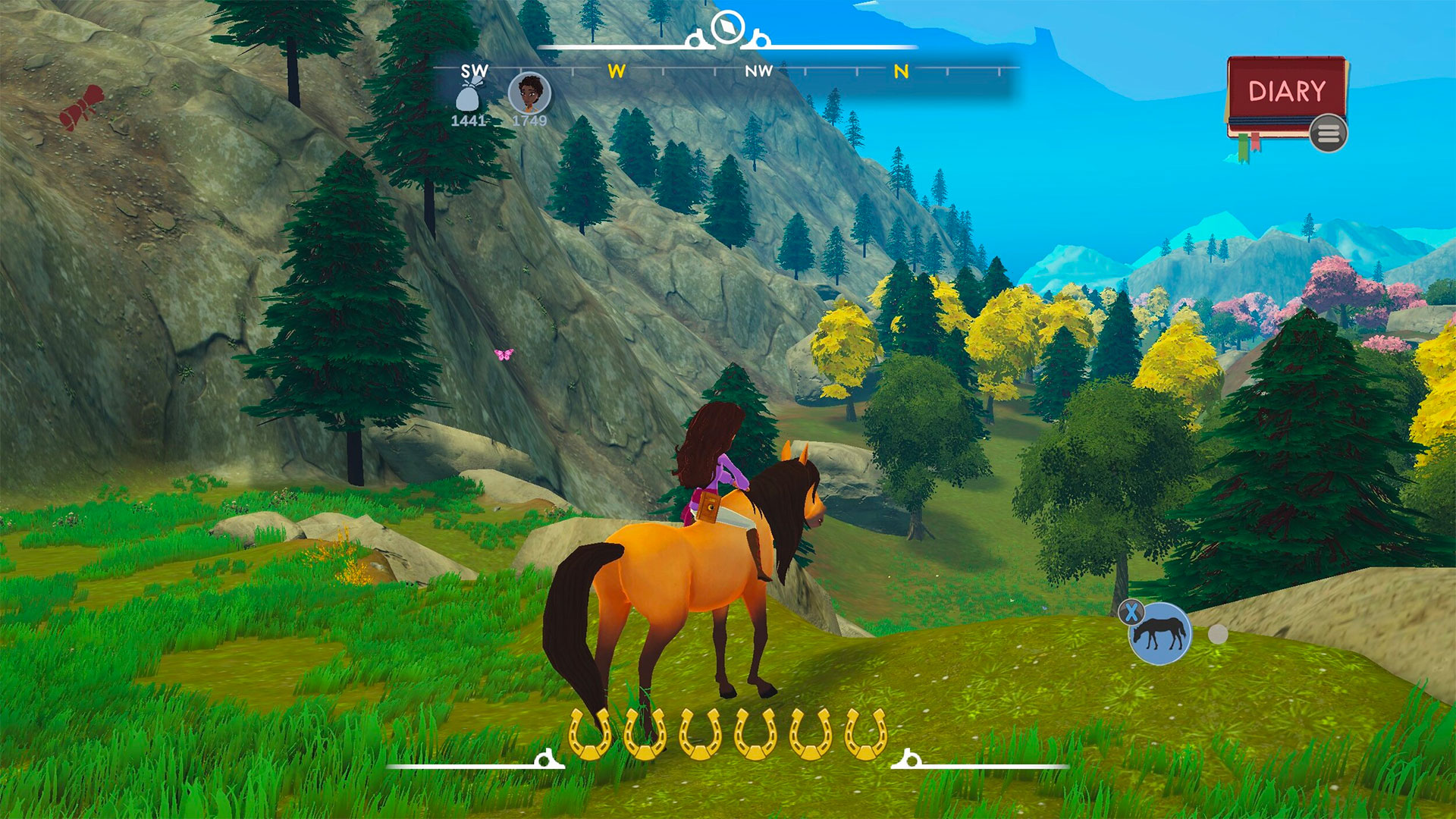 Spirit – Lucky's Big Adventure
If you are a fan of the movies and tv series then this is a must for the fans. The riding mechanic works well and you'll soon be running and jumping across the vibrant landscape. The game is quite simplistic and involves an array of fetch quests, races, and a small number of stealth sequences as you attempt to avoid the bad guy Hendricks. The game has some good voice acting (less reading for small children) and the music brings the rather flat town of Miradero alive. Children between 5-10 will get the most out of this but the older children will complete it in a few hours. For a licensed game, this is passable and sometimes enjoyable but it does lack many of the stable management that we will see in our other games.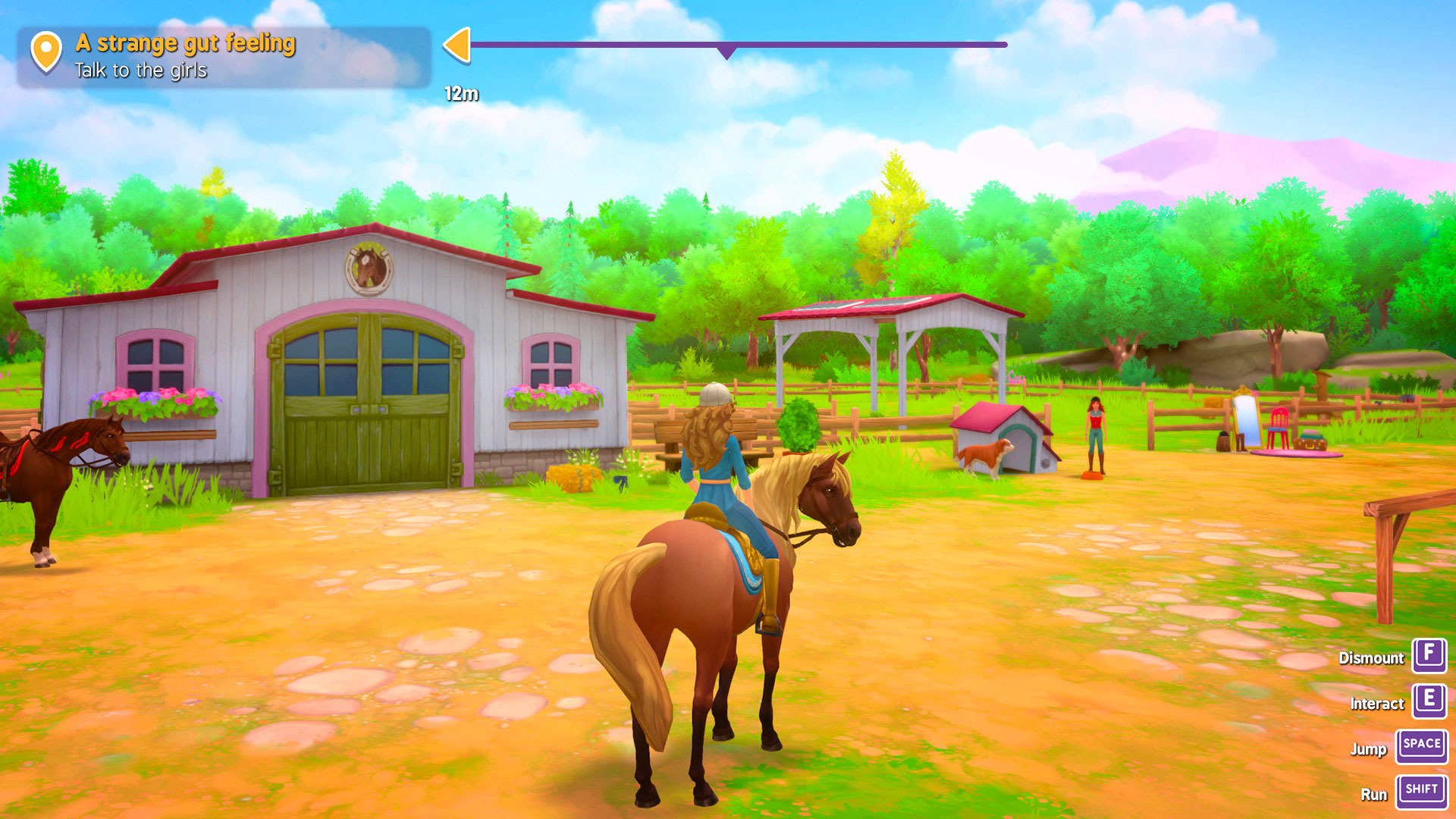 Horse Club Adventures
Horse Club Adventures is a vibrant open world that sees players enjoy a two-week vacation riding horses and completing tasks. At first, players create their character and horse (no male characters sadly) from a very limited collection and then are given a multitude of fetch and delivery quests across the huge open world. With over 12 hours of gameplay set in around ten different locations, it can get a little repetitive but my girls loved it and were happy to work hard for the island's inhabitants. A compass would be useful for younger players as it can sometimes be difficult to find your bearings but after the 5th hour of play, you should have a good lay of the land. Costumes and accessories are unlocked throughout the game and personalising your horse and character and horse are better at the end than in the beginning.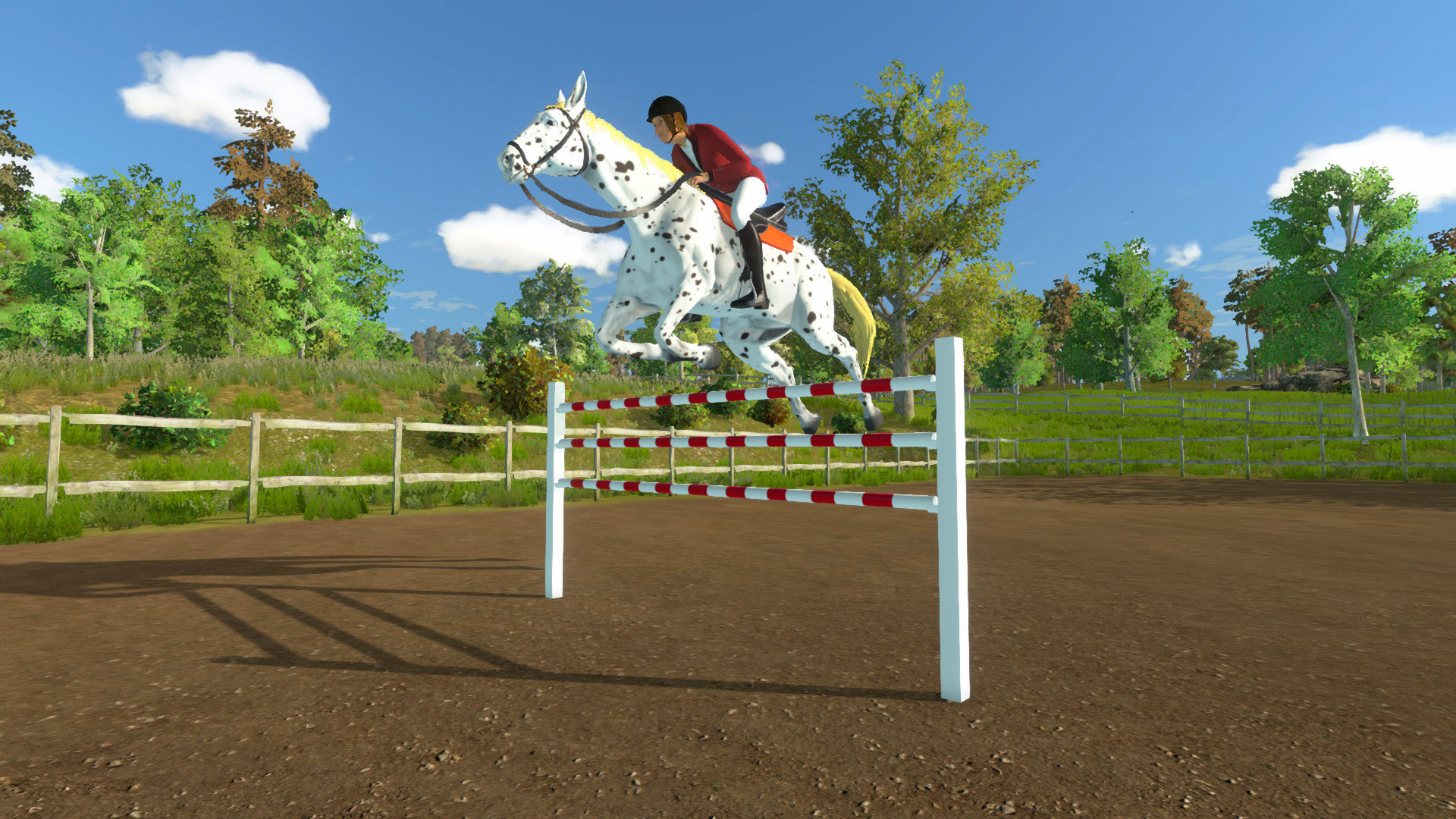 My Little Riding Championship
My Little Riding Championship is a simple horse management game that sees gamers explore a handful of simple villages, create and train horses and take part in a series of events and competitions. The controls when riding are particularly clunky and take some getting used to. The open world is quite basic and you'll notice the grass moving from side to side instead of swaying. There are plenty of customisation options and stable management elements but you need patience and time to work through the hours of gameplay. Hardcore and desperate horse fans only.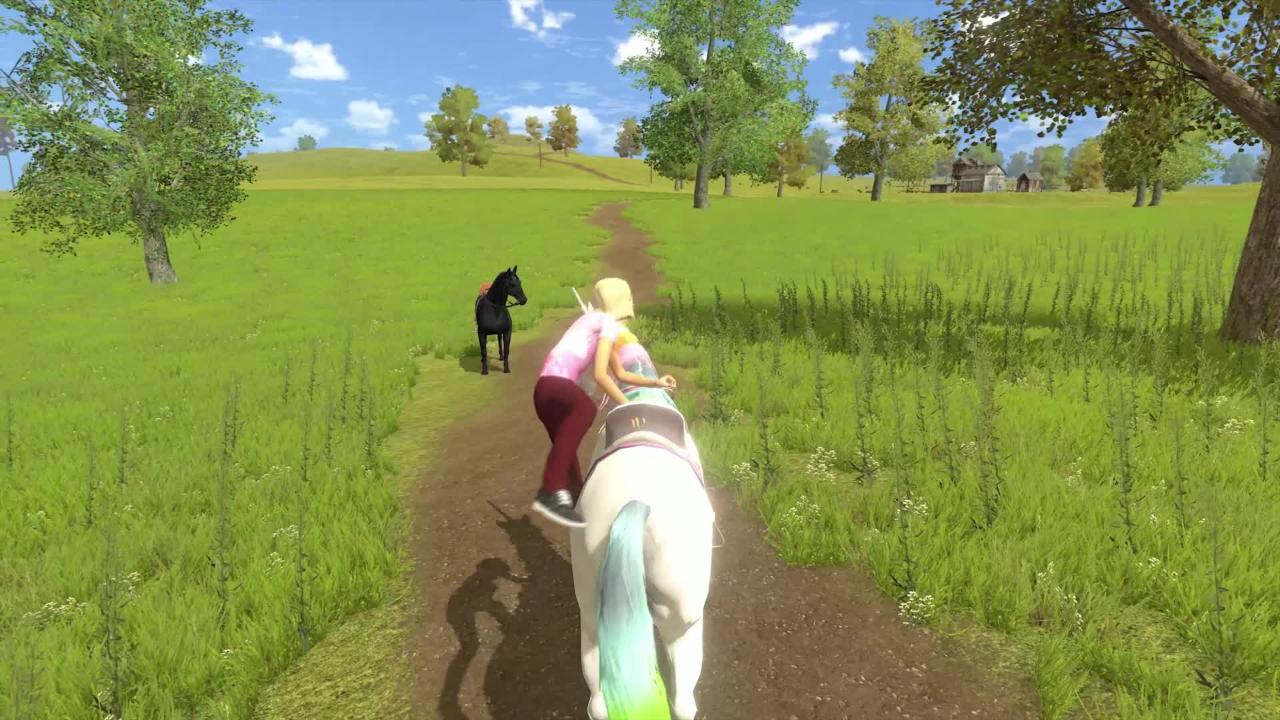 Unicorn Princess
Unicorn Princess is a low-budget fetch quest game that sees young Leila, a girl with no backstory and plenty of time on her hands, run errands for the handful of people around the map. This is achieved by riding a regular horse to markers around the world to trigger quests. Whether you are searching for lost rabbits or delivering messages, most of the game will have you finding things or racing around. However, at various points in the game, you will be called to the ethereal Dream World in which you meet and ride Unica the rainbow-haired unicorn. The game can be completed in a couple of hours and the overall experience is clunky by modern standards but there are some nice stable management aspects allowing you to groom and care for your horses as well as expand your stable and horse collection. If you have played My Little Horse Championship, you will see a lot of similarities as this appears to be the same game with a different storyline.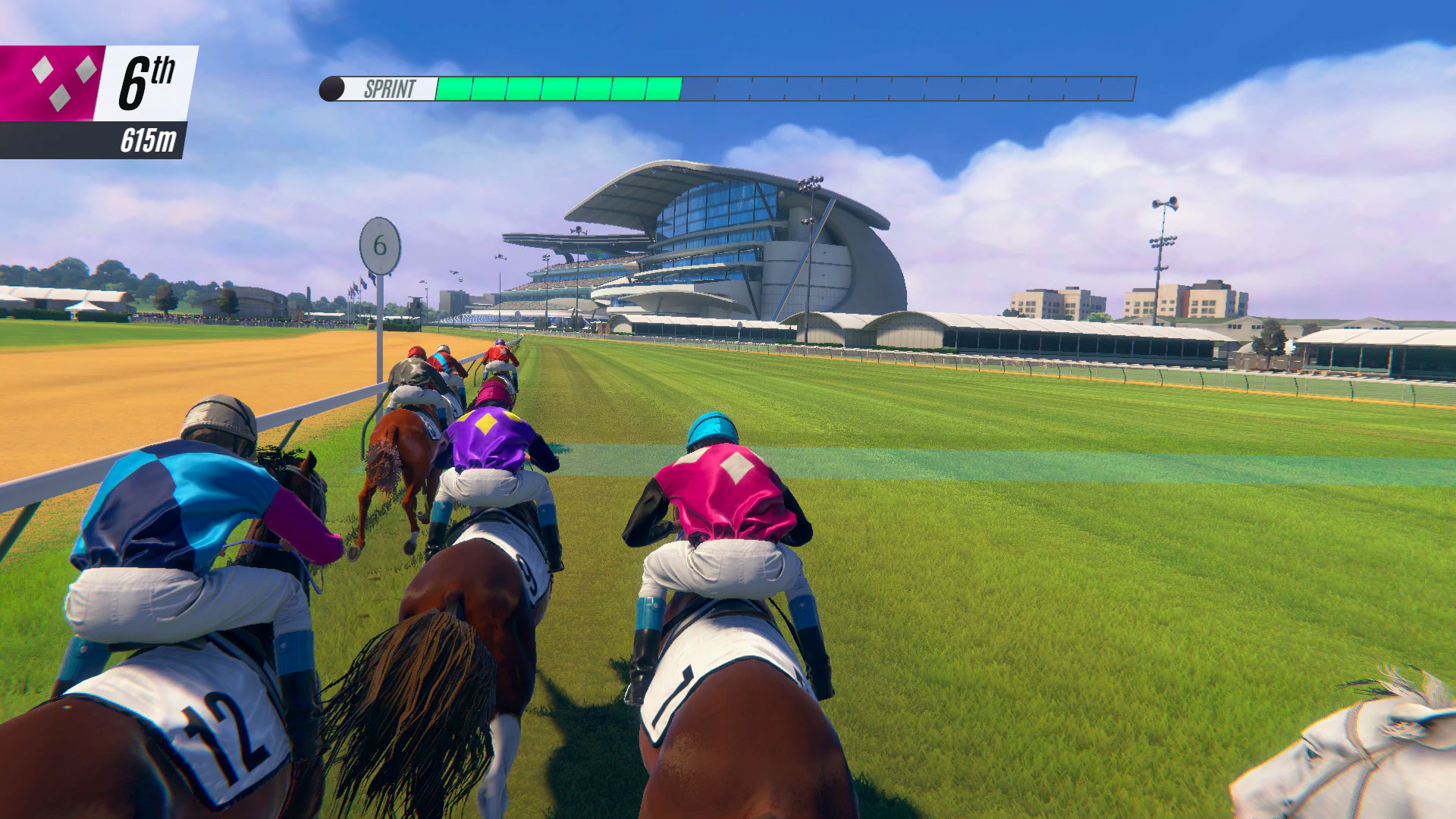 Phar Lap – Horse Racing Challenge
Whilst there is horse racing in this one, the amount of control and direction is severely limited when you are actually in the saddle. Instead, you spend most of your time grinding for cash by racing, traveling and making upgrades. Players can customise their jockeys and horses, but the models are quite generic. The gameplay is very linear and moves at a particular pace which will not be for children but if you are a fan of horse racing it does give you insights into the background of the sport.
Games With Horses
The following games have horses in them and you can ride them in the game, but they are not the main focus of the game and there is little more you can do with them outside of riding them from A to B.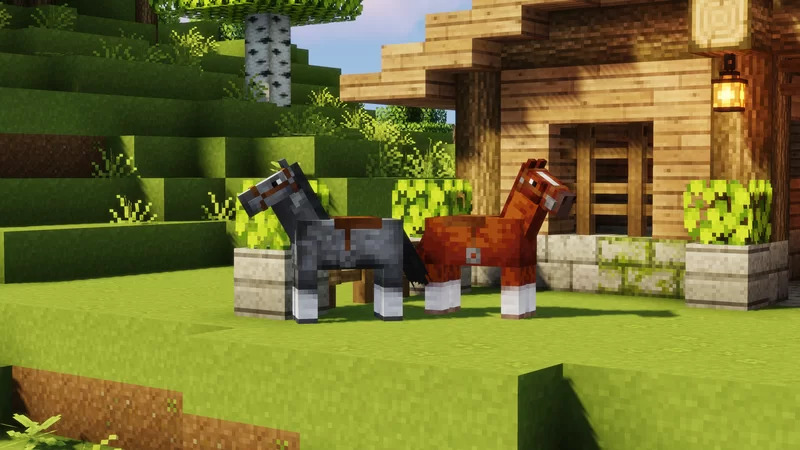 Minecraft
In Minecraft, you can spawn horses, ride horses, breed horses, and build them stables. There are an array of horse skins and styles to choose from and players can use leashes to lead them around the map. Great fun even if the graphics are a little blocky.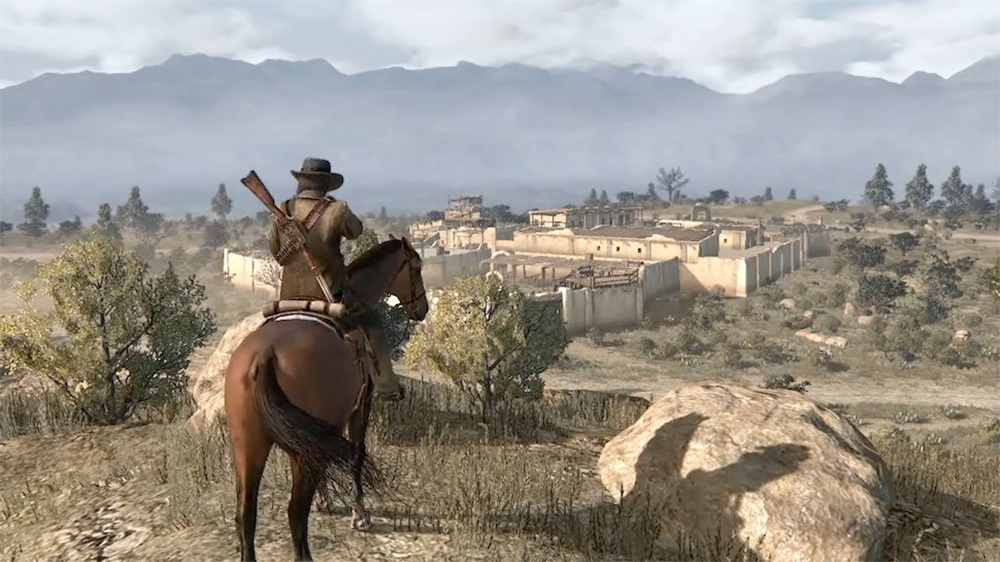 Red Dead Redemption 2
In Red Dead Redemption 2, horses are vitally important and play a major part in the game. Players can break horses, improve their stats and sell them in the plethora stables around the map. The models are beautiful and they all move in natural believable ways. When breaking a horse you are often thrown off numerous times and as you improve their stats they gain additional skills from strafing to rearing up. The horse part of ReadDead2 is fantastic and would make a great game for children. However, the swearing and stolen horses are not appropriate for younger players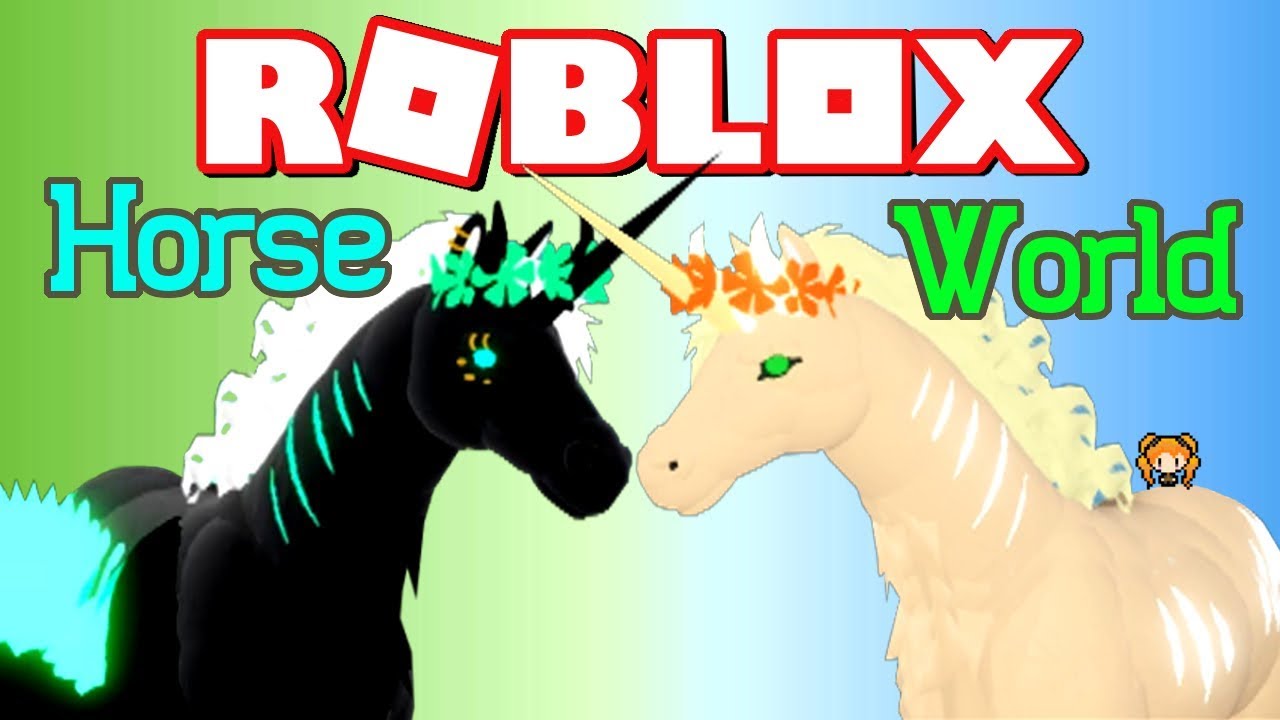 Roblox
There are lots of horse games to choose from on Roblox from unicorns to horse racing. The graphics are usually pretty basic and the controls are the same across all games. Horse World is one of my children's favourites but it often asks you to spend Robux to enhance and personalise your horse.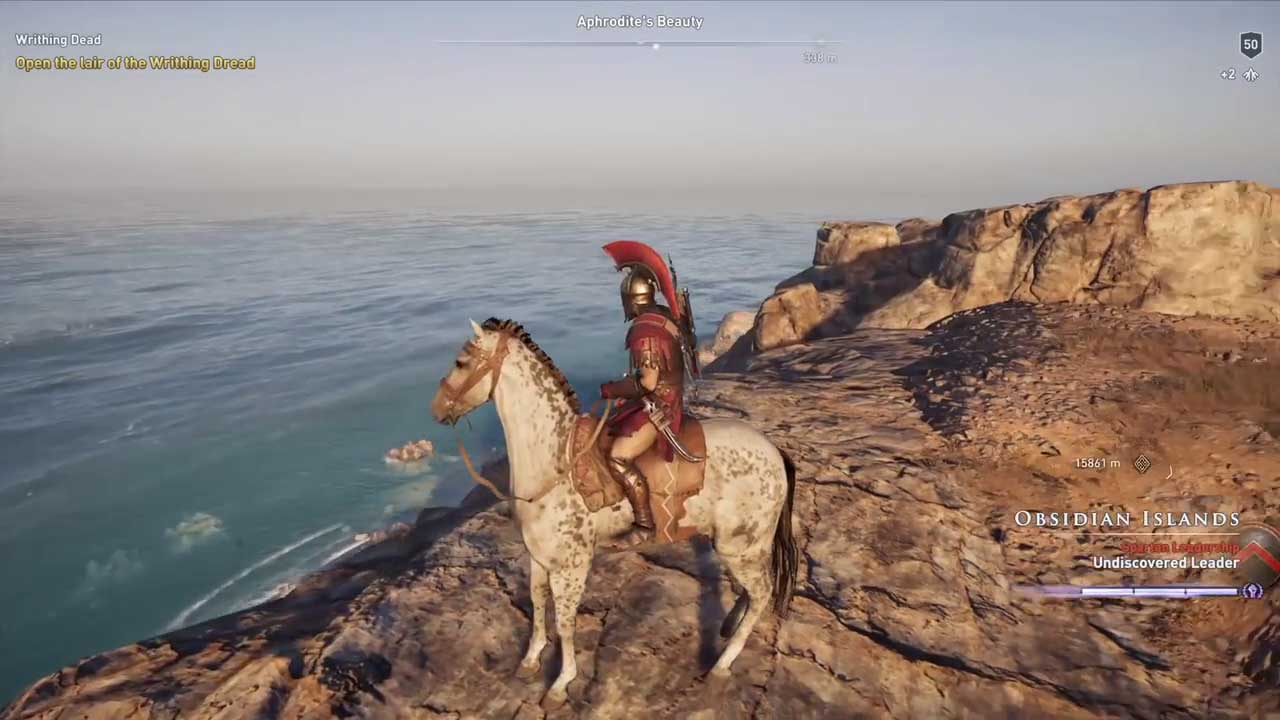 Assassins Creed
Horses have played a crucial role in the Assassins Creed Franchise and has developed as the games have gone on. At first, they were used as transport and a way to get to higher places but as the games progressed, they added combat mechanics and by Valhalla, you could switch to a cinematic horse cam to see your trusted steed in all its beauty.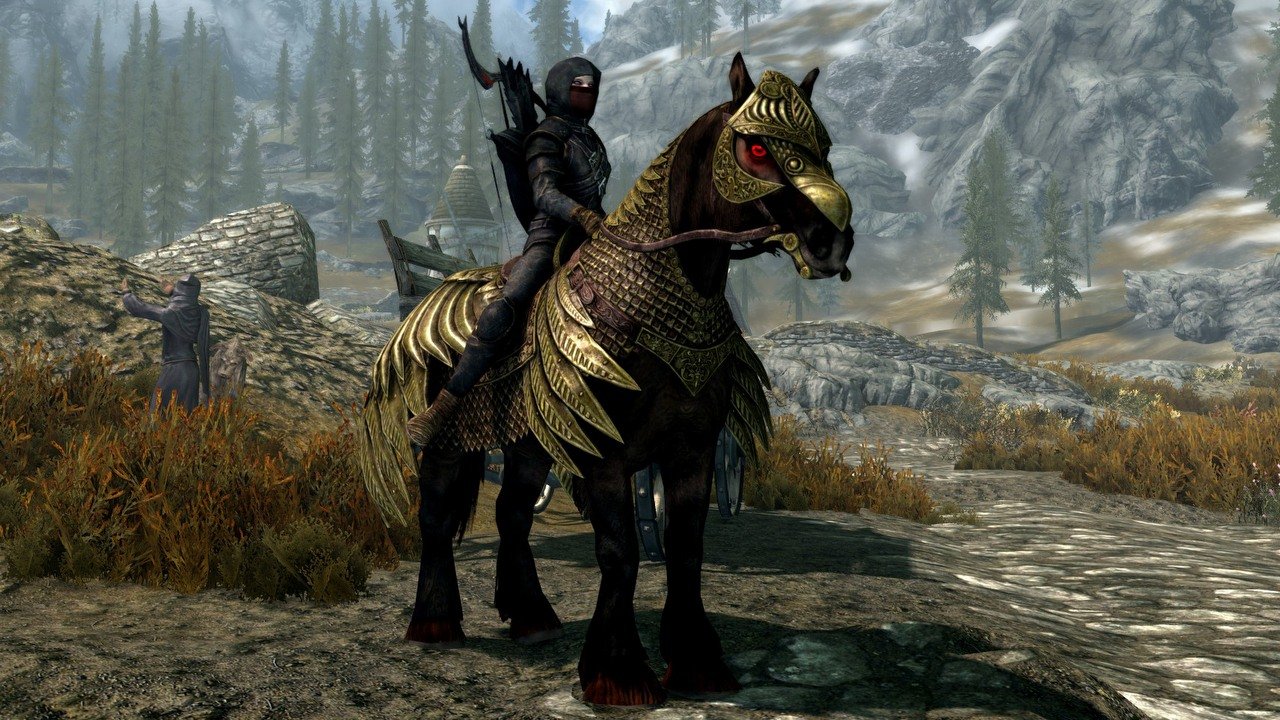 Skyrim
The horses of Skyrim are hardy and strong and make up for in endurance what they lack in speed. There are five colors to choose from and they can be bought or rented from the various stables on the map. If you choose to steal a horse, it is considered a crime and you will pay for it later in the game. The riding mechanics are satisfying and whilst they can't go into houses or buildings, riding across the map is preferred to fast travel and of course walking.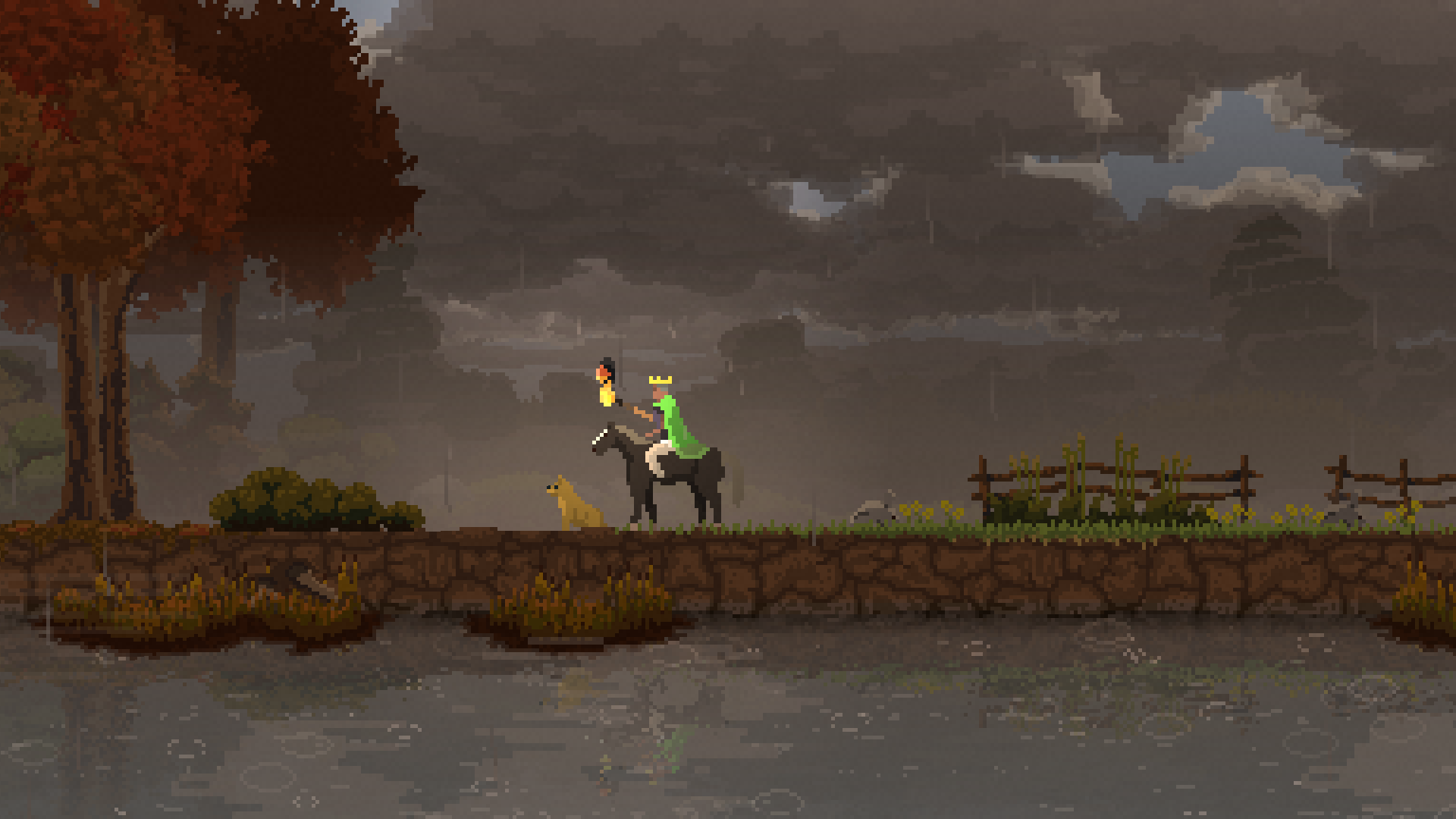 Kingdom Majestic
Kingdom Majestic is a pixel art-style game that sees players ride their mount in a side-scrolling adventure. All mounts can stand still, walk or gallop; and some have a special ability. The horses play a crucial role in the game as the Monarchs ride as they travel across the land. Different horses have different abilities and can have defensive power, offensive power, or economic power and earn you money.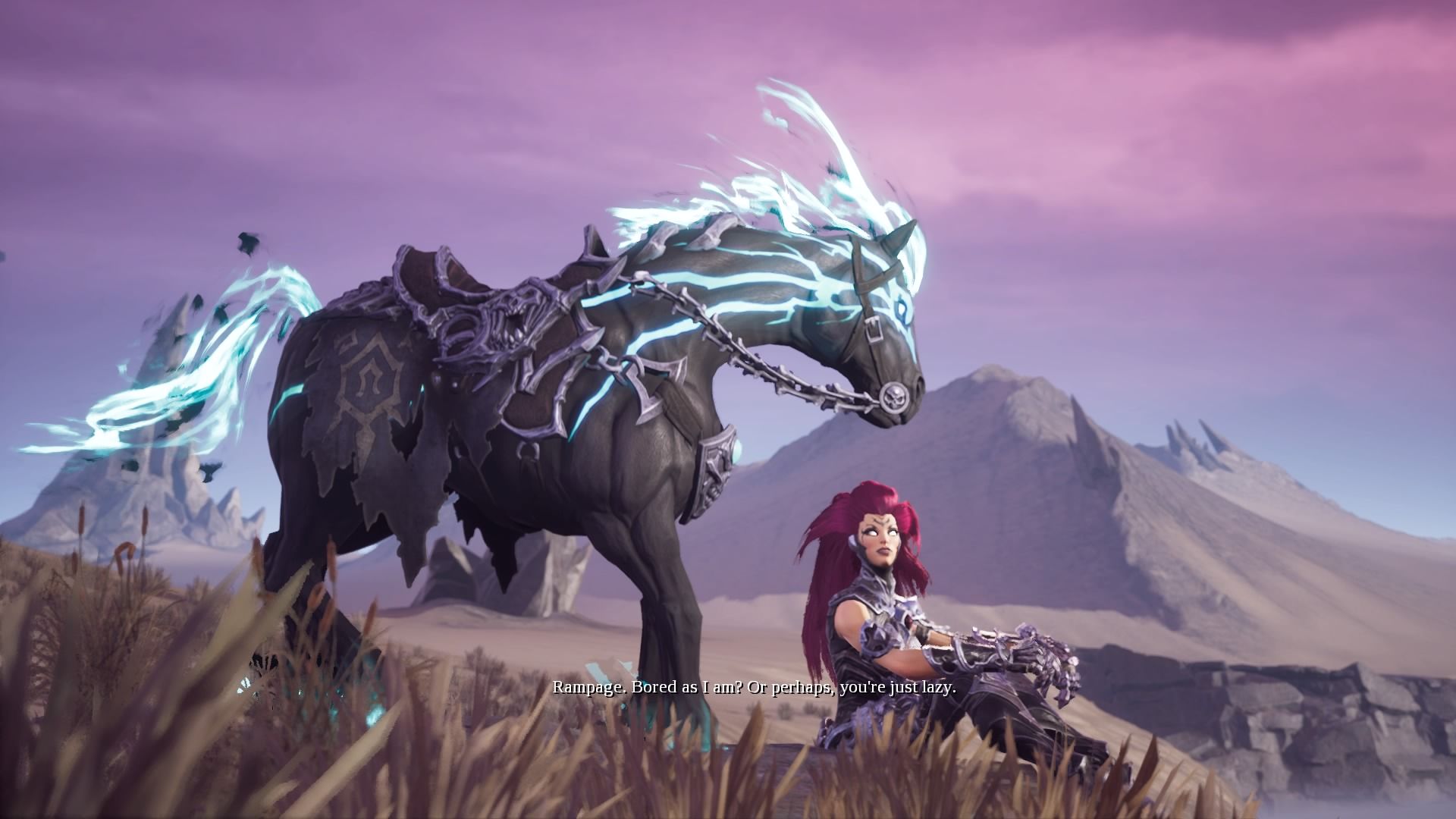 Darksiders
It takes a while before you get a horse in the first Darksiders game, which is odd considering it is a game about the four horsemen of the apocalypse. However, in the second game, you get the horse straight away and it is a key part of the traveling mechanics. By Darksiders 3, the horse is more than a steed but a character in its own right.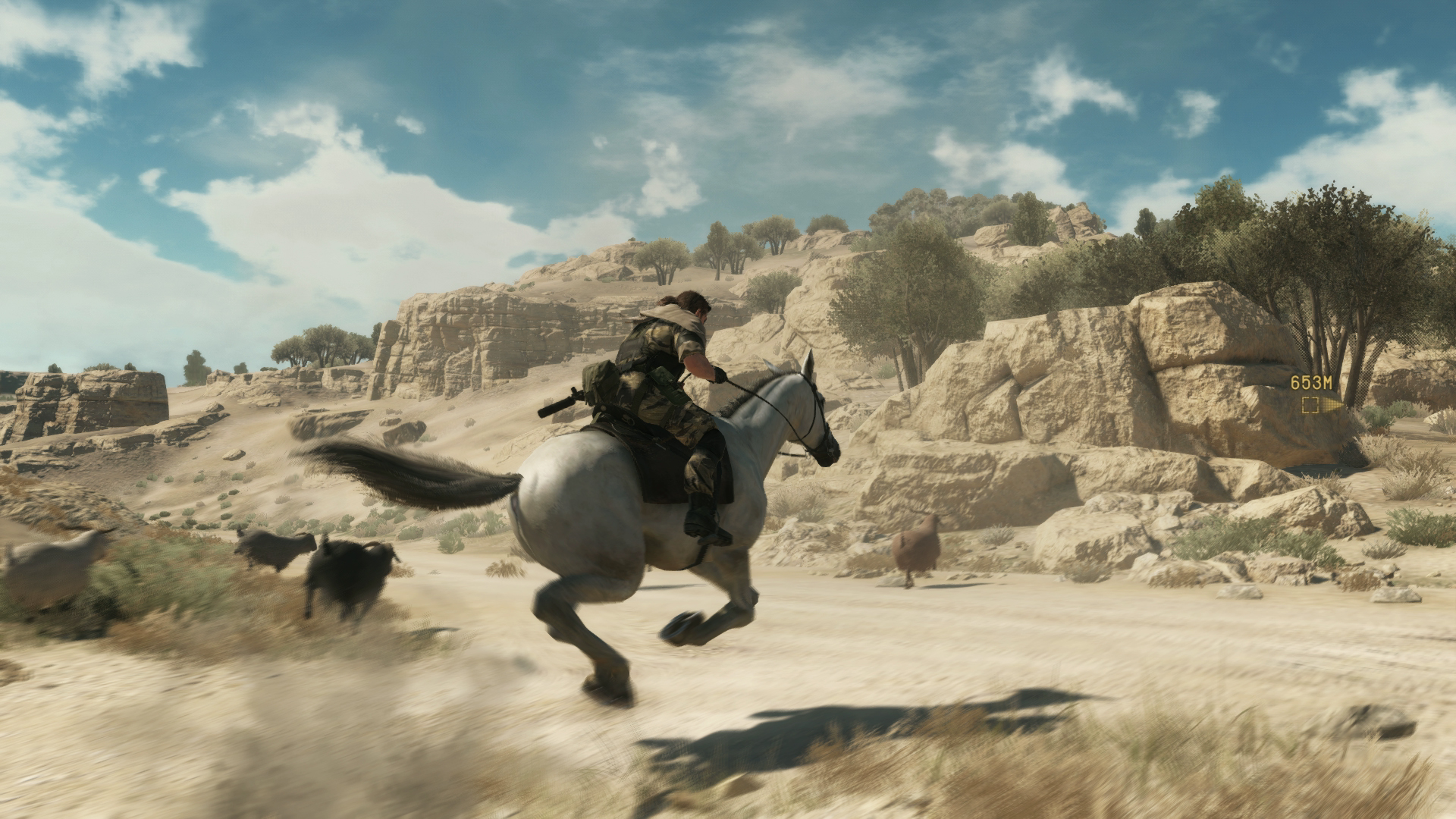 Metal Gear Solid: Phantom Pain
D-Horse is available at the very start of the game and can be used to traverse the huge sandbox of Afghanistan. The horse is beautiful and the animations are fast and fluid, however, there is little character to it, considering they gave the dog more of a personality.
So there you have it, my rundown of horse games on Xbox as well as games with horses on Xbox.
Questions about Horse Video Games
Are there any horse racing video games on Xbox?
Yes, Pharlap is out on Xbox and similar games can be found in my article dedicated to horse racing games.
What is the best horse video game?
This is dependent on various factors such as age and what you are looking to get out of your horse games.
Are there any horse stable games on Xbox?
My Little Riding Championship and Unicorn Princess do have some stable management features but it is not dedicated to stable management.
What are the best Roblox horse games?
Horse World is one, but it often asks you to spend Robux to upgrade and personalise your pony. More ar being added all the time