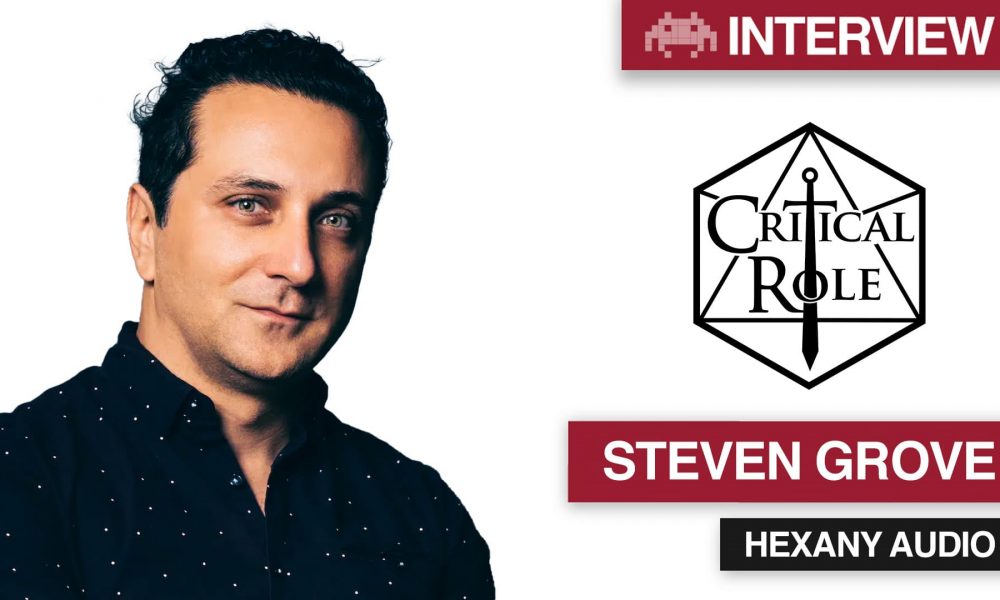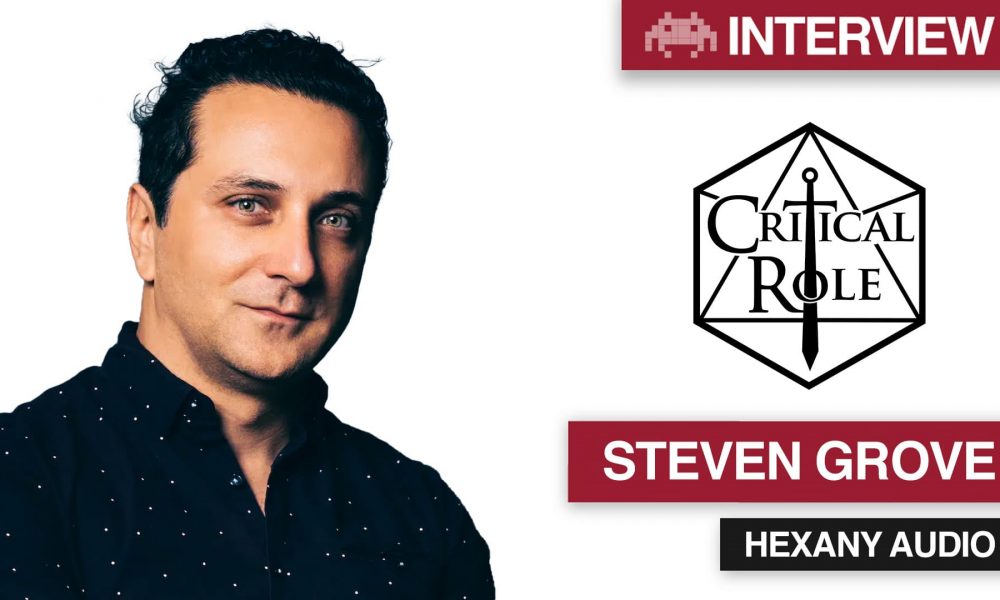 Critical Role, the most popular story-driven and worldbuilding digital media brand in the world recently announced that they were expanding into the world of music with the launch of their new record label, Scanlan Shorthalt Music. As part of the official launch, Critical Role debuted its first album under the label, Welcome to Tal'Dorei, which features 10 original tracks inspired by the Tal'Dorei continent of Exandria as featured in the Critical Role campaigns. One of the composers with featured music on the album is Hexany Audio composer Steven Grove. In the below exclusive Q&A, Steven talks about creating original music for Critical Role and much more.
-When you found out you were going to be working on Critical Role, what did you do to prepare for that venture?
Before I began working on the music for Critical Role I really wanted to research the show more thoroughly, so I reviewed some of their past episodes on their YouTube channel.  This really assisted me in gaining insight into how the music might be utilized. It also helped me to get a feel for the Game Master's style and the overall style of the program. 
-There are a few different composers that have lent music to the show. Do you speak with them at all about what you are doing musically?
When we were first brought in to contribute music to the Critical Role universe, each of the composers at Hexany Audio were delegated different tracks to work on based on their strengths and area of interests. Throughout the process of writing the music we would often share each other's ideas for feedback or just to share excitement about what we had written. This collaborative spirit really helped to elevate the music.
-Since there are a few different composers that have lent music to Critical Role, how do you all keep a cohesive vibe?
Amongst our team here at Hexany Audio, we often solicit each other's opinions on certain aspects of our writing, orchestration and/or production. Our team lead also helps to keep us consistent with the overall vision of the project. Everyone at Hexany was very excited to get to contribute music to Critical Role, so we all took immense care to create the most excellent soundtrack that we possibly could produce.
-What was your biggest musical challenge working on Critical Role?
Typically, when approaching a new game project, we are provided with artwork, gameplay, storyboards, and other reference materials for what the client is expecting for the game. With Critical Role, our process was different due to the way in which music would be utilized during the show. We had to really rely on our imagination to create these musical soundscapes. Fortunately, many of us on our team have played the game and some have played for years consistently so we were well equipped to face the challenge.
–Critical Role is interesting in the fact that you aren't quite sure where your music is going to be placed until the players are in the game. Because of this, did you approach the project differently than your other title, Arknights?
The approach was somewhat different because it was relying more heavily on our own personal imaginations, but in the end, it is still quite a similar process when it comes to writing the music.  Our goal was to create a complex emotional tapestry to assist the game master in captivating the players and the audience in an immersive experience.  
-What was your favorite part of working on Critical Role?
Working in the fantasy genre is always an interesting and satisfying endeavor and I find writing in this genre very fulfilling. I was extremely excited and thankful to get to contribute music to such a cool and brilliantly executed program.  I really hope that the fans enjoy the music as much as we enjoyed producing it!
-Can you tell us something audiences might not know about the Critical Role score?
We began writing the music based on short briefs describing the emotion that the music should portray. This allowed for much creative freedom to craft a sonic landscape that we felt fit the description. We also did not have to consider looping and other typical gaming mechanics, so there was much more flexibility in terms of musical structure.
-How do you think gaming music has changed in the past 10 years?
The implementation of music in games has grown much more sophisticated with branching, which really helps to tell the story and create an immersive experience. The welcoming of different genres into gaming music is also something that has changed over the past few years.  There are much more requests for a variety of styles of music including rock/metal, more specific world music, and electronic music genres among many others. This really makes the job of writing music for the composer more interesting and creatively challenging.
-What is your favorite video game? Why?
I thoroughly enjoyed The Legend of Zelda: Breath of the Wild and I'm eagerly awaiting the follow up installment!  I typically play open world games and I thought this entry in the Zelda universe was beautiful and wonderfully executed. The story was intriguing, the combat was fun and engaging, and the music was interesting and implemented in a creative way.
You can learn more about Hexany Audio here: https://hexanyaudio.com/ 
You can listen to the Welcome to Tal'Dorei album here: https://music.apple.com/us/album/welcome-to-taldorei-critical-role-soundtrack/1628819616