The Trust brand is an Amazon staple for budget PC accessories. I have had the £18 keyboard and mouse combo for a while and use it on my Xbox on certain games and as a 'reconnector' when my wireless bits lose connection. But they also do impressive, yet affordable gaming keyboards. I was lucky enough to get my hands on the Trust Mazz Mechanical Keyboard to compliment my epic Stormforce custom-built gaming PC. But is the Mazz to budget for the big leagues or can it be Trusted to deliver, here is my review of the Trust Mazz Mechanical Keyboard.
Tap The Rainbow
This gaming keyboard has 14 amazing colour modes including mesmerizing light waves that wash rainbows across the keys to explosions that expand out of each key press. When fully lit, the keyboard is a statement piece for any gaming setup. However, for that gaming in dark or backlit rooms may not want to use the key-press options, as the keys are difficult to see without being lit up.
50 Million Keystrokes
The Mazz is built to last boasting switches that will last 50 million keystrokes and should you ever reach that staggering figure, the keys and switches are easily replaceable and can be removed and reconnected with a satisfying 'clunk'. I have been testing it on some pretty demanding shooters and so far and I really happy with its performance and reaction speed. The minimum actuation force is around 30g but expects around 50g of force on each stroke. The Mazz also does a good job of disabling the Windows key in its self-described 'Game Mode'. Whilst I like using the Windows key to capture game footage, it can be really annoying mid-gunfight to have a popup or menu break your concentration. Designed to keep you in the game, the 'game mode' makes sure that you can 'finish the fight'.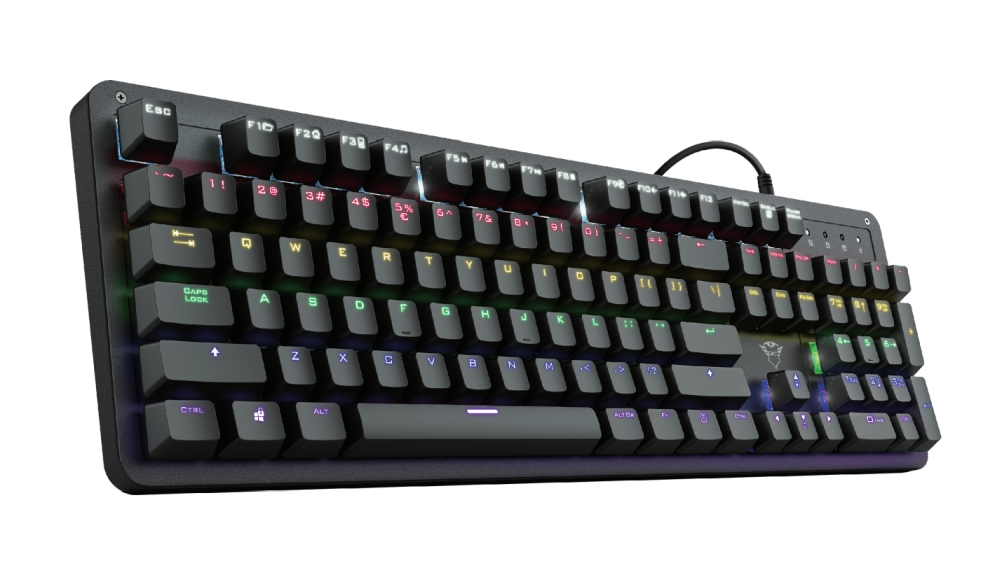 Full-Size Keyboard
In a world in which gaming keyboards seem to be getting smaller (see The Shrimp), it was great to see the Trust Mazz sticking with the full setup with a number pad. When not gaming, I also like to create 3D assets and develop games, and having a full-size keyboard and number pad is essential for the likes of Unity or Blender. Similarly, the 11 multimedia keys across the top are useful when using complex programs such as Adobe Suite and various game engines.
Overall, the Trust Mazz Mechanical keyboard does everything it sets out to do, it's durable, responsive, and looks great. It might not have the gravitas of a Corsair or Roccat or the extra functions like connecting to Elgato or having dedicated Twitch buttons, but for a straightforward no-nonsense gaming keyboard it works really well and is a quarter of the cost at only £50. The 14 different colour modes and adjustable brightness are enough for any light aficionado and the full size means it is great for non-gaming as well. So whether you are making a game, playing a game, or totting up your tax return, the Trust Mazz Mechanical keyboard is a solid and reliable keyboard for the average gamer.