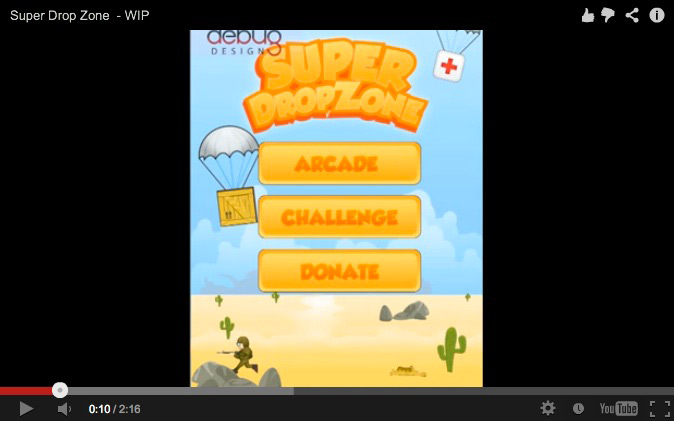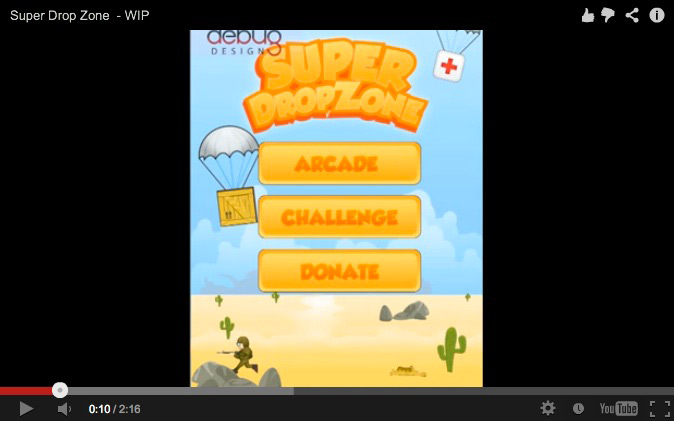 Just a quick update on my upcoming game Super Drop Zone for IPad and iPhone. Below is a short YouTube video of the menu screen and arcade section of the game. I jump from level one to level five to give you and idea of the different locations but there will be six levels in the initial build.
As you can see there are additional points for pulling your chute at the last minute but there are also additional bonuses to collect throughout.
The challenge section (which is only touched upon) will be a timed game and not the 'play until you die' affair of the arcade mode. You must, however, play the challenge game to unlock the different levels in the arcade mode.
In other good news, I have made some progression in the music department. When I say 'I', I obviously mean Gavin Harrison Sounds has made some progression… And what lovely music he has created. Inspired by the classic SNES game 'UN Sqadron' he has created a few fantastic ditties to give the game a new-retro feel.
With January now over I have not met my original deadline set by the One Game A Month rules. However, I hope not to over run into February too much as it is definitely getting there. I will just make my February game super simple.
I have a couple of ideas for February game already but I need to finish this one first. I think the next one might be an addition to an existing game I have made which will definitely increase the original games appeal. More news on that to come in a few days.