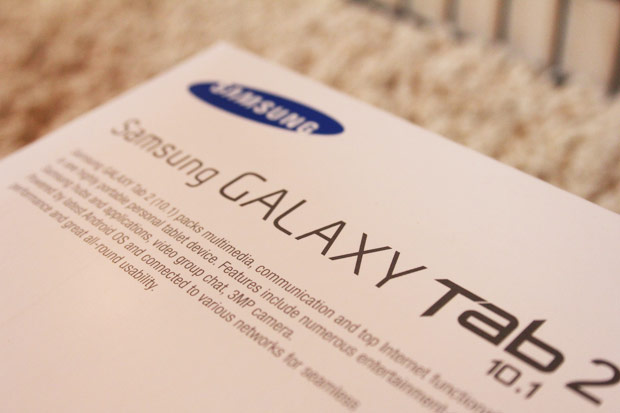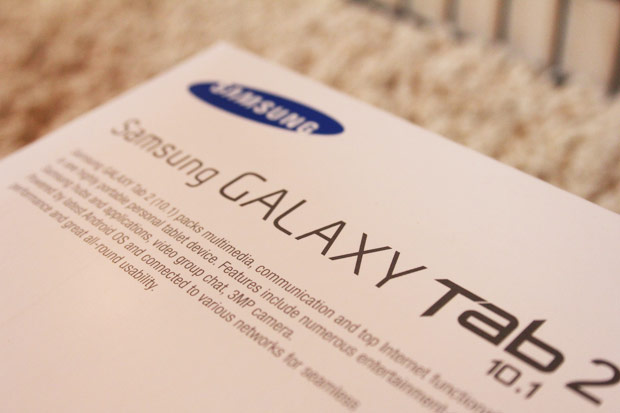 I'll be the first to admit that I am an Apple fanboy and having been caught up in all the hype over the past few years I own pretty much every product Apple have ever released. However, being a avid gamer and keen amateur game developer I wanted to see what all the fuss was over the Galaxy Tab 2 (10.1). My friends had raved about them and those with more tech know-how than I said that from a technical standpoint it was a superior machine. As Android is now the market leader and game developers flocking to the growing market, I wanted to see what this new tablet would be like from gamers perspective and below are my initial findings.
The Arrival
When I finally took delivery of my shiny white Galaxy Tab from Argos I couldn't have been more excited. A second tablet in the house meant I could build games for Android tablets, stop stealing the family iPad for work and have another computer for my young girls. This final point means that the girls have individual screens in the car allowing them to watch different movies and play different games…  meaning more peace for me.
The weight feels slightly lighter than the iPad and the screen has a silky smooth finish that is a joy to caress. The front mounted speakers look to be ideal for gaming and definitely gives it the impression that it is an entertainment system first and foremost. I soon set about downloading all my games, apps and entertainment, that were divided into 'games for toddlers', 'games for me', 'essential apps' and finally movies and music. My first day downloads consisted of:
Android Games For Toddlers
My top choices for toddler games for Android was a mix of both paid and free games:
Cbeebies Playtime (free):
A well rounded and well made game with four game types to keep the girls occupied. This is a great starter app that is lots of fun, but with all the characters CBeebies has on their roster, I would like to see updates that extend the app further to include people like Charlie and Lola, Mr Maker and Old Jacks Boat.
Talking Tom, Talking Ben and Talking Ginger (free)
The girls love those crazy animals and happily jabber to them for minutes on end. The Ginger the Cat game also has a really useful toothbrush timer that my girls use daily. Sadly, they don't measure up to their iPad counterparts as they glitchy and less responsive.
Puzzingo (free)
Puzzingo is a basic drag and drop puzzle game that uses silhouettes instead of jigsaw pieces making it much easier for toddlers. Its also crammed full of sound FX and mini games meaning it will keep them busy on long car journeys. It's worth paying the extra to unlock additional puzzles as this one keeps the girls busy for hours (whilst being educational of course).
Pet Spa (free)
Grooming cute little animals takes time and despite its simple gameplay and limited appeal, Lucy, my eldest enjoys washing, clipping and dressing up various animals and showing me the finished critter.
Princess Jigsaw (free)
I was a bit dubious at first as it doesn't look like a licenced product but I thought I'd give it a try and whilst it works ok, I don't see it lasting.
Peppa Pig Goes On Holiday (Paid)
A selection of mini games around a holiday/vacation theme that the girls pointed to and requested… Obviously I caved within minutes. Whilst the app is solid and the games are fun, I can't help but think that at £2.99/$4.99 they could have bundled in a few of the other titles as well.
Android Games For Me
I wanted a mix of pick-up-and-play games and some more long term games so I opted for the following:
Rayman Jungle Run (paid)
After enjoying Rayman legends and hearing good things about this simple runner I was eager to test out my new hardware of this speedy platformer. I was not disappointed, as the game is simple, smooth and fun. Each stage is beautifully crafted for a seamless running experience and the areas are geared around teaching you new skills. The music is fun and bouncy, however, with only three different tracks I can see this getting repetitive. The Samsung renders it amazingly and it runs with no lag or load times.
Asphalt 8 (paid)
A hefty 1.3GB download but pushes my new Tablet to the maximum. With a detailed career mode and plenty of unlockables I had hoped this game would last the foreseeable future. A week in and I am 10 tracks in and still thoroughly enjoying it. Sadly, I am still in the original car as the decent cars cost a huge amount of in game cash (encouraging you to buy supercar packs for real money).
Temple Run 2 (free)
This addictive swipe-fest greatly improves on the original and on a 10.1 inch screen it looks fantastic. The game runs smoothly and is ideal for a quick romp through the jungle. Out of all the games I initially downloaded, I have played this the least due to it lack of any real story or progression elements.
Jane Wilde (free)
This Zombieville USA style run-and-gun game has a great art style and plenty of weapons to keep any 'older' gamer happy. Obviously targeting a male audience (due to her large assets) this games is a simple pick-up-and-play title that is easy to dip in and out off when you have a spare minute or two.
Grand Theft Auto 3 (paid)
The 10th anniversary edition of the game that spawned one of the biggest franchises in gaming history. This game has monopolised most of my time as it is as addictive as the original.  The controls might be a little 'shonkier' which can get you into trouble in the sections you need some degree of accuracy, but for the most part, the game is very similar to its playstation counterpart.
Some confusion
Being new to the Android scene I did experience some confusion between the Samsung store and the Google store as I want games and movies but was presented with options from both with no clear difference as to the benefits of one or the other (Wreck it Ralph was £9.99 on both stores). Although iPad is a gated community it does benefit by everything being simple.
Its SO big!
Over the past week I have become precious about by new gadget and I am astonished by the possibilities. Knowing that it will be used by my rambunctious children as well as myself (and the fact my iPad is cracked and always 'sticky') I went for 3 years gadget cover to keep it good condition. I have subsequently got a cover and added a 64gb SD card increasing its storage. Now it has a wealth of music, movies, games, and a mass of apps to connect me with friends, shop online and work. I still have lots of personalisation to do and I probably will remove a few of the standard apps, once I figure out if I need them or not. Overall though, it has been a pleasurable experience and I look forward to playing, reviewing and making new games for my new device and at nearly half the price of a new iPad 3 I can see it swaying a lot of people in the future.