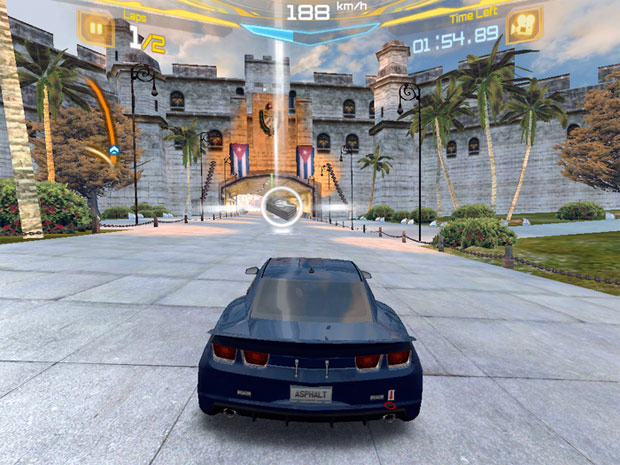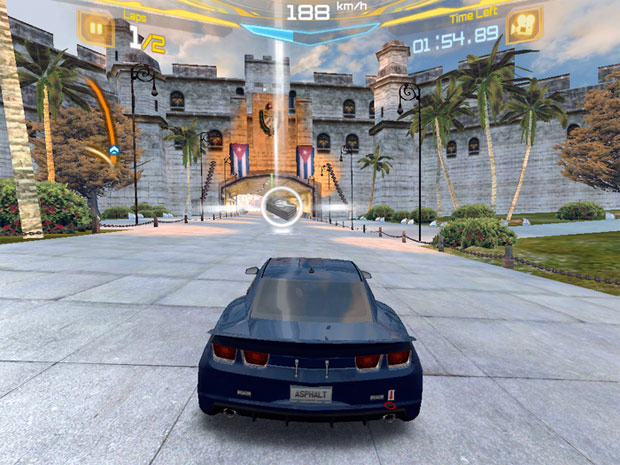 The Gaming Debugged sister site AppTrawler.com has a whole host of reviews and previews of games and apps. The following is a review of the fantastic Asphalt 8.
The Asphalt series has gone airborne in the 8th outing for this hugely popular series. As you would expect, Gameloft has nailed the handling of the cars using the right amount of tilt action to control your vehicle. Acceleration and speed is automatic and you have control over the nitro bursts with one thumb and breaking or power sliding with the other. The game is great fun for the price tag as you have a massive 8 seasons and 180 races to complete. All of these races are set over a limited amount of countries but each track has a myriad of alternative routes and sneaky shortcuts.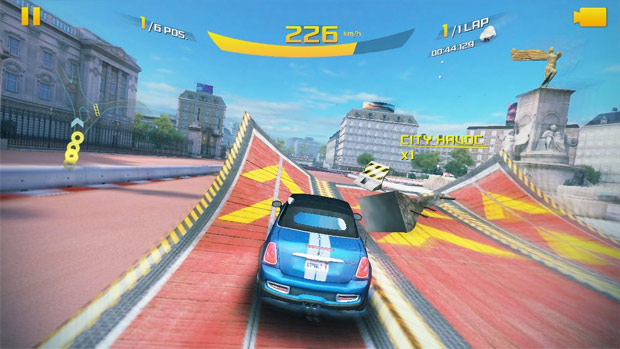 Whilst the game is thoroughly enjoyable, some parts do involve a bit of grinding in order to get enough cash to improve your car and buy better rides. This wouldn't be so bad if there wasn't the constant reminder that real money can buy you cash and car packs go help speed up or improve the game.if you are fine with the simple cars and do not yearn for the Camaro or that Electric Mercedes from Transformers 3 then you'll be fine. Otherwise you will find yourself perusing the cars packs being tempted to spend some cash. Sadly, no one pack can be bought that would give you a range of cars across classes which is a little sneaky.
As you can guess from the name, Asphalt 8 takes to the skies as ramps, jumps and bridges give you the chance to gain extra nitro power as you hang ten and grab some air. Many of the star achievements ask you to perform airborne tricks such as barrel rolls and spins in order to get the maximum five stars. Whilst this is a great addition to the series, some of the tricks don't always activate as you expect and can be a little glitchy. This, however, is rare and some times you welcome the simple jump as tricks can often cost you speed.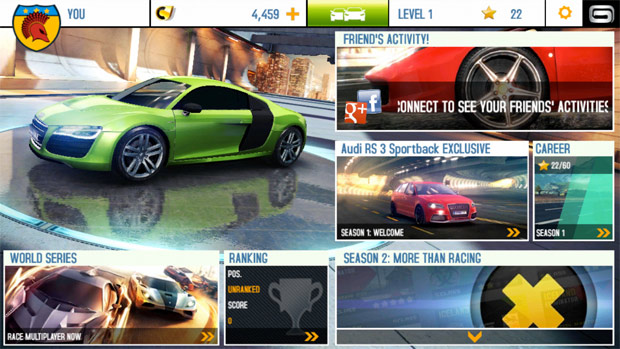 Aside from the usual racing mode there are two additional game types called 'infected' and 'knockdown'. Infected sees players getting infected by other cars (and going green) and using their unlimited nitro boosts attempt to infect other players before burning out. Knockdown is less about the racing and more about the destruction as the cars all attempt to gain the most amount of crashes.
The multiplayer game experience blew my mind, as I didn't think such an experience was possible on a tablet. There is always people to race and apart from a few people leaving the race seconds before the end (usually when they are losing) the race feels solid and enjoyable.
With fantastic graphics, a tremendous sense of speed and a game that could last for months, Asphalt 8 is a truly awesome racing game that despite its 'pay to win' reminders has to be one of the best racing games on a tablet device. For only 69p its well worth a try if only for the Mini racing around London.