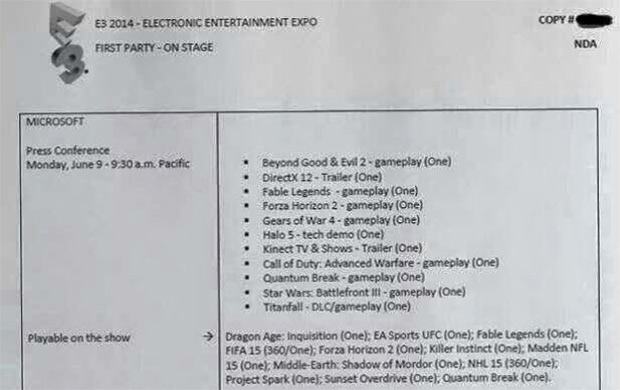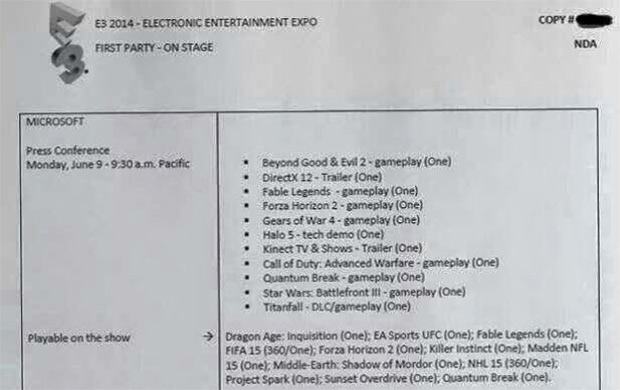 A printout is currently circling around the internet that suggests a possible line-up for the first-party systems, at the upcoming E3 show in June.
Held in LA, E3 is one of the most anticipated game shows of the year and is the launchpad for a myriad of titles. Microsoft, Sony and Nintendo are all dropping hints about announcements due to be made on the weekend of the 10th and excitement is building.
We have all heard the rumors and already know about titles such as Halo and Gear of War but there is something exciting about knowing that an announcement about them is imminent.
The supposed leak shows the following:
Microsoft E3 Announcements:
Beyond Good & Evil 2
Direct X12 Trailer
Fable Legends – Gameplay
Forza Horizon 2 – Gameplay
Gears of War 4 – Gameplay
Halo 5 – Tech Demo
Kinect TV & Shows
Call of Duty: Advanced Warfare – Gameplay
Quantum Break – Gameplay
Star Wars Battlefront III – Gameplay
Titanfall – DLC – Gameplay
Sony E3 Announcements:
Destiny – Gameplay
DriveClub – Trailer
God of War 4 – CGI
Indie Games – Trailer
Infamous: Second Son DLC/Gameplay
The Order: 1886 – Gameplay
Uncharted 4: The Sunken Blade – Tech Demo
Watchdogs – Gameplay
Now personally, I do not think that this is real as it uses a few announcements we already know about and has a lot of holes which include:
Gears of War 4 has only just started development so gameplay footage would be crazy
Sony's line up is dire and has Destiny in which we have just seen a load of gameplay videos and Watchdogs which will already be out.
The fact they are showing DLC is worrying
Overall, I do not put much stock in it but I am excited nonetheless…
What do you think?